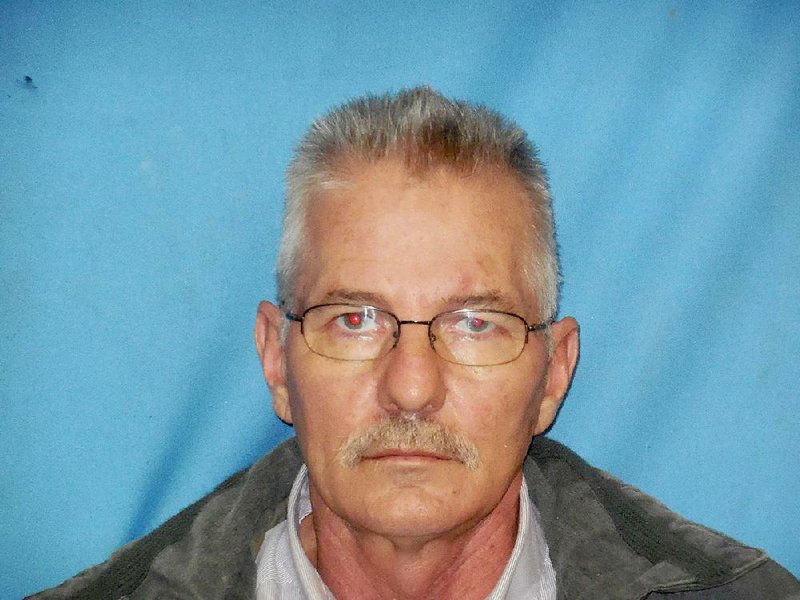 This booking photo provided by the Lonoke County Sheriff's Office shows David Houser. Houser, the Arkansas police officer who said he was shot during a traffic stop, was arrested Tuesday, Nov. 3, 2015, after authorities say the incident never happened.
An England police officer was charged with filing a false report Tuesday after admitting he lied about exchanging gunfire with a fleeing driver last month, the department said.
Police spokesman Lt. Andrea Rockefeller said Sgt. David Houser, 50, was arrested and fired over the felony offense. He was booked in the Lonoke County jail Tuesday morning and released soon afterward.
Houser said about 2 a.m. Oct. 24, he pulled over a man in a sport utility vehicle on Arkansas 15, and the man pointed a gun out of the window and fired at him multiple times, according to the department. Houser said he retreated and returned fire as the man sped away. He said he was grazed by a bullet but not injured.
Houser reported the bullet was deflected by a pen that his son had given him, according to police.
The Arkansas State Police investigated the encounter and found "information contradictory to Houser's initial statement," agency spokesman Bill Sadler said in a news release.
Rockefeller said Houser, in a second interview with state police Monday, admitted he fabricated the encounter.
"The gunshot wound, the damage to the shirt -- everything was self-inflicted and the evidence at the scene was staged," she said.
Sadler declined to release further details, citing an ongoing investigation.
Houser's story sent local, state and federal authorities searching for a person he described as a Hispanic man in his 30s who drove a late-model Chevrolet Tahoe or GMC Yukon, Rockefeller said.
It was only after the department offered a $1,000 reward, issued pleas for public help and spent "very significant man-hours" pursuing tips that investigators learned the man didn't exist, she said.
The department, which has 15 sworn officers, does not have vehicles equipped with dashboard cameras.
Houser joined the department as a part-time officer in October 2013. Police said he became a full-time employee in March.
Before joining England police, he worked part time with the Lonoke County sheriff's office for 15 years and was "very well-respected by the community," Rockefeller said.
"I think there's probably some deeply personal issues that he's been struggling with and that led to [filing a false report]," she said. "And although we're no longer co-workers or anything, he has our support."
England Police Chief Nathan Cook, speaking Tuesday to Arkansas Online, said Houser "has some personal issues." He declined to elaborate.
"It's every chief's worst nightmare to get a call that your officer has been shot or involved in a shooting," Cook said. "To investigate and find out it's self-inflicted just puts a whole different spin on it."
Metro on 11/04/2015
Print Headline: Fake gunfight leads to officer's firing, arrest, police say
Sponsor Content