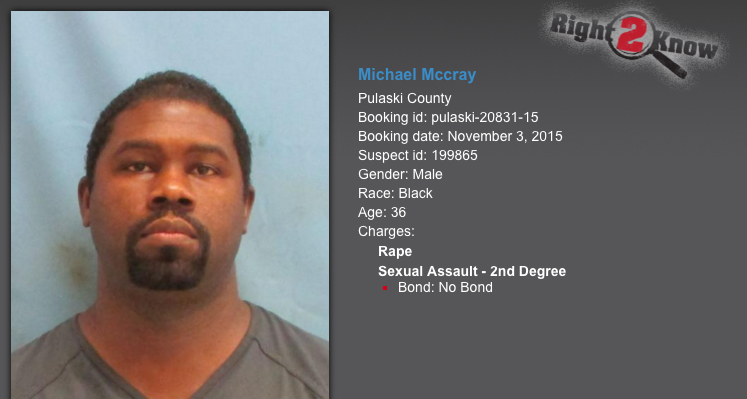 Michael McCray ( Pulaski County sheriff's office )
Little Rock police arrested a teacher Tuesday on accusations he raped one girl and sexually assaulted another.
Michael McCray, 36, was arrested Tuesday morning at Jacksonville Lighthouse Charter School.
A police report states McCray had sex with a girl, now 15 years old, multiple times at The Anthony School in Little Rock between August 2012 and June 2014. McCray was a physical education and athletics coach at the private middle school during that time.
He was charged with one count of rape.
According to the report, Arkansas State Police referred the case to Little Rock police. State police spokesman Bill Sadler said state law prohibits the agency from commenting on the matter.
He said an investigation is ongoing.
McCray, who was last known to reside at 1310 Gamble Road in Little Rock, was additionally charged with second-degree sexual assault. That charge stems from an encounter with another girl, according to police spokesman Lt. Steve McClanahan.
Further details were unavailable.
Both schools issued statements Tuesday on McCray's arrest.
The Anthony School, where McCray hosted summer basketball camps and was known as "Coach Mac," said he was fired in June for violating an unspecified school policy. McCray was fired after investigations by the school and Little Rock police, according to the statement.
"As is our policy, we do not disclose specific details of investigations. The Anthony School is committed to maintaining the confidentiality of personnel matters and matters concerning students and parents. Because this matter concerns pending legal proceedings, and with respect to individual privacy rights protected by law, The Anthony School will not comment further on the details of the allegations," the school said.
Jacksonville Lighthouse said in a statement that, as far as school officials know, "no such misconduct has taken place here."
McCray has been suspended without pay pending further investigation.
"Prior to hiring this individual, we conducted a thorough, national background check and screening. He had no prior criminal record at the time of hiring. We are thankful to local law enforcement that this potential danger to our scholars has been identified and removed," the school said.
McCray was being held in the Pulaski County jail late Tuesday.
Metro on 11/04/2015
Print Headline: Teacher charged with sex crimes
Sponsor Content