The Teach For America program serving the Arkansas and Mississippi River Delta region will receive $4,757,500 over three years from the Walton Family Foundation as part of the foundation's $50 million grant to the national teacher recruitment and training program.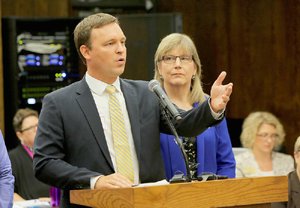 Photo by Stephen B. Thornton
Kathy Smith, right, with the Walton Family Foundation, listens as Jared Henderson, left, executive director of Teach For America in Arkansas are shown in this file photo.
The grant, announced Wednesday by the Bentonville-based foundation, will support 4,000 new teacher corps members nationwide, including 800 in Arkansas and Mississippi.
The grant arrives as Teach For America is celebrating its 25-year anniversary.
The organization recruits recent college graduates with degrees in fields other than education to commit to teaching for two years in schools in high-poverty areas.
There are 8,800 Teach For America corps members from 830 colleges and universities teaching in 52 urban and rural regions across the country.
Arkansas Education Commissioner Johnny Key on Wednesday welcomed the news of the Walton grant and said he looks forward to continuing and strengthening the state's collaboration with the teacher-development organization.
Key told superintendents and other school administrators at last week's Arkansas Association of Educational Administrators conference that the pool of teacher candidates in the state is shrinking.
The total enrollment of teacher candidates in all types of educator preparation programs in the state has dropped from 8,255 in 2010 to 5,258 this year, Key said.
"Nontraditional teacher preparation programs like Teach For America have been important partners in meeting the demand for teachers in many of our school districts in Arkansas," Key said Wednesday.
"This support from the Walton Family Foundation will strengthen the capacity of Teach For America to develop educators who can provide student-focused learning opportunities."
Teach For America-Arkansas now has 110 corps members reaching more than 5,500 students, Kaitlin Gastrock, Teach For America vice president, regional communications, said Wednesday. There are 280 teacher corps members in Mississippi.
The 800 new teacher corps members to be supported by the new grant in the Mississippi River Delta region will be trained and assigned over a three-year period, she said.
"The Walton Family Foundation has been a crucial supporter of Teach For America in the Arkansas and Mississippi Delta region for a long time," Jared Henderson, executive director of Teach For America in Arkansas, said Wednesday.
"We couldn't be more grateful for their continued investment in the training and support of our teachers, who are working side by side with fellow local educators to give their students growing up in rural communities the great education they deserve," Henderson said.
The Arkansas/Mississippi Delta region is expected to get the largest number of new corps members as a result of the Walton Family Foundation grant, but 12 other communities from Massachusetts to California are also in line for funding that will support anywhere from 70 to 545 Teach For America teachers.
Atlanta; Camden N.J.; Houston; Indianapolis; Los Angeles; California's Bay area; Memphis; New Orleans; San Antonio; Washington, D.C.; and the states of Colorado and Massachusetts will benefit from the grant.
The Walton Family Foundation has been supporting Teach For America for 22 years, since 1993 when it awarded a grant to support the organization's work in Mississippi River Delta school districts in Arkansas and Mississippi.
"TFA has helped to recruit and train more than 50,000 teachers while attracting some of our nation's most innovative school leaders and policy thinkers," said Marc Sternberg, the director of kindergarten-through-12th-grade giving at the Walton Family Foundation.
"We are confident that TFA will continue to attract the kind of talent America's classrooms need to prepare our country's students for a lifetime of opportunity."
The grant will help the teacher development program to continue provide a racially and economically diverse workforce, said Elisa Villanueva Beard, chief executive officer of Teach For America.
Nearly half of the teaching corps recruits identify themselves as members of racial and ethnic minorities, according to information about the organization provided by the Walton Family Foundation.
Forty-seven percent of the current Teach For America corps members come from one-income families and 1 in 3 of the corps members is the first in his family to graduate from college.
Teach For America has more than 42,000 teaching corps alumni, two-thirds of whom work in the education field. That includes 11,200 classroom teachers, 930 principals, 247 school system leaders and 90 elected officials.
In Arkansas, there are some 200 Teach For America alumni and about 220 in Mississippi.
Metro on 11/05/2015
Print Headline: Waltons donating $50M to Teach For America
Sponsor Content