When I was a child, Charlie Brown was as real to me as my flesh-and-blood classmates. Therefore, it's painful to admit The Peanuts Movie delivers only a fraction of the delight that the late Charles M. Schulz's comic strips and animated specials inspired.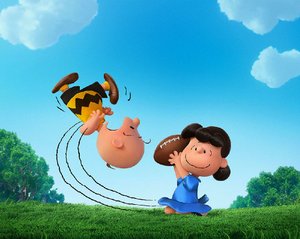 Lucy van Pelt continues her football-snatching ways in Steve Martino's faithful rebooting of Charles Schulz's famous cartoon The Peanuts Movie.
The sweet-hearted but luckless Charlie Brown's perennial misfortunes were funny because all of us have moments when fate taunts our good intentions. The cartoonist's heirs are heavily involved in this new computer-animated effort, so just about all of Schulz's most popular tropes have made it into the final cut. These include the football snatching of Charlie Brown's frenemy, Lucy (voiced by Hadley Belle Miller); his unrequited love for the Little Red-Haired Girl (Francesca Capaldi); the voracious kite-eating tree; and Snoopy's recurring battles with the Red Baron.
The Peanuts Movie
78 Cast: Animated, with voices of Noah Schnapp, Hadley Belle Miller, Mariel Sheets, Alexander Garfin, Noah Johnston, Rebecca Bloom, Trombone Shorty, Anastasia Bredikhina, Francesca Capaldi, Kristin Chenoweth, Bill Melendez, Venus Schultheis, Madisyn Shipman, A.J. Tecce
Director: Steve Martino
Rating: G
Running time: 93 minutes
Even though The Peanuts Movie is made by Blue Sky, the company behind Ice Age and Rio, The Peanuts Movie is almost slavishly faithful to the animated TV specials Schulz made with director Bill Melendez and producer Lee Mendelson.
As with the TV specials, real youngsters provide the voices of the Peanuts gang, so the child's-eye view of the world seems authentic. The only adults in the voice cast are Trombone Shorty, who provides the "wah-wah-wah" voices for the grown-ups, and Kristen Chenoweth, who plays Snoopy's beloved Fifi. Melendez is no longer with us, but his distinctive shrieks and grunts still provide the voice of Snoopy, Charlie Brown's eccentric dog.
Yet while the filmmakers appear to love Charlie Brown (Noah Schnapp) as much as I do, they have great difficulty coming up with a story worthy of him. Director Steve Martino and his legion of collaborators seem more intent on recycling motifs from the strips and the TV specials than assembling an actual tale. The Peanuts Movie jerks from one segment to another without really building momentum. Minor characters like Pig-Pen make their token appearances without leaving much of an impact. That's saying something for a guy who walks around in a haze of dirt.
The storyline, threadbare as an original "Happiness Is a Warm Beagle" T-shirt, involves a series of attempts Charlie Brown makes to win the heart of the Little Red-Haired Girl. Unfortunately, his decency foils him at every turn.
Preventing the story from taking flight like Snoopy's doghouse in an aerial battle is Martino's compulsion to interrupt the plot with repetitive outbreaks of chaos that do little more than justify the film's 3-D. (A little mayhem is essential in cartoons. Just ask Bugs Bunny.)
With Peanuts, however, the tales are a bit more gentle. Schulz's simple visuals were just right for his tales because they conveyed ideas that viewers could embellish on their own. It also didn't hurt that Schulz was as clever as he was sentimental. The notes you see when Schroeder plays piano in the comics were actually written by Ludwig van Beethoven.
There's nothing wrong with Martino and Blue Sky wanting to reboot Peanuts. Having seen A Charlie Brown Christmas again as a biological adult, I was struck by how little that special has aged. Is it too much to ask for today's children to experience the same sense of wonder that the ones before them wound up taking for granted?
MovieStyle on 11/06/2015