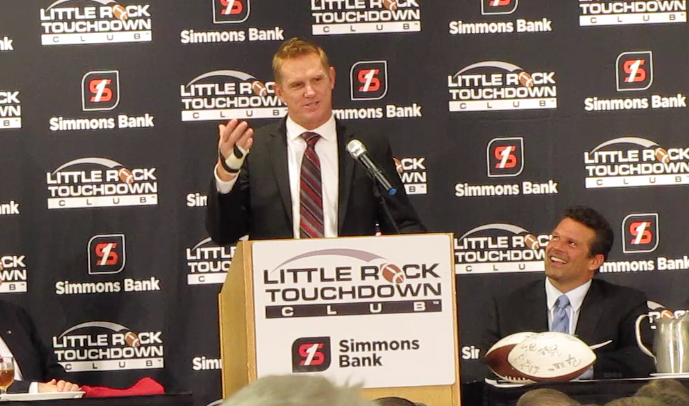 Arkansas State Coach Blake Anderson addresses the Little Rock Touchdown Club on Monday, Oct. 26, 2015. ( Sara Janak)
JONESBORO — Arkansas State's victory Thursday night over Appalachian State gave it the Sun Belt Conference lead and made it bowl eligible for the fifth consecutive season.
The 40-27 victory in Boone, N.C., also showed Blake Anderson the potential of his team if it avoids the mistakes — like turnovers and penalties — that plagued his team at times during the season's first eight weeks.
Anderson called the second half of last Thursday's victory "probably the most complete football half since we've been here," during Monday's news conference recapping the victory and looking ahead to Saturday's 2 p.m. game at Louisiana-Monroe.
"Not turning the ball over, running the ball, stopping the run," Anderson said. "All those things are great to learn from, and that's what we talked about last night. Just trying to carry momentum forward."
ASU entered the second half trailing 21-17 but scored 23 consecutive points while outscoring Appalachian State 23-6 in the second half. ASU also held a second-half edge in yards 392-160, while forcing punts on Appalachian State's first four possessions out of halftime.
ASU forced three turnovers in the game, all in the first half, and didn't commit a turnover for the first time this season. The Red Wolves also committed a season-low two penalties for 5 yards. Even with Thursday's improved performance, ASU leads the Sun Belt in turnovers lost (22) and have committed 67 penalties, the second-most in the conference.
"I feel really blessed we're at where we're at," Anderson said.
ASU (6-3, 5-0) can win a seventh game for the fifth consecutive season Saturday over Louisiana-Monroe (1-8, 0-5), which lost 51-14 at Troy on Saturday. The Warhawks have dealt with injuries this season, such as an ankle injury that cost leading receiver Rashon Ceaser a month before his return Saturday.
"I would say that watching them on tape, that they're better than the record indicates," Anderson said. "We talked about it last night. It's going to take another focused effort to get ready to beat them. Regardless of the record."
Sponsor Content