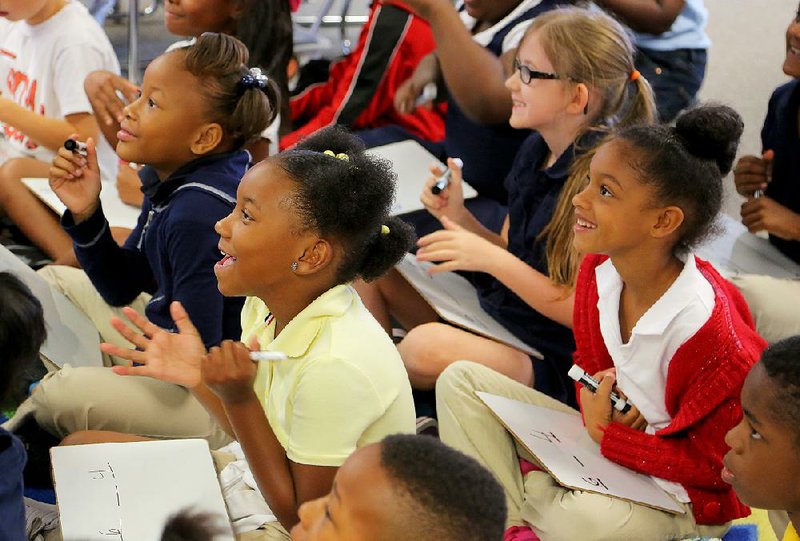 Terry Elementary second-graders Renia James (from left), Amaya Hillery, Olivia Jackson and Allyssa Patterson celebrate a victory in a math game against their teacher, Aimee Freeman, on a recent day at the Little Rock school. ( Stephen B. Thornton)
The staff at Little Rock School District's Terry Elementary -- a one-story building sprawled out on the corner of Shackleford and Mara Lynn roads -- has known for a couple of years that its pupils were making gains on state math and literacy exams.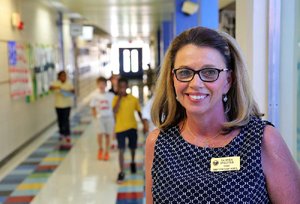 Photo by Stephen B. Thornton
"I don't think you can compete with the teachers — the staff that I have," said Terry Elementary Principal Sandra Register, whose school has received high marks from the state for academic achievement.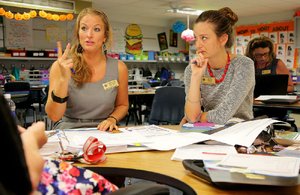 Photo by Stephen B. Thornton
Terry Elementary math coach Sarah Jane Relano (left) leads a planning session with fourth-grade teachers, including Jane Roddy (right), at the Little Rock school.
Photo by Stephen B. Thornton
Second-grade teacher Aimee Freeman works on large-number counting strategies with her class at Terry Elementary. "We teach 'em," Freeman simply says when asked how Terry students achieve so well.
But now the rest of the state knows.
Terry Elementary is on the state's "A" list of schools, one of just four in the Little Rock district and 140 in the state to hit the high mark.
Terry's top grade -- the result of receiving 290 out of a possible 300 points -- was based on student achievement and year-to-year gains on the Arkansas Benchmark Exams in math and literacy given in the spring of 2014.
Terry was the only Little Rock school to meet its state-set achievement goal in math and one of just a handful that met its achievement goal in literacy in 2013-14. Because of changes in the state testing program, that's the last school year for which there are test results.
The percentage of Terry pupils scoring at proficient and advanced levels that year was 84 percent, up from 81 percent in the spring of 2013 and 73 percent in spring 2012, according to Arkansas Department of Education reports.
Terry pupils scored well even though 82 percent of the 376 students in 2013-14 were eligible for free or reduced-price school meals because of low family income. Almost 1 in 5 students were learning English as their second language and 15 percent were receiving special education services, according to Education Department data.
Little Rock Superintendent Baker Kurrus said Terry -- that brick, blue-metal-trimmed building in the shade of Immanuel Baptist Church -- has the "secret sauce" for success. The main ingredient, he added, is the human capital at the school, which has grown to 463 pupils in kindergarten through fifth grade.
Kurrus has asked his bosses on the state Board of Education to be mindful of Terry's successes in their deliberations on a request from the Lisa Academy charter school system to put a competing elementary school "45 seconds away" from Terry in what is now the Nichols furniture store.
The Terry staff members are aware of the charter application in the neighborhood but expressed confidence in their own strengths. The only reason parents would choose somewhere other than Terry Elementary is to secure a middle school seat, Principal Sandra Register said of the Lisa Academy system, which includes middle and high school grades and emphasizes math and science education.
"There's no way it will be better," she said. "I would put this up against it any day. I'm not really concerned about it at first. If they prove to be good and established, they might start pulling some of our kids. I don't think that in the first year or two it would. I don't think you can compete with the teachers -- the staff that I have."
Staff members highlight the school's collaborative lesson planning among teachers and instructional specialists, the rigorous lessons and instruction, and a sense of urgency about teaching and learning.
Teacher outreach to parents -- sometimes done in Spanish and Vietnamese -- is cited as another strength. Classroom technology, including well-used electronic Smart Boards on the walls and Chromebook laptop computers on the desks of fourth- and fifth-graders, are other features of the campus.
Yuliana Murillo, a 10-year-old fifth-grader, has been attending Terry since prekindergarten, when she didn't speak much English. She called Terry a good school.
"What I like about Terry is that teachers use different methods for teaching," Yuliana said in her now very fluent English. "They make it seem easy and when you try it, it is easy. You say, 'Okay, I can do this.' When you get something wrong, the class doesn't say 'You got it wrong.' They say 'Nice try. Try again.'"
Special education teacher Kristi Mann gives credit to Register's leadership for the school's recent academic gains.
Register, 58, is a Hall High School graduate whose late father, Robert Sullenger, was principal at Sylvan Hills High School and whose husband, Ellis "Scooter" Register, is the head football coach at Central High. Sandra Register was principal at Williams Magnet School before being transferred to Terry. She was also a principal in El Dorado.
Mann said Register pushes teachers to set a high bar for students, regardless of the students' economic or physical challenges. She also said that Register is not above evaluating teachers in their classrooms on the second-to-last day of school -- ensuring that instruction continues on a day that otherwise might be used for nonacademics or packing up for summer. Mann told of having to appeal to school bus drivers at the end of the day to wait on young passengers who were being taught to the very last minute of the school day.
"You better bring your 'A' game every day," Mann said of Register's approach to her staff, "because she smells a 'B minus' when it walks through the door! And when you have teachers on their 'A' game, you are going to have kids succeeding."
Register, now in her fourth year at Terry, said she doesn't deviate from what the school district administration tells her to do in regard to management, curriculum and programs, but she prides herself on hiring and retaining motivated teachers and instructional specialists, some of whom she took with her to Terry from other schools where she's worked in her nearly 30-year career.
Holly Brown, Terry's literacy specialist and a former Little Rock district Teacher of the Year, cited the teamwork at the school.
"It's really a well-oiled machine at this point," Brown said, describing how grade-level teachers and instructional specialists meet weekly to coordinate what will be taught and what strategies will be used.
"The lesson plans here are second to none," Brown said.
Sarah Jane Relano, the school's math specialist, said the academic coaches study the district curriculum and help teachers find lessons that work and discard those that don't. Plus, they help teachers fill the holes in the curriculum.
"It's not just following the book," she said. "We also try to find the lessons that teach multiple Common Core standards in one lesson.
"Some schools teach day by day and lesson by lesson when we should look at the overall picture. You figure out which standard you are going to work on, but you can also hit this standard and this standard if we do this for the next week. I think that looking at it like that has really helped here."
Asked how Terry has succeeded with children who may not have all the same economic and social advantages of other children, second-grade teacher Aimee Freeman said: "We teach 'em."
Freeman is in her third year as part of what she describes as a big, collaborative family at Terry that works to make children feel welcome and eager to learn.
"We don't watch movies over here. We teach bell-to-bell," she said.
In Freeman's busy and orderly classroom, children spend part of their mornings engaged in the "Daily Five" rotation of literacy activities -- one group is getting a lesson from the teacher, others are reading out loud to each other, and others are reading to themselves or are in the classroom library or at a classroom computer.
A timer on the electronic Smart Board tells the 7- and 8-year-olds and their teacher how much time is left before they change to another activity.
That new activity could be a math lesson using small, interlocking blocks or a game using the electronic Smart Board to digitally throw dice and create three-digit numbers. The game includes a discussion of place values -- hundreds, tens and ones -- as well as comparing greater- and less-than values.
Instruction in Hannah Rosson's fourth-grade classroom is equally fast-paced and multifaceted.
"We teach every moment we can and try to make it fun and engaging," Rosson said.
"We'll be walking down the hall and I'll say, 'Show me parallel lines. Show me intersecting lines,'" she said, demonstrating how her pupils respond by holding their arms straight out in front of them or by crossing them.
The Smart Board is the center of attention as Rosson and her students race through 15 minutes of "calendar math," which is a daily review of geometric shapes, multiplication and division, financial calculations, measurement, time and fractions.
Hand motions are involved as pupils demonstrate how many feet are in a yard. Whole fractions and improper fractions are covered.
"We never, never, never, ever, ever, ever add denominators," Rosson and her students chant in unison at one point.
At other points in the morning, Rosson directs her students, including a boy who recently arrived from Vietnam, to talk with their neighbors before giving her an answer to her questions.
Register said the school tries to keep children so busy and involved in their classwork that they don't have time to misbehave, but there are times when incidents happen.
Patricia Boykin, Terry's half-time assistant principal, said teachers are told to leave the serious discipline issues to the administrators.
"To me as a teacher, it is refreshing to know that my first priority is to teach," Boykin said, "and, if I encounter a discipline problem, then there is somebody who will take care of it for me and then get that child back to my classroom as soon as possible."
Metro on 11/09/2015
Print Headline: LR school touts spot on state's 'A' list
Sponsor Content