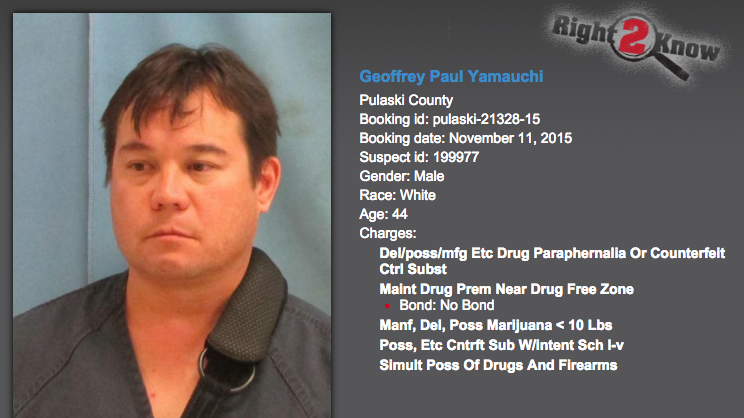 Geoffrey Yamauchi
A man who unsuccessfully ran for a seat on the Little Rock Board of Directors last year pleaded innocent to drug charges Thursday morning.
District Judge Alice Lightle ordered Geoffrey Paul Yamauchi, 44, to be held at the Pulaski County jail with bail set at $10,000. Yamauchi posted it and was released later Thursday.
Police arrested Yamauchi about 6:15 p.m. Tuesday after executing a search warrant at his home at 5115 R St. between Kavanaugh Boulevard and Newton Street. Officers reported finding more than 10 pounds of marijuana in the residence.
According to a police report, they also found about 1 pound of hallucinogenic mushrooms; six rifles; two shotguns; three handguns; six boxes of ammunition and assorted drug paraphernalia including digital scales and rolling papers.
Police also seized cash, a passport, a journal and an ID card, the report states.
Yamauchi faces felony charges of maintaining a drug premises in a drug free zone; simultaneous possession of drugs and firearms; possession of drug paraphernalia and two counts of possession of a controlled substance with intent to distribute.
Yamauchi purchased the one-story house on R Street in 1996, according to Pulaski County property records.
No one answered the door for a reporter Thursday afternoon.
Yamauchi was among eight business and community leaders who former Little Rock mayor Jim Dailey appointed to a "new revenue" task force in 2005. The previous year, Yamauchi served on a committee that oversaw the city's capital bond program.
He ran against former Democratic state Rep. Kathy Webb for the Ward 3 seat on the Little Rock Board of Directors last year, describing himself as a neighborhood guy who wanted to improve public safety.
Yamauchi, a sales and marketing executive at Habibi's Durable Medical Supply in North Little Rock, also touted his business experience during the race. He claimed to have run against Webb without accepting campaign contributions.
He lost the race with 18 percent of the vote.
Court records show Yamauchi has no previous criminal record.
His next court appearance was set for Jan. 12.
Metro on 11/13/2015
Print Headline: Ex-LR hopeful pleads innocent to drug charges
Sponsor Content