As welcome as Christmas decorations before Halloween, Love the Coopers is an astonishingly lazy tale of holiday dysfunction that ineptly follows in the footsteps of a host of better movies.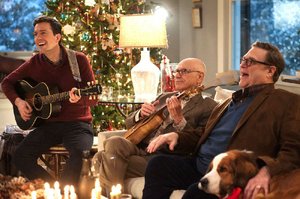 Hank (Ed Helms) and Bucky (Alan Arkin) entertain the family in the Christmas-themed comedy Love the Coopers.
Worse, it frequently cites superior films like City Lights and It's a Wonderful Life, making viewers crave those offerings instead of the one on the screen. Those films tug at a viewer's heart and earn every tear or laugh they generate. Love the Coopers demonstrates that director Jessie Nelson and writer Steven Rogers like classic films but have no idea why they work.
Love the Coopers
74 Cast: Olivia Wilde, Amanda Seyfried, Marisa Tomei, Diane Keaton, John Goodman, Anthony Mackie, Ed Helms, Alex Borstein, Jake Lacy, June Squibb, Alan Arkin, Steve Martin
Director: Jessie Nelson
Rating: PG-13, for thematic elements, language and some sexuality
Running time: 106 minutes
Nelson assembled performers with the potential of making a modern classic and trapped them in a scenario devoid of any genuine emotional or entertainment value. Love the Coopers consists of desultory tropes strung together seemingly at random.
John Goodman and Diane Keaton play Sam and Charlotte Cooper, a couple married for four decades who have long lost their attraction to each other. They're going through one last Christmas before they announce to the rest of the clan that they're calling it quits. Their son Hank (Ed Helms) is an unemployed portrait photographer who's trying to pretend he still has a job to go to.
Inept deception seems to run in the family. His sister Eleanor (Olivia Wilde), unable to bear the fact that her married boyfriend isn't available to attend Christmas dinner, ropes Joe (Jake Lacy), a soldier stuck in the airport, to pose as her new beau. Charlotte's sister Emma (Marisa Tomei) tries to show up her sibling by shoplifting some jewelry. She quickly gets caught and spends Christmas Eve in a police car with a taciturn cop (Anthony Mackie). (Having her psychoanalyze someone stuck working on a holiday seems like torture for him and anyone having to follow the two along.)
In addition, Charlotte and Emma's father Bucky (Alan Arkin) is crushed when he finds that the waitress (Amanda Seyfried) who serves him at a diner he frequents is leaving town. He has a sort of platonic crush on her and quickly regrets admonishing her for leaving.
The 106-minute running time is good for maybe a half dozen mild chuckles. It doesn't help that Steve Martin's bored voice can be heard throughout the film telling viewers what they can already see for themselves.
It makes someone long for the barbs that accompanied A Christmas Story, because Martin's droning simply wastes his time and ours. Worse, the source of the narration is someone who is not there to witness at least a third of the action in the film.
There are a smattering of crude gags here and there that come more from desperation than inspiration. Having a little girl curse was funny in National Lampoon's Christmas Vacation, but here it seems as if Rogers has run out of ideas.
To be fair, Charlotte and Sam have a large but lovable dog who's capable of more genuine emotion than the material gives him. He's not as funny as Christmas Vacation's excited squirrel, but he offers some relief from the tedium.
MovieStyle on 11/13/2015