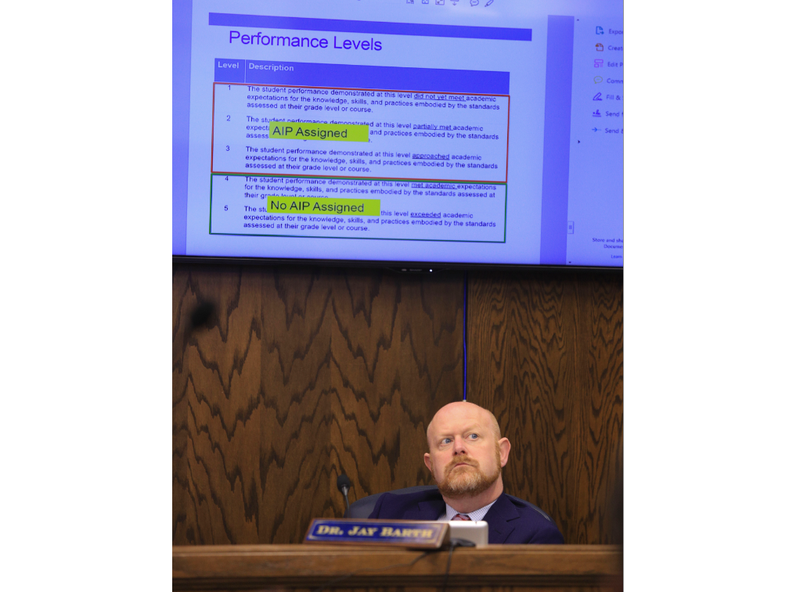 State Board of Education member Jay Barth attends Thursday's board meeting in Little Rock during which student test scores were presented. ( Staton Breidenthal)
Two out of three Arkansas pupils who took state-mandated exams in English/language arts last spring and three out of four math test-takers will require remediation after falling short of academic standards for their grade levels, state Department of Education leaders said Thursday.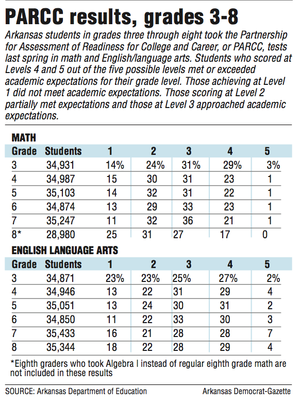 Photo by SOURCE: Arkansas Department of Education / Arkansas Democrat-Gazette
PARCC results for Arkansas grades 3-8.
That remediation could include after-school tutoring, Saturday school sessions or special instruction within the school day.
The Arkansas Board of Education unanimously approved minimum scores Thursday for each of five performance levels on the Partnership for Assessment of Readiness for College and Careers, or PARCC, exams in math and English/language arts.
The online PARCC tests, which were developed by a coalition of states based on Common Core State Standards and which replaced Arkansas' Benchmark Exams, were given to more than 210,000 students in grades three through eight last spring for the first and only time.
Next year, students will take a different test -- the ACT Aspire.
Depending on the grade level, between 29 percent and 35 percent of elementary and middle school test-takers in English/language arts achieved at Level 4 -- meaning those students met academic expectations -- or at Level 5, meaning they exceeded academic standards for their grades.
In math, only 17 percent to 31 percent of students -- again depending on the grade level -- scored at Levels 4 and 5, and will not be required to undergo remediation on the skills they should have learned last year.
State-required, individual academic improvement plans will be developed for the 65 percent or more of students at each grade who scored at Levels 1, 2 and 3 on the PARCC exams. Those students either didn't meet the academic standards for their grades, only partially met the standards, or "approached" the academic standards for the subjects and grades.
Arkansas Education Commissioner Johnny Key said new, challenging education standards are "essential to preparing students for college and careers," but they come with some consequences.
"The PARCC exam was the first time students have been tested on these higher academic standards," Key said in a prepared statement after the Education Board voted. "As anticipated, the results are lower than those of the Arkansas Benchmark Exam. While some may interpret this negatively, we believe it is an important part of the process of improving learning opportunities for students."
Key has prepared a lengthy letter about the achievement levels on the tests and the academic improvement plans to be distributed to parents who will begin receiving their children's test results in the coming weeks.
"Many students who may not have previously had an Academic Improvement Plan may be asked to participate in a plan," Key said in the letter that is also posted on the Arkansas Education Department's website, along with a video and additional explanations about the scoring for the exams.
Student assistance could include computer-assisted instruction, extended school days, tutoring, learning labs within the school days, Saturday school sessions and double blocks of instruction in the subject where assistance is needed, Key said.
"Having an AIP [academic improvement plan] does not mean your student is being labeled in a negative way," Key added. "Having an AIP does mean that you and your child's teachers will have a road map for helping your child grow academically and become college- and career-ready."
The Education Board-approved minimum score calls for any performance below 700 points to be classified as Level 1 performance. Scores of 700 to 724 fall within Level 2. The threshold score for Level 3 is 725, and for Level 4, 750. For Level 5, it's about 803, depending on the grade level.
The Education Board also voted to require students earning scores up to and including 749 to undergo at least some remediation.
The minimum scores for each performance level were calculated and recommended by the coalition of states that worked together to develop the PARCC tests based on the Common Core State Standards in math and English/language arts that were adopted by Arkansas and a majority of states in 2010.
Arkansas is now revising those standards.
Education Board member Vicki Saviers of Little Rock said the number of students who will be required to undergo remediation "has given me pause."
She said she was worried that students will be pulled out of class for remediation and end up missing critical classroom instruction.
"My concern is just the capacity of districts to differentiate," Saviers said. "They already have a lot going on, and now we are saying AIP for 60 [percent] to 70 percent of their kids, and not only that, 'we want you to be really mindful of pulling kids out of class."
"It's just a lot. That's why I think parents are going to have to step in and be aware if we are really going to do this. They need to understand and work with districts and teachers so they know what the expectations are so that their children aren't pulled out of valuable classroom time."
She said some districts will do the remediation well, but others won't.
"We don't want to do harm to those kids," she said.
Board member Jay Barth, also of Little Rock, said "there is a tremendous opportunity to give every young person the individualized academic plan they need to get over that hump."
He applauded the Education Department staff for "taking a tougher" path rather than focusing only on students who score at Level 1 and Level 2.
"There are a lot of young people at that 3 level that just need a little bit of help," Barth said. "Maybe there is just one issue that is really holding back their education. That's our commitment under the state constitution, that we are going to be sure that every kid has an adequate education."
Hope Allen, director of student assessment for the Education Department, said the score results show that the state has raised the bar on what's required of students, and that there is room for improvement as students and teachers get used to new education standards and online testing.
Debbie Jones, the state's assistant commissioner for learning services, said parents shouldn't be disturbed if their children receive academic improvement plans, explaining that the state has raised the bar and is doing honest reporting.
"This is a college-ready score," she said, calling it "a glimpse of the future" for students who will eventually take college entrance exams.
Education Department leaders also said Thursday that school and district educators were encouraged to begin early identifying and working with students struggling academically. In some cases, the necessary remediation may have already occurred.
PARCC exams were also given in algebra I, geometry and ninth- and 10th-grade English language arts.
The statewide results from those tests as well as for the optional algebra II and 11th-grade English PARCC test were released by state officials in October.
The PARCC exams were given only in the 2014-15 school year. They are being replaced with the ACT Aspire exams in math, English and science in grades three through 10.
The Aspire exams will be given online in most districts and will take about four hours to complete, which cuts in half the amount of time required for the PARCC exams.
One reason that Arkansas initially joined the PARCC coalition was so that the state could compare the achievement level of Arkansas students with those of students in other states who took the same test.
The Office for Education Policy at the University of Arkansas at Fayetteville on Thursday released a first comparison of state scores. Arkansas scored better than New Mexico and was even with or slightly below Louisiana and Illinois in English/language arts. It was a bit further behind Ohio.
Massachusetts and New Jersey, the other states in the comparison, scored much higher than Arkansas, according to the Office for Education Policy data.
Forward Arkansas, a partnership of state and philanthropic organizations working to improve education in the state, issued a statement Thursday about the test results, noting that while Arkansas has made strides in advancing public education, the new data show that there are opportunities for improvement.
"Less than two months ago, Arkansas became one of only a few states in the country with a community crafted vision for education -- that every Arkansas student graduates prepared for success in college and the workplace," the statement said.
"Forward Arkansas, a broad partnership that includes the Arkansas State Board of Education, has adopted recommendations to make this vision a reality. By working with students, parents, educators, business and community leaders, we believe we can close the achievement gap in the next generation and create a world-class education system here in Arkansas."
Metro on 11/13/2015
Print Headline: Test finds state students lag
Sponsor Content