CUPERTINO, Calif. -- A line of unmarked charter buses pulled outside of Apple Inc. headquarters a little before 5 p.m. on a Wednesday.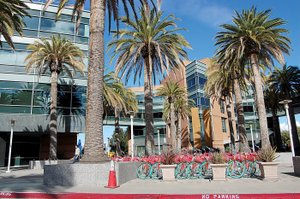 Photo by CHRIS BAHN / Arkansas Democrat-Gazette
Recruiting is so fierce for the top engineers and data scientists in the Silicon Valley, companies like Facebook and Google, shown here, offer employees valet parking.
Those buses, outfitted with tinted windows and wireless Internet access, are a common sight at 1 Infinite Loop and Apple's other local offices at the beginning and ending of each work day.
Shuttles to San Francisco from towns in the Silicon Valley have become a normal offering for the region's high-profile companies, including Wal-Mart Stores Inc., which operates its e-commerce headquarters in San Bruno. Employee transportation has become as ubiquitous as pingpong tables, science fiction-themed conference rooms, exercise classes and stand-up desks, and offers employees a less stressful way to navigate U.S. 101 where normal commute times can quadruple during rush hours.
Recruiting is so fierce for the top engineers and data scientists in the Silicon Valley, companies like Facebook and Google offer their employees valet parking.
"Technical talent is really hard to attract. It's difficult to get their attention," said Inga Kulberg, vice president of acquisition for Wal-Mart Global e-commerce. "There are so many really talented people in the Valley. We all kind of fish from the same pond and the war for talent is very real. You really have to be able to communicate an amazing story."
Kulberg, a Silicon Valley veteran with a resume that included a stop at file-sharing startup Napster, is in charge of selling recruits on why they should consider Wal-Mart, a company not historically recognized locally as a tech success story. But Wal-Mart has an 80 percent success rate in hiring for its global e-commerce positions against Facebook, eBay, Google and others, largely because of its reach.
Troves of customer data viewed by Wal-Mart, and others in the Valley, is the retailer's trump card. Wal-Mart boasts 100 million shoppers per month in the U.S. and any innovations pioneered or perfected by its employees can be scaled quickly.
"Data is the new oil," said Ravi Raj, a former vice president at @WalmartLabs and current head of product at BloomReach, a Silicon Valley data analytics and digital marketing company. BloomReach works with retailers like Neiman Marcus, Sears Outlet, Kohl's, Staples, Drugstore.com and Williams-Sonoma.
Recruiting in the Silicon Valley and San Francisco Bay Area for people who can decipher and take action on the data is so competitive that San Jose State University created its own staffing agency. Daniel Newell, program manager of workforce and economic development at San Jose State, said the university's career services center had 70,000 jobs and recruiters for 17,725 unique companies registered with his office last year.
"We'll have companies who want to list jobs, but don't want us to advertise who it's for or where it's located," Newell said. "They don't want competitors having any idea what they're up to. It's that competitive here."
Wal-Mart is among the retailers who have become regulars at job fairs, meet-ups and other tech-focused events to help sell itself to recruits. Other companies have large stockpiles of data. Wal-Mart is able to distinguish itself from other companies because its data is actionable. Breakthroughs in programming can find their way into millions of customers' hands in a short period of time.
Even outside observers agree that Wal-Mart offers something that many tech companies cannot. Making an impact on a global scale is possible in a way that few of its competitors in the tech or retail sector can match.
"Engineers don't invent things to stick them in their closet and hide them away," author and Stanford University Silicon Valley historian Leslie Berlin said. "You can't discount the opportunity to make money, but I think a lot of people in the Valley care about making an impact. If what you have can be folded into a company with enormous reach, that is very appealing. There is a very vibrant sense of social responsibility in the tech community. People think about that when considering a job offer from Wal-Mart or one of the other companies. They want to be somewhere they can [affect] the most people. That's a real selling point."
SundayMonday Business on 11/15/2015