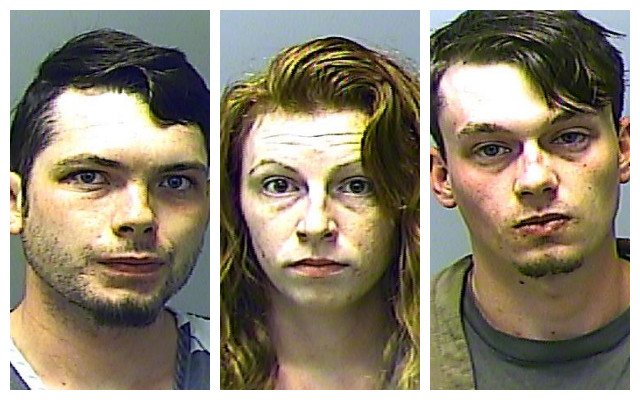 Nicholas Ian Roos, Mikayla Jordan Mynk and Zach Tyler Grayham ( Baxter County sheriff's office )
UPDATE
Two men and a woman are facing charges including capital murder in the deaths of an elderly couple whose home was burned down.
The Baxter County sheriff's office said Nicholas Ian Roos, 24; Mikayla Jordan Mynk, 20; and Zach Tyler Grayham, 23, were each arrested and charged in the deaths of 75-year-old Donald Lee Rice and 71-year-old Ladonna J. Rice.
Two sets of human remains were found last week in the wreckage of the Rices' burned home. One set of remains was positively identified as Donald Lee Rice while a DNA test on the second set is pending to confirm it is Ladonna J. Rice.
Police said Roos and Mynk were developed as suspects in the killings from a tip and then arrested Wednesday on unrelated burglary charges.
A search of Mynk's residence later revealed items taken from the Rice home, Baxter County sheriff John Montgomery said in a statement.
"Investigators believe the suspects ... killed Donald Rice and Ladonna Rice, and then stole various items of personal property, including a large screen TV ... before setting fire to the residence," Montgomery wrote. "The suspects then left the residence in the stolen 2015 pearl white GMC Sierra Denali truck that belonged to Mr. and Mrs. Rice."
Grayham was arrested Friday. All three suspects are being held without bail pending initial court appearances set for Thursday.
- Gavin Lesnick
EARLIER
The Baxter County sheriff's office said Monday it has made an arrest "of persons" in connection with a homicide and arson case involving an elderly couple.
Donald Rice, 75, and Ladonna Rice, 71, have been missing since a fire was reported at their home, 447 Baxter Road 508, on Nov. 7. Investigators said last week that at least one set of human remains were found in the home.
Authorities matched the VIN number from a burned vehicle found in a remote area along Baxter County Road 1 to a 2015 GMC Sierra Denali pickup missing from the home, ArkansasOnline previously reported.
A sheriff's office spokesman was not immediately available and additional details on the arrest were not released Monday morning ahead of a press conference scheduled for 2 p.m.
- Sara Janak
Sponsor Content