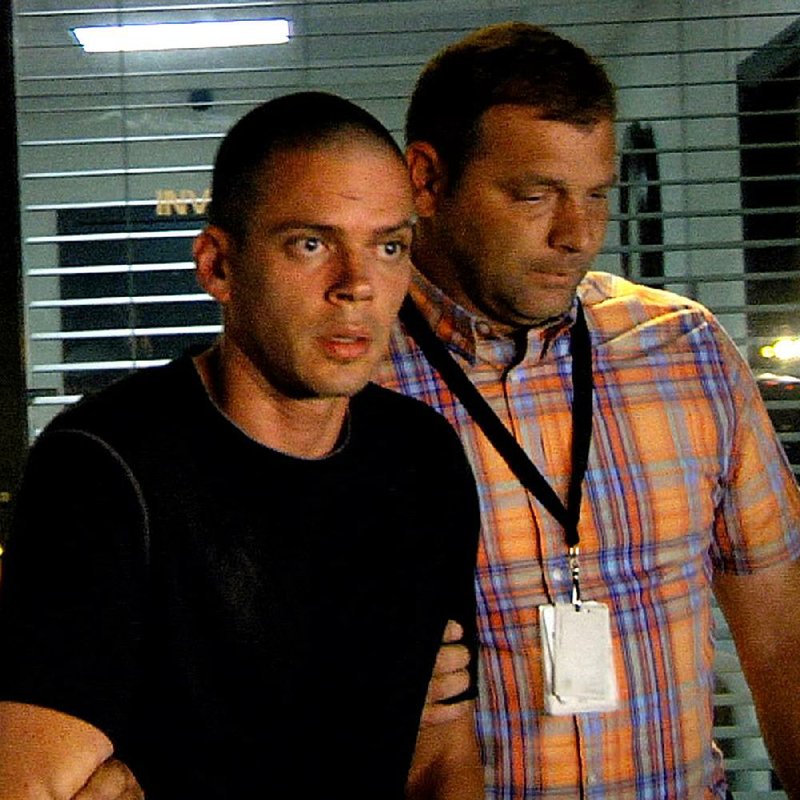 Suspect Arron Lewis (L) is escorted from the Pulaski County Sheriff's department by investigators after being interrogated, September 30, 2014.
The man accused of kidnapping and killing real estate agent Beverly Carter last year will try today to keep his wife from testifying against him at his January murder trial.
Pulaski County Circuit Judge Herb Wright is being asked to rule on several motions by Arron Michael Lewis' attorney, including one seeking to block Crystal Hope Lowery from turning state's evidence against her husband.
Prosecutors are seeking a life sentence for Lewis, 34, on charges of capital murder and kidnapping. Today's hearing is scheduled to be his last court appearance before trial.
Defense attorney Bill James has said he will present an insanity defense, although state doctors have twice examined Lewis and deemed him competent to stand trial.
Lowery, 42, initially denied any involvement in Carter's killing and filed for divorce about two weeks after Lewis was arrested. She wrote in her divorce petition that they had split up in August 2014, about a month before Carter disappeared.
The couple had been married barely five months when Carter vanished.
Lowery was arrested in October 2014, a month after her husband, and pleaded guilty eight months later to first-degree murder, reduced from capital murder, and kidnapping.
She promised to testify against Lewis in exchange for a 30-year prison sentence, which means the thrice-married mother of two will be 62 when she first qualifies for parole in November 2035.
In her divorce petition, Lowery said that Lewis had never told her the extent of his criminal background, which dates to when he was 17 and includes bank robbery and theft convictions.
In court filings related to her July guilty plea, prosecutors say Lowery helped Lewis plan Carter's abduction, then helped Lewis get rid of the woman's body after he killed her.
Prosecutors say they have text messages between Lowery and Lewis that prove Lowery's participation in planning Carter's kidnapping.
Citing marital privilege, Lewis' attorney argues that he has a right to at least limit, and possibly bar, Lowery from testifying against him under the Arkansas Rules of Evidence that prohibit "confidential communications" between spouses from being disclosed.
The defense argues that Lowery should be prohibited from disclosing any communication Lewis shared with her about illegal activity because he has deliberately kept confidential what he's told his wife about the case.
The situation would be different if Lewis had disclosed to the media or police what the couple discussed, the defense states. Marital confidentiality doesn't apply to anything prosecutors can prove Lewis has told a third party, the defense acknowledges.
But the prosecution is "plainly incorrect" when it argues that evidentiary Rule 504 has an exception to confidentiality for crimes like murder because it would destroy the concept of marital privilege, the defense asserts.
James has filed 12 other motions challenging the legality of evidence collected by authorities and seeking to suppress statements that Lewis made to sheriff's investigators.
Lewis was arrested after Carter's body was found, four days after she had been reported missing in September last year.
She had been bound with duct tape and buried at the Cabot cement plant where Lewis worked.
Authorities say that Carter was kidnapped to be held for ransom and that Lewis admitted to the abduction, but denied killing the 50-year-old Carter, a mother of three who was raising an 11-year-old granddaughter with her husband of 35 years.
In a jailhouse interview with TV station KARK, Lewis said that he didn't kill Carter and that "anything that did occur was an accident." He also said Carter got in the car with him willingly the night she disappeared.
Investigators also say Lewis told them that an acquaintance named Trevor was involved, but they have discounted that statement.
Other motions
Prosecutors say Lewis lured Carter to a Scott home on Old River Drive under the pretense of being interested in purchasing the two-story 4,141-square-foot residence.
Records show that the house, which sits on a half-acre, was sold in March for $112,500 to a Florida-based ministry that assists homeless veterans.
Carter disappeared after texting her husband, Carl Carter, 55, that she was going to show a house to an unnamed client.
When he didn't hear back from his wife, Carl Carter went to the house and called deputies when he found his wife's new Cadillac, with her purse inside, parked outside the empty residence.
In court filings, prosecutors state that Lewis came to the attention of investigators when Carter's cell phone records showed that her phone was used the night she disappeared in a 15-minute call with a cell number that deputies traced through a text-messaging and call service, TextMe Inc., that showed the number was registered to a phone owned by Lowery.
Investigators responded to that information by putting Lowery's Jacksonville home under surveillance. While watching the residence two days after Carter disappeared, deputies saw Lewis get into a black 2012 Ford Fusion and drive away.
Lewis and the Ford matched the description of a man and car seen at the Scott residence at the time Carter was also there, prosecutors contend in court filings.
Lewis had driven about three miles when he crashed into a ditch after losing control of the car. He hit the windshield in the crash, according to a police report.
Sheriff's Lt. Mark Swaggerty, who had been following Lewis, saw the Fusion lying on its passenger side in a concrete culvert on Jacksonville Cato Road.
Swaggerty approached Lewis and asked him if he was all right. Lewis asked Swaggerty whether he had seen a silver car that had run him off the road and said he needed to go to the hospital, according to a report.
Swaggerty saw that Lewis had a silver iPhone, and while Lewis was in the ambulance, the deputy asked Lewis what his cell phone number was.
Lewis gave him a number that was one digit off a phone number that had come up in the investigation, according to court papers.
When asked a second time for his phone number, Lewis gave the same number that had been used to send text messages, via the TextMe service, to Carter, and "at that point," the investigator took the phone from Lewis, according to prosecution filings.
The defense wants the judge to bar prosecutors from using any evidence collected from Lewis and Lowery's Randall Road home in Jacksonville and from Lewis' Fusion, particularly a Fuji camera and an IBM laptop found in the car.
Lewis' lawyer also is challenging the search of the silver iPhone taken from Lewis that prosecutors say was used to exchange text messages with Carter.
Also in dispute is the legality of deputies' questioning of Lewis on two separate occasions -- when Swaggerty asked him about his cell phone number after he had crashed the Fusion and his subsequent interrogation over a 12-hour span after his arrest.
Prosecutors contend Lewis suffered minor injuries in the crash.
Lewis disputes that, stating in court filings that he had glass embedded in his head, back pain and a dislocated right shoulder. He was taken to a hospital for X-rays, but left. Lewis said he jumped out of a window to get away, according to court documents.
Police caught up to him again in west Little Rock the day after the crash when a concerned citizen recognized him from news broadcasts, called authorities and chased after him.
Lewis jumped from a second-story apartment window in an effort to get away but was arrested.
During his interrogation, deputies drove Lewis around the area after he had indicated Carter might be in Cabot or Benton, hoping he would direct them to where they could find her.
Lewis maintains that investigators bullied and tortured him into answering deputies' questions, stating that he told investigators what he thought they wanted to hear.
In a federal lawsuit filed against the Pulaski County sheriff's office, Lewis accuses deputies of ignoring his requests for medical attention, stating that they made him walk shackled, with blood running down his ankles from numerous cuts and scratches. When he said he had to use the toilet, deputy Gary Seibel escorted him, but would not let him finish, the lawsuit states.
Seibel manhandled him, twisted Lewis' already injured right arm and demanded that Lewis tell investigators what they wanted to know, the lawsuit states.
The deputy also squeezed Lewis' genitals so hard he nearly passed out, telling Lewis he could either answer questions or be shot dead under the pretense of trying to escape, according to the lawsuit.
Lewis said he was then taken to meet with other law officers, one of them an FBI agent, who questioned him. He states in the lawsuit that he tried to make up answers he thought would make them happy.
Lewis filed the lawsuit on his own in November 2014, about six weeks after his arrest. He persuaded the court to appoint a lawyer for him last week.
In the motions before Circuit Judge Herb Wright, Lewis' attorney argues that prosecutors abused their subpoena authority to obtain text records and email from Google and AT&T.
The records submitted by prosecutors show a 51/2-minute call from a phone linked to Lewis to Carter's phone the day before she disappeared, followed by two calls, one of them a hang-up, on the day she vanished. The final one was a 15-minute, 45-second call that led police to the defendants.
There are no calls from Carter's phone to Lewis' phone in the records submitted to the court.
The records show 24 texts were exchanged between the phones over a 51-minute period the day before Carter vanished. Another 26 texts were exchanged over nine hours and 36 minutes on the day she disappeared.
Her husband reported he last heard from her about 5:30 p.m. on Sept. 25, 2014. He got worried about her and started looking for her about 9 p.m., and reported her missing at 10:43 p.m.
Also pending before the judge are legal arguments over the language of the criminal charges.
Unless the defense and prosecution resolve their differences outside the courtroom, the defense's challenges against the evidence will require chief deputy prosecutor John Johnson to prove to the judge that police acted within the law when they questioned Lewis and collected evidence from his person, home and car.
In response to the defense accusations, Johnson states that authorities properly obtained valid search warrants and respected all of Lewis' rights when he was questioned.
Metro on 11/16/2015
Print Headline: Hearing today in Realtor's slaying
Sponsor Content