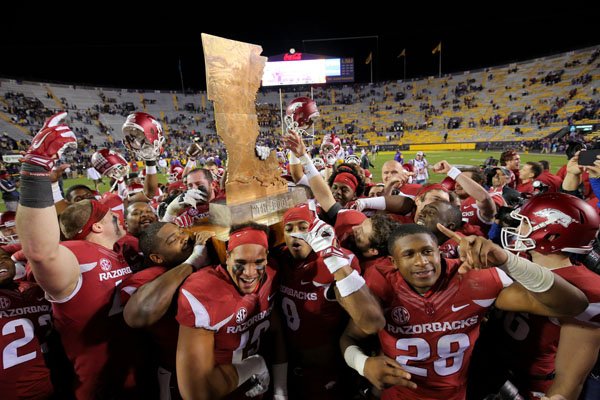 Arkansas players celebrate with the boot after defeating LSU on Saturday, Nov. 14, 2015, in Baton Rouge, La. ( Stephen B. Thornton)
BATON ROUGE -- Last November, Arkansas became the first unranked college football team to shut out ranked opponents in back-to-back games when it beat LSU and Ole Miss in consecutive weeks.
Saturday, Arkansas did something it had never done before.
Arkansas beat LSU 31-14 Saturday night in Tiger Stadium a week after winning 53-52 in overtime at Ole Miss.
LSU came into its game against Arkansas ranked No. 9 in both the College Football Playoff and Associated Press polls. Ole Miss was ranked No. 18 in the CFP poll and No. 17 in the AP poll when the Razorbacks beat the Rebels.
It's the first time in nine tries Arkansas swept back-to-back road games against nationally-ranked teams.
"We're starting to hit our stride here late in the season," Arkansas senior quarterback Brandon Allen said. "This team just refuses to lose sometimes."
The Razorbacks had a 1-15 record the previous eight times they played ranked teams on the road in consecutive weeks, starting in 1940 with losses at No. 20 SMU 28-0 and No. 15 Fordham 27-7.
Arkansas' lone split had been in 2002, when the Razorbacks lost at No. 10 Tennessee 41-38 in six overtimes and won 38-17 at No. 24 Auburn.
Winning at LSU and Ole Miss appeared to be especially daunting after the Razorbacks (6-4, 4-2 SEC) started 1-3, including home losses to Toledo and Texas.
But they've rallied to win five of their past six games.
Arkansas' road turnaround began at Tennessee, where the Razorbacks won 24-20 to end an 11-game SEC losing streak away from home.
The victories at Ole Miss and LSU give Arkansas a 3-1 mark in SEC road games this season -- losing only at Alabama -- for its first winning road record in conference play since going 3-1 in 2010.
This is the seventh time Arkansas has won at least three SEC road games in a season since joining the conference in 1992. The Razorbacks' only 4-0 SEC road record was in 2006 when they won the West title outright.
"Winning these road games is something we've prepared for," Allen said. "In practice we do different things with crowd noise to get uncomfortable."
About the only noise heard as the final seconds ticked down on Saturday night's game came from a few thousand Arkansas fans who were calling the Hogs in Tiger Stadium.
Most of the LSU fans from the announced crowd of 101,699 left throughout the fourth quarter.
"It was really nice to see their fans leaving the stadium," Allen said. "That's when we knew we had them."
The Razorbacks won at Baton Rouge for the third time in 12 SEC visits, with the other victories in 1993 and 2007.
"When you come to play Arkansas, I want you to know you're in a street fight," Razorbacks Coach Bret Bielema said. "It's not going to be easy.
"We're going to play, and we're going to play longer than a lot of people want to play.
"I think what we put on film stands out. I think we can begin to get a little bit of respect in our league before we take the field now."
Arkansas senior nose guard DeMarcus Hodge said winning at LSU in his final road game for the Razorbacks was especially gratifying.
"Obviously," said Hodge, who is from Monroe, La., "this one hit home more for me.
"It's been a rough journey, but there's much satisfaction to get everything to fall into place after all the hard work we've put in. It's so worthwhile and so rewarding to get that feeling."
Hodge said the Razorbacks believed success on the road was "past due."
"But we just had to learn how to finish," he said. "I think we've taken a big step in that direction."
Sophomore receiver Jared Cornelius, from Shreveport, put the Razorbacks ahead 31-14 with a 69-yard run with 10:18 left in the fourth quarter.
"We got off to a bad start this season, but it's how you finish," Cornelius said, "and we've been trying to do our best to finish strong."
The Razorbacks are bowl eligible for the second consecutive season.
"It's a big thing, especially for the seniors," Allen said. "We've gone through a lot here."
Bielema's Razorbacks are 6-3 in their past nine SEC games after losing their first 13 conference games when he took over as coach in 2013.
"To the outside world, we're probably just a 6-4 football team," Bielema said. "I know where we're at. I know where we're going.
"I know what kind of kids we're going to continue to bring in here and the attitude we're going to breed and it's going to be fun."
Arkansas can move up the SEC's bowl pecking order with victories at home against Mississippi State and Missouri, the final two regular-season games.
The Razorbacks and Bulldogs play at 6 p.m. Saturday in Fayetteville.
"We're going to really carry this momentum into Mississippi State," Allen said. "We're not going to look any further than that."
Sports on 11/16/2015
Print Headline: Razorbacks mark uncharted ground
Sponsor Content