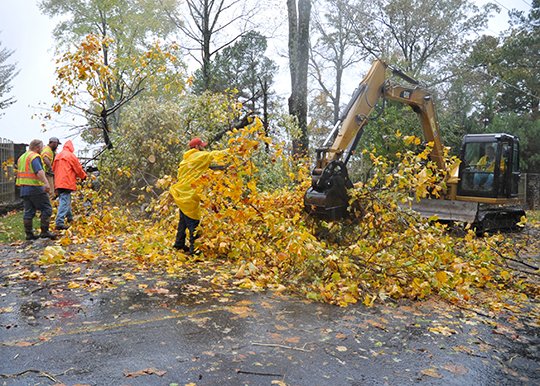 The Sentinel-Record/Mara Kuhn Garland County Road Department workers clear fallen trees and debris in the 400 block of Lake Hamilton Drive after a severe thunderstorm swept through the area Tuesday.
High winds ripped roofs off buildings, uprooted trees and blew over a brick wall as thunderstorms moved across Arkansas on Tuesday, flooding some roadways.
Wind pressure sucked open the front door of Jonathan J. Martin's law office at 401 Ouachita Ave. in Hot Springs.
Martin locked the door and had taken about 10 steps into the two-story building when he heard a "boom" out front.
He turned to find bricks on the sidewalk from a large section of the building's upper facade that had toppled, causing a transformer to blow out.
"My back was turned as I was walking away from the door, so I didn't see it fall," Martin said. "I just turned to see the bricks. At first, I thought the building had been struck by lightning."
Martin said the wind ripped open a 5-by-40-foot hole in the upper part of the building where he leases office space. The facade extended about 2 feet beyond the roof line.
A photo on his Facebook page showed a pile of rubble outside his office. Some of the bricks fell through the awning over the front door.
Martin said he's not sure when his office will reopen.
"If you have a pending appointment, we will contact you to reschedule as soon as possible," according to a message on his Facebook page.
Bill Burrough, Hot Springs' interim city manager, said the wind rattled the 5-foot-by-10-foot, plate-glass window in his office at City Hall.
"I thought, 'Man, these windows could blow,' so I got up and walked away from my desk, and three seconds later that window blew out," Burrough said.
He said the window had recently been tinted, and the film applied to the glass kept it from shattering into fine shards when it fell onto his desk.
Burrough said storms Tuesday uprooted about 30 trees in Hot Springs. He said there were no injuries in Hot Springs that he knew of. Winds also damaged cabins on Lake Hamilton.
John Lewis, senior forecaster for the National Weather Service in Little Rock, said damage across Arkansas appeared to be caused by straight-line winds and flooding. No tornadoes had been reported as of Tuesday evening.
Lewis said that judging from damage reports, the straight-line winds may have reached 70-80 mph.
Damage occurred across the state, although it was worse in some areas than others.
Lewis said he'd had reports of roofs blown off a house 11 miles north of Monticello and an auto body shop 2 miles east of Sheridan.
In Perryville, wind tore the roof off the stage at the Perry County fairgrounds, he said.
Lewis estimated that some areas of Arkansas got 4-5 inches of rain Tuesday. He said flash flooding caused the temporary closure of a dozen county roads and city streets in Pulaski County.
Entergy Arkansas reported 22,765 power failures at midafternoon Tuesday with Garland, Pulaski, Ashley, Drew and Union counties the hardest-hit. In many cases, trees fell onto power lines, according to the utility's Twitter page.
By early evening, the numbers of homes and businesses without power had dropped to about 18,000.
"Crews are working as safely/quickly as possible," read a tweet from Entergy. "Some repairs can't be safely completed w/30 mph winds. Thx for your patience."
"We're estimating all service to be back on by midnight," read a subsequent Entergy tweet. "Storms still rolling through."
The Garland County Courthouse closed early Tuesday because of power failures, according to an email sent about 1 p.m. from the sheriff's office.
The Arkansas Highway and Transportation Department listed Arkansas 282 near Mountainburg as closed at 4 p.m. because of high water. U.S. 67/167 in Jacksonville had been closed for less than an hour earlier in the day.
Danny Straessle, a spokesman for the Highway Department, said Tuesday afternoon that in most big storms, east Arkansas gets some flooding. He said Tuesday's storm was still moving across the state, so more road closures were possible before its exit.
In Mineral Springs, winds ripped four pieces of tin off the side of JW Manufacturing, which makes cushion-head mops that are sold at Wal-Mart stores. The winds also uprooted a 100-year-old oak tree in the front yard.
"I grew up here," said Randy Phillips, 59, a dock supervisor at JW Manufacturing. "That tree has been there as long as I've been around."
Phillips said the 12-foot-by-3-foot detached pieces of tin would likely be replaced sometime today.
Some streets also flooded in Northwest Arkansas on Tuesday morning. Rain refilled the drained pond at Murphy Park in Springdale, which is undergoing an upgrade that will include a concrete border and fountains. Most of the storms had moved through Northwest Arkansas by early Tuesday afternoon.
Whitney Green, an Arkansas Department of Emergency Management spokesman, reminded drivers that more than half of all flood-related drownings occur when a vehicle is driven into flooded streets.
"People underestimate the force and power of water," she said. "All it takes is a foot of rushing water on the road to carry away a small car. If you're driving and you see an area on the road that looks flooded, don't risk it -- turn around, don't drown."
Metro on 11/18/2015
Print Headline: Wind topples trees, rips off roofs
Sponsor Content