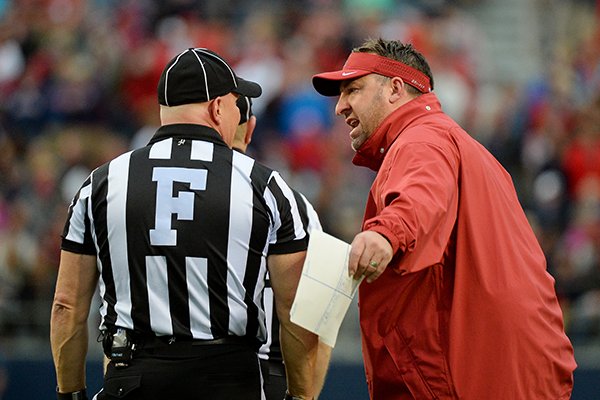 Arkansas head coach Bret Bielema, right, talks with referees during the second quarter of an NCAA college football game against Mississippi in Oxford, Miss., Saturday, Nov. 7, 2015. (AP Photo/Thomas Graning)
Arkansas Coach Bret Bielema would like to see his new conference and old one get together on the football field.
Bielema, who coached at Wisconsin before taking the Arkansas job, pitched the idea during Wednesday's coaches' teleconference of having an SEC-Big Ten challenge.
PLAYER TO WATCH
LEONARD FOURNETTE
TAILBACK, LSU
Leonard Fournette continues to lead the nation in rushing yards per game at 163.8, but that's 30 yards fewer than the LSU sophomore was averaging two weeks ago. Alabama held Fournette to 31 yards on 19 carries and Arkansas held him to 91 on 19 carries as the Tigers lost to the Crimson Tide 30-16 on at the road and to the Razorbacks 31-14 in Baton Rouge.
If LSU is to finish strong and play in a major bowl game — not to mention quieting rumblings about Coach Les Miles' job security — the Tigers need Fournette to run wild at Ole Miss on Saturday.
Sophomore quarterback Brandon Harris is improving, but it's evident that if opponents slow down Fournette to the extent Alabama and Arkansas did, the Tigers' passing game isn't consistent enough to win the game.
So even with the defense keying on him, Fournette needs to get back to rushing for 150-plus yards. More would be even better for the Tigers.
GAME OF THE WEEK
No. 15 LSU at No. 22 Ole Miss
2:30 p.m. Saturday (CBS)
It's hasn't been a November to remember so far for LSU or Ole Miss.
The teams entered the month with championship hopes, but in large part due to Arkansas, the Tigers and Rebels are struggling to try to salvage their seasons.
Two weeks ago LSU (7-2) was undefeated and ranked No. 2 in the College Football Playoff poll. Now the Tigers have to win at Ole Miss to avoid their first three-game losing streak in Les Miles' 11 seasons as their coach.
LSU's 30-16 loss at Alabama was tough enough to take, but then the Tigers were embarrassed at home by the Razorbacks, who left Baton Rouge with a 31-14 victory that dropped LSU to 48-6 in home night games under Miles.
Ole Miss (7-3) was in control of the SEC race, assured of a spot in the conference championship game for the first time if it won out, but the Razorbacks ruined those plans with a 53-52 overtime victory at Oxford on Nov. 7.
Last week's open date should help the Rebels, but they'll be playing an LSU team that is equally desperate to win.
BY THE NUMBERS
1986 — The last time Georgia led its series against Auburn prior to the Bulldogs' 20-13 victory last Saturday. Georgia now has a 56-55-8 advantage over the Tigers.
14.5 — Points allowed per game by Florida, which leads the SEC in scoring defense and ranks fourth nationally.
87 — Percent of field goal attempts made by Auburn sophomore Daniel Carlson, who is 20 of 23. His longest-made field goal is 56 yards.
OVERHEARD
"I've had a tremendous amount of respect for him in terms of what he's been able to accomplish professionally as a coach. I think he's always done things the right way." — Alabama Coach Nick Saban on Missouri Coach Gary Pinkel, who was his teammate at Kent State.
"The bottom line is, when we don't do well offensively, that's on me." — Auburn Coach Gus Malzahn after Georgia's 20-13 victory over the Tigers.
"I'm not an excuse maker. I don't like sitting here begging for time. But I said it over and over again, I know very clearly what I was getting into when I took this job and I know very clearly what we're into right now." — Kentucky Coach Mark Stoops, talking on his radio show in the wake of the Wildcats's five-game losing streak that has dropped them to 11-23 in his three seasons, including 4-6 this year.
Conferences have been playing challenges in basketball for several years, and Bielema said with the SEC and Big Ten each having 14 teams, it could work in football, too.
"That would be kind of a fun one," Bielema said. "People would get into that. I've been in both leagues and I have the utmost respect for both."
Bielema said having an SEC-Big Ten challenge might eliminate the need to schedule FCS teams, a debate now in college football with the concern about how strength of schedule impacts the College Football Playoff rankings.
"It's not for me to figure out," Bielema said. "It's probably for some administrators to get together and see what might come out of it."
Some other SEC coaches sounded intrigued by Bielema's idea.
"There may be some merit to that," Texas A&M Coach Kevin Sumlin said. "With all the conversation about fair scheduling, some type of situation like that probably would make sense.
"It could answer some questions during the year."
Kentucky Coach Mark Stoops said he'd be open to playing Big Ten teams, but wondered about the logistics.
"It would take a lot of planning," Stoops said. "That's a lot of people you're trying to get on the same page.
"I'm not sure how you could pull it off."
Pinkel's home farewell
Missouri Coach Gary Pinkel will go through his 26th senior day as a head coach when the Tigers play Tennessee on Saturday at Faurot Field.
But this game will be unlike any other senior day Pinkel has experienced in his 15 seasons at Missouri or his 10 at Toledo.
It not only will be the final home game for Missouri's seniors, but the last one for Pinkel, who has announced he's resigning at the end of the season to focus on his health after being diagnosed with non-Hodkins lymphoma, a form of cancer that affects the immune system.
Pinkel said he doesn't want to consider what his emotions will be Saturday.
"People keep asking me that and I refuse to think about it, you know?" Pinkel said. "Obviously, what I care about are my players and winning this football game and playing well.
"We've got 21 seniors and my thoughts go first to them before me."
Tennessee Coach Butch Jones said he expects the Tigers to be on an emotional high for Pinkel's final home game.
"We're expecting to get their best effort,' Jones said. "They have a coach they love and respect."
Heat on Miles?
Scott Rabalais, a columnist for The Advocate newspaper in Baton Rouge who has been covering LSU sports for 25 years, wrote this week that Tigers Coach Les Miles could be coaching for his job the rest of this season.
Miles has a 110-31 record in his 11th season at LSU and won the national championship in 2007, but the Tigers have lost their last two games at Alabama and at home to Arkansas by a combined 62-33 margin to fall from No. 2 in the College Football Playoff rankings to No. 15.
The Tigers have a five-game losing streak to Alabama, starting with a 21-0 beatdown in the BCS national title game in New Orleans to end the 2011 season. They're 15-7 since the start of the 2014 season, including 8-6 in SEC games.
Unless the Tigers beat Ole Miss and Texas A&M and Alabama loses to Auburn, the Tigers will fail to win at least a share of the SEC West for four consecutive years, their longest stretch without a division title since 1998-2001.
Miles said on Wednesday's SEC coaches teleconference he's not feeling additional pressure going into Saturday's game at Ole Miss, but that's is "imperative that the Tigers get back on track."
Miles said he's received consistent support from LSU Athletic Director Joe Alleva.
"I don't think there are any issues," he said.
Miles said he likes coaching at a school where winning is expected.
"Heck, that's the kind of job that I want," he said. "I enjoy going into a stadium where everybody believes you ought to beat the tar out of the opponent."
If LSU continues to struggle and a decision is made to replace Miles, it would be a costly move for the athletic department. Miles has a contract that runs through the 2019 season, including a buyout that drops from $15 million to $12.9 million on Jan. 1, according The Advocate. LSU's assistants have contracts that requires they be paid for six months if Miles is fired.
Late break
Ole Miss became the last SEC team to have an open date when the Rebels were off last week after playing 10 consecutive games.
Rebels Coach Hugh Freeze said he hopes to never again experience a season where his team plays so many games before getting a break.
"I've never done that before, and it was difficult," Freeze said. "There's no question trying to determine how to manage that was new to me."
Freeze said he may have made some mistakes trying to cut back on practice time to try to keep the Rebels fresh for games.
"At the time you think it's the right thing to do, but looking back I don't' know if it was or not," he said. "Trying to grind through this league that we're in, it was a tough thing.
"There's no doubt this week we've had an extra burst in practice."
This season Ole Miss' 10th game was a 53-52 overtime loss to Arkansas at home. Next season the Rebels have an open date after five games and before playing at Arkansas.
Going for 10
If Florida beats Florida Atlantic on Saturday, Jim McElwain will set the high mark for most victories by a Gators coach in his first season.
Florida is 9-1, which ties McElwain for the most victories by a Florida coach in his debut season with Ray Graves [9-2 in 1960], Galen Hall [9-1-1 in 1985] and Steve Spurrier [9-2 in 1990].
Stoops can take it
Kentucky's five-game losing streak in Mark Stoops' third season as coach caused a barrage of upset callers to his radio show this week.
A caller identified as "Dale from Frankfort" was particularly critical according to the Lexington Herald-Leader, yelling at Stoops that he needed to get on the same page with his offensive and defensive coordinators and get more involved in the game.
When Dale continued to comment negatively on Stoops' lack of player development and poor decision-making, the radio show's producer started to cut off the caller, but the coach stopped him.
"No, let him go," Stoops said according to the Herald-Leader. "I can take it."
Dale then went on for a few more minutes.
"I'm not an excuse maker," Stoops said later in the show. "I don't like sitting here begging for time. But I said it over and over again, I know very clearly what I was getting into when I took this job and I know very clearly what we're into right now."
Stoops asked fans to show up for the Kentucky's next two games against Charlotte and Louisville in Commonwealth Stadium and continue to support the team.
"I'm asking you to still hang in there because it's not built overnight," Stoops said. "Don't give up on these players and this team. They're playing their hearts out."
Be ready to pay
Houston Coach Tom Herman has led Houston to a 10-0 record in his first season as a head coach, putting him in the conversation for every vacancy at power conference schools, including Missouri and South Carolina.
But if a school wants to hire Herman, it will come with a $2.25 million buyout, according to the Houston Chronicle. That buyout goes through March of 2018 as part of his five-year, $6.75 deal Herman signed with Houston after winning the Broyles Award as the nation's top assistant last when he was Ohio State's offensive coordinator.
Houston's board of regents also is scheduled to meet today and likely is getting ready to offer Herman a more lucrative contract to keep him as the Cougars' coach.
Two-minute drill
• If Auburn beats Idaho, Tigers' Coach Gus Malzahn will be 2-0 against the Petrinos this season. Paul Petrino, like Malzahn a former Arkansas offensive coordinator, is Idaho's coach. His older brother, Bobby, is Louisville's coach. Auburn beat Louisville 31-24 to open this season.
• Arkansas and Florida both got their 700th victory last Saturday when the Razorbacks won at LSU and Florida won at South Carolina. The Razorbacks are 700-479-40 and the Gators are 700-401-40.
• South Carolina receiver Pharoh Cooper threw his fourth career touchdown pass against Florida when he connected with quarterback Perry Orth on a 17-yard play.
Sports on 11/19/2015
Print Headline: Bielema tosses out challenge
Sponsor Content