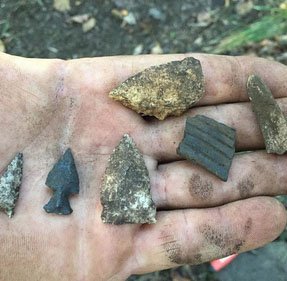 A handful of Indian artifacts is shown in this photo that court documents say was posted on an Instagram account.
Federal agents used hidden cameras to monitor a Crawford County man for four months as he dug for artifacts in the Ozark-St. Francis National Forest and posted his findings online, according to court documents unsealed last week.
David Tudor, 57, of Natural Dam posted photos of arrowheads and other artifacts on his Instagram page, where he goes by "dirt0310." Tudor wrote online that his collection includes about 1,200 arrowheads.
"I like artifacts of any kind, like arrowhead hunting, breaking colts, just about all rodeo events," Tudor wrote on his Instagram page.
The camera surveillance began June 3 and continued through mid-October, according to an affidavit for a search warrant filed Nov. 6 in U.S. District Court in Fort Smith by Morgan Amos, a criminal investigator with the U.S. Forest Service.
Investigators moved the surveillance cameras from one location to another to correspond with Tudor's posts on Instagram.
"Tudor has been posting apparently new artifact finds most every week on his Instagram site during the scope of my investigation," Amos wrote in the affidavit unsealed Thursday.
Digging and removing artifacts from a national forest without a permit is against federal law under the Archaeological Resources Protection Act of 1979, which refers to such practices as "uncontrolled excavations and pillage."
The excavated items are the property of the United States, according to the law.
Tudor had no permit to excavate artifacts in the national forest, according to the affidavit.
"For a felony offense, first-time offenders can be fined up to $20,000 and imprisoned for up to one year," the National Park Service says.
No charges have been filed against Tudor, and the U.S. attorney's office in Fort Smith had no comment on the case.
"I can tell you that the investigation is pending," Assistant U.S. Attorney David Ferguson said via email.
Tudor didn't return a message left Friday at his place of employment or respond to a message sent to him through Facebook. No home telephone number could be found for Tudor through directory assistance or the Internet.
Ferguson and Amos said they had no telephone number for Tudor that they could give to a reporter.
The search warrant was executed at Tudor's home Nov. 7.
Duane Crims, a law enforcement officer with the Forest Service, reported finding arrowheads, bone fragments and pieces of ceramic pots among the artifacts at Tudor's residence.
The investigation began last spring, after the Forest Service received an email May 6 about Tudor's Instagram posts, according to the affidavit.
Tudor lives within the proclamation boundary of the national forest, which has "numerous prehistoric bluff shelter sites with evidence of human habitation and caves," according to the affidavit.
There is private property within the national forest's proclamation boundary, but the excavations cited in the court filing were on federal land.
On May 31, Crims and other investigators located Tudor's "favorite" digging site -- as posted on Instagram -- in the Whitzen Hollow area of the national forest, according to the affidavit. There, investigators said, they found evidence of unauthorized digging.
"The site is a concave bluff shelter and a known prehistorical archaeological site," according to the affidavit.
On June 1, investigators found two more locations where digging had taken place nearby, on federal land.
Still-photo and video surveillance cameras were installed at the digging sites. The cameras documented Tudor and another man digging for artifacts, according to the affidavit.
As the men moved to different sites, so did the surveillance cameras.
Three main sites were listed in the affidavit, but digging had occurred in several spots within those sites -- often at the back of the shelters, where prehistoric fires had burned, or underneath overhanging rock where water dripped, which archaeologists call a drip line.
The only arrowheads that can be collected legally in a national forest are those found on the surface.
But the hidden cameras showed Tudor digging, according to the affidavit. At one point, Tudor was recorded digging in a waist-deep hole on federal land, the document said.
The most desired artifacts are deep in the ground, according to the affidavit.
There were no permits issued for excavation in the Boston Mountain Ranger District, and cave entry is forbidden because of the possible human transference of white-nose syndrome from bat colonies, Amos wrote.
Tudor described himself online as obsessed or addicted to artifact hunting, according to the affidavit. Tudor wrote that he doesn't sell the artifacts he collects.
When contacted Thursday, Amos said he couldn't comment on the case.
"Everything is under investigation at this point," he said.
SundayMonday on 11/22/2015
Print Headline: Forest had eyes on man digging artifacts, files show
Sponsor Content