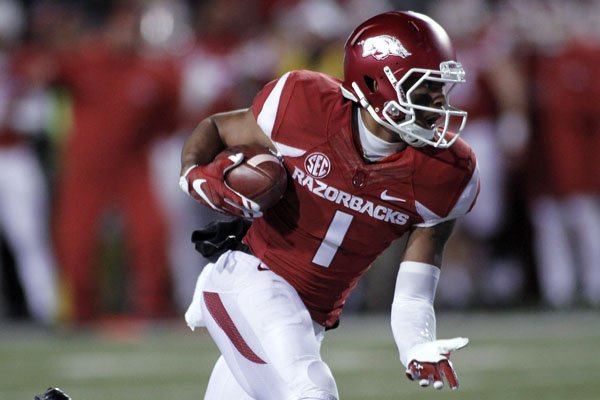 Arkansas' Jared Cornelius runs the ball during the second half of an NCAA college football game against Mississippi State, Saturday, Nov. 21, 2015 in Fayetteville, Ark. Mississippi State won 51-50. (AP Photo/Samantha Baker)
FAYETTEVILLE -- Arkansas scored more points against Mississippi State Saturday night than the Razorbacks' previous three games combined in the series and they still couldn't stop the Bulldogs from winning again.
Mississippi State held on for a 51-50 victory at Reynolds Razorback Stadium with a blocked field goal attempt in the final seconds that extended the Bulldogs' winning streak against Arkansas to four games.
It was the most points the Razorbacks (6-5, 4-3 SEC) ever have scored in a game -- regulation or overtime -- and lost.
Their previous highest-scoring loss was to Texas Tech, 49-44, in 1990.
"Our goal on offense is to score more than the other team," said Arkansas tight end Hunter Henry, who had 7 catches for 129 yards and 2 touchdowns. "Tonight we didn't."
Quarterback Brandon Allen couldn't celebrate after setting an Arkansas records for touchdown passes in a game (7) and career (63). He also tied the SEC record for touchdown passes in game.
"It sucks for all of us," Hunter said. "You work so hard and put so much time and effort into this, and to come up short, it's pretty tough."
Mississippi State has its longest winning streak against Arkansas and has cut the Razorbacks' advantage to 15-10-1 in a series they used to dominate.
Arkansas went 15-2 against Mississippi State from 1995 through 2011, including 3-0 in overtime games, before the Bulldogs turned things around of late, winning 45-14 in 2012, 24-17 in overtime in 2013 and 17-10 last season.
Mississippi State gained 631 yards Saturday night, with 508 passing and 46 rushing from senior quarterback Dak Prescott. He passed for five touchdowns and rushed for two.
"He's not one of the best quarterbacks in the country for no reason," Arkansas cornerback Kevin Richardson said. "He was really poised. He didn't let us affect him in any kind of way. He just came out and competed every play."
The defense struggled to stop Prescott, but the Razorbacks forced two turnovers in the third quarter -- an interception by Richardson and fumble forced by Deatrich Wise and recovered by Tawian Johnson -- that helped set up touchdowns that put Arkansas ahead 42-31.
"We were running on a high right there," Richardson said. "That pushed us to open our eyes that we could still come back and win the game.
"We've just got to finish better. I'm pretty sure we're going to emphasize that a lot this week and hopefully we execute it better."
The Razorbacks close the regular season against Missouri (5-6, 1-6) Friday at home.
"Nobody's going to feel sorry for us," Arkansas Coach Bret Bielema said. "You can go back and look at the film and make corrections, but what's done is done.
"Now we'll move ourselves into preparation mode for Missouri in a short week. We have to do a good job of getting our guys back mentally."
Bielema said he's confident the Razorbacks won't have a problem putting the Mississippi State game behind them quickly to focus on Missouri.
"It hurts, it stings, it bites," Bielema said. "I told our players to put this one on me.
"Just keep preparing the way you have and hopefully we can end this on a positive note for our seniors. They're hurting and we'll take 24 hours to get this one through them."
The Razorbacks had won four consecutive games since an open date before losing to Mississippi State.
"We really wanted to win out, but we've got to come back better prepared," Richardson said. "It's our seniors' last game here, and we're going to leave it all out on the field for them."
Allen said playing the Missouri game a day earlier than normal may be a plus.
"I think this team is going to be just fine," Allen said. "I think it's probably even better that it's a short week.
"We'll get our focus even more locked in because we know it's coming quicker."
Sports on 11/23/2015
Gallery: Arkansas vs. Mississippi State
Print Headline: Score 50 and lose? Hogs cope with it
Sponsor Content