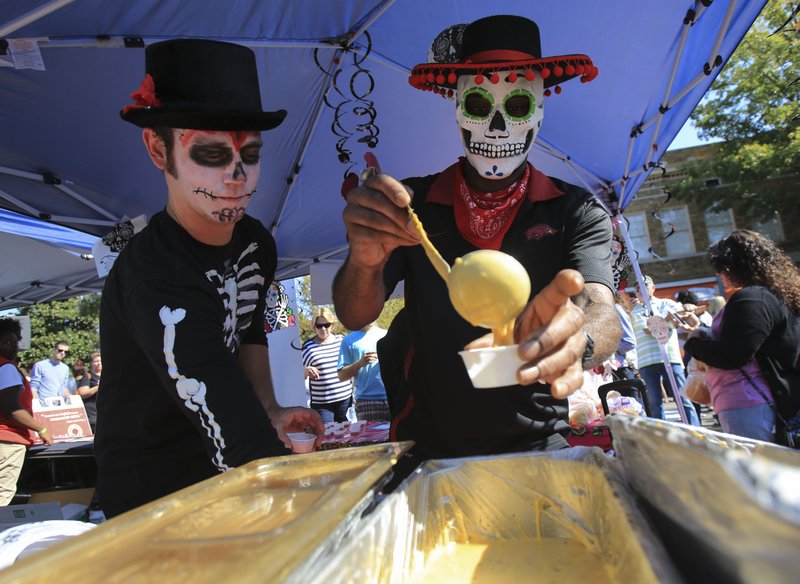 David Young (left) and Antonio Nelson dish up cheese dip for On The Border's Liquid Gold team at the 2014 World Cheese Dip Championship in Little Rock. This year's event is set for Saturday, Oct. 31, 2015. ( Staton Breidenthal)
As of our deadline, Juice Bar Midtowne, despite some delays, was still on track to open today in the Midtowne Shopping Center, 201 N. University Ave., Little Rock. Hours, per the website (ilovejuicebar.com), are 7 a.m.-6 p.m. Monday-Friday, 8:30 a.m.-4:30 p.m. Saturday; we still don't have a listed phone number (as of last week, the store, according to management, had a store cellphone but not a landline), but we've been keeping track via the Facebook page (tinyurl.com/juicelr).
The original October target date for the opening of Raimondo Winery, 615 Main St., Little Rock, in the Fulk Building (which, by the way, was the original home of the Arkansas Democrat) is going to come and go, says owner Margie Raimondo, citing construction and permit delays that are certainly not uncommon in any business, and particularly when rehabbing a historic structure. She says, however, that the demolition is done and rebuilding the structure has begun, but "I'm not sure I can give a date; meeting in two weeks with the architect and builder and my team, supposed to get an update on a timeline." The third-generation California winemaker has had a wine-making operation in Mountain Home since 2008, but the new location downtown will become her flagship operation. Grapes will continue to be shipped from California and processed at a plant she established in North Little Rock, but the aging and bottling will occur at the Main Street shop, where she'll also offer a tasting room. She'll also sell infused balsamic vinegars and extra virgin olive oils and operate what she describes as more of a trattoria than a ristorante, with gourmet foods, soups, salads and "small plates" for dining or take-out orders, indoor and outdoor seating and an open kitchen. We'll keep you posted.
And speaking of locally owned wine establishments, the Little Rock Convention and Visitors Bureau, in partnership with its North Little Rock counterpart, will kick off "Locally Labeled," a marketing initiative to promote the growing craft ale, wine and spirits business in the greater Little Rock area, 5:30-7:30 p.m. Oct. 15 in the River Market. It'll feature brews, wine and spirits from locally owned establishments, including Rock Town Distillery, BoBrook Farms, An Enchanting Evening Winery, Stone's Throw and Lost Forty Brewing. Little Rock band Amasa Hines will perform. Admission is free. Guests, who, of course, must be 21 or older to attend, can pick up passports with information about the area's beverage makers; obtain passport stickers at each brewery, winery or distiller and, once full, present them at Shop the Rock in the River Market's Ottenheimer Market Hall for "an exclusive prize." Visit LittleRock.com.
We're continuing to monitor, without any updates, the Jerky's Spicy Chicken and More saga. As of Tuesday's deadline, the restaurant had still not opened in its new location, 521 Center St., Little Rock. The same voicemail message on the phone -- (501) 246-3096 -- still urges customers to be patient; the last posting on the "Jerkys Jamerican" Facebook page (facebook.com/jerkys.jamerican) was Sept. 11, noting that date's small soft opening, with a limited menu of jerk chicken and ribs. Nor is there yet anything new on the website, jerkys.net.
Starting today, the Mellow Mushroom pizza chain, with locations in west Little Rock (16103 Chenal Parkway), Fayetteville and Rogers, is adding beef and "veggie" burgers to its menu after a test run at "select locations in Alabama, Georgia, Florida, South Carolina and Texas" this summer. According to a news release, "The beef burger (Carnie) is made of 100 percent choice, all-natural, certified Black Angus Beef ... humanely raised and minimally processed, using no additives or ammoniated procedures. It will be available with Swiss cheese, caramelized onions, romaine lettuce, tomato, pickles and garlic aioli spread. The veggie burger (Herb) ... consists of kale, quinoa, roasted mushrooms and brown rice, among other seasonings and vegetables ... prepared with cheddar cheese, romaine lettuce, tomato, sweet onions and fresh avocado." The phone number for the Little Rock outlet: (501) 379-9157.
State Fare opened Monday at 401 N. 46th St., Rogers, serving, as part of a menu that features "local comfort food," a range of fair fare -- sno-cones for kids (and adults), funnel cakes and cotton candy. Hours are 11 a.m.-9 p.m. Monday-Friday, 10 a.m.-9 p.m. Saturday-Sunday. The phone number is (479) 633-8886; there's a "State Fare NWA" Facebook page, and a website, statefarenwa.com, that's still under construction.
In case you missed the obituary, McClard's Bar-B-Q patriarch Joe Davis McClard, better known as "J.D.," died Sept. 22. He was 91; he had retired from the legendary barbecue joint, 505 Albert Pike, Hot Springs, in 2005.
The 2015 World Cheese Dip Championship, the fifth (but not, no matter what you read elsewhere, the fifth annual, because the event took a year off in 2013), will take place noon-3 p.m. Oct. 31 at the Bernice Garden, 1401 S. Main St., Little Rock. The competition takes place on two levels -- the People's Choice Awards, chosen by folks who have sampled the dips, and the Judges' Choice Awards -- in two divisions, pros and amateurs. Winners get trophies, cash prizes and bragging rights. Sign-up has begun at CheeseDip.net, where you can also find the rules and buy tickets ($8 in advance, $10 at the gate, free for kids 10 and younger); all proceeds benefit the Harmony Health Clinic, a free medical clinic for poverty-level Arkansans.
If you're headed to Ciao, 405 W. Seventh St., Little Rock, you can leave the gun and take the cannoli, which the restaurant compiles, on order and on its premises, from cream and the shells shipped in from Ferrara's, a landmark Italian bakery that's been operating in New York's Little Italy neighborhood since 1892. Ciao has also brought back to its dessert menu its chocolate creme brulee. Restaurant hours remain 11 a.m.-2 p.m. Monday-Wednesday, 11 a.m.-2 p.m. and 5:30-9 p.m. Thursday-Friday and 5:30-9 p.m. Saturday. The phone number is (501) 372-0238, the email address is ciaodowntown@gmail.com and the website is ciaoitalianrestaurant.com.
And you won't have to go over the river and through the woods to Grandmother's house if she isn't cooking Thanksgiving dinner this year -- the Capital Hotel, 111 W. Markham St., Little Rock, will be offering "Holiday Turkey to Go," a pre-prepped Thanksgiving meal -- a traditional tom turkey (12-14 pounds) with slow-roasted herb gravy, cheddar mashed potatoes, cornbread stuffing with andouille sausage, green-bean casserole with onion topping and roasted Brussels sprouts, and one-per-order Capital Signature Pumpkin Pie Pecan Pie. Serves 12-15; cost is $260 (plus tax) and you need to give them at least 48 hours' notice -- call (501) 370-7068.
Has a restaurant opened -- or closed -- near you in the last week or so? Does your favorite eatery have a new menu? Is there a new chef in charge? Drop us a line. Call (501) 399-3667 or (501) 378-3513, or send a note to Restaurants, Weekend Section, Arkansas Democrat-Gazette, P.O. Box 2221, Little Rock, Ark. 72203. Send email to:
eharrison@arkansasonline.com
Weekend on 10/01/2015
MORE TOP STORIES IN TODAY'S DEMOCRAT-GAZETTE
Print Headline: TRANSITIONS
Sponsor Content