The Little Rock School District is restarting efforts to develop new school buildings in northwest and southwest sections of the district.
Document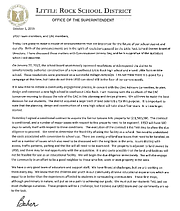 Superintendent Baker Kurrus said Thursday that he has signed a conditional, $11.5 million contract for the purchase of the former Leisure Arts property on Ranch Drive off Cantrell Road for use as a middle school in the growing northwest section of the city.
The seller of the property is Baptist Health. The property is adjacent to 43.5 acres the district purchased for $4.2 million in 2013 on North Katillus Road for a middle school.
The conditional contract signed Wednesday gives the district 180 days to consider the feasibility of the office building and warehouse for a school before a sale is finalized.
If experts hired by the district to evaluate the property conclude the existing buildings are suitable for school use -- and Kurrus emphasized that the suitability at this point is an unknown and that there are zoning, access and parking issues to resolve -- the district could start classes as soon as the 2016-17 school year.
"We would do it as soon as we can," Kurrus said. "If we could start a sixth grade out there we wouldn't hesitate. We aren't waiting on anything but a reasoned judgment. We have some community work to do. The community may say no and ask us to spit that out. If it's a good deal and ... if everything is perfect, we will go as fast as we can."
Speaking at an early afternoon news conference, Kurrus also said he is kicking into higher gear what has been the stalled planning for a new high school -- "a world-class facility" in southwest Little Rock, possibly on 56 acres on Richsmith Lane that the district purchased in 2013 for $1,372,000. The land is behind the Home Depot store on Baseline Road.
"We are going to initiate a community engagement process with respect to what we need in southwest Little Rock," he said.
"I want to plan, design and construct a new world-class high school in southwest Little Rock. If you look in the communities that surround our school district, our schools are not as good as the schools in the other areas," he said, citing as models the schools he's toured recently in Northwest Arkansas, North Little Rock, Benton, Cabot and Bryant.
He said it will take four or five years to plan and construct a new high school to replace at least McClellan High and possibly both McClellan and Fair high schools.
"We don't have the luxury of waiting. We need to proceed quickly but we need to proceed in a way that allows for community engagement and community discussion ... calm, reasoned discussion about what we need and where we need it," Kurrus said.
He said he will involve the district's state-appointed Civic Advisory Committee and its co-chairmen, Dionne Jackson and Greg Adams, as part of that planning.
Kurrus said the new schools will be financially challenging to the district that is facing the loss of more than $37 million a year in state desegregation aid after the 2017-18 school year. Recapturing local tax revenue that was initially targeted for construction and bonded debt but is now spent on the district's day-to-day operating costs will be one avenue for funding construction, he said. Other revenue sources could be savings in operating costs and the use of some of the remaining state desegregation aid.
Kurrus did not estimate the cost of a new high school Thursday but said a new school must be large enough in size and enrollment to make it economically feasible to provide the full spectrum of services and academic programs needed by students in an urban school system.
The North Little Rock district's extensively remodeled high school with all new classroom buildings for 3,000 students has a price tag of about $94 million. The Pulaski County Special district built Maumelle High School for 1,500 students at a cost of about $55 million in 2011.
Most Arkansas districts qualify for state Partnership Program Aid in which the state shares in the cost of building academic facilities and provides a greater share of the cost in districts that do not have much local property tax wealth. The Little Rock district has not historically qualified for the building aid because of its significant tax base. Kurrus said the district is now at a point that it could qualify for some state aid -- possibly 6 percent of building costs.
Reaction to Kurrus' announcement on pursuing the two campuses was mixed Thursday.
Melissa Muse, a former PTA officer at Roberts Elementary School in northwest Little Rock and the organizer of a community meeting Thursday night on the need for middle and high schools in west Little Rock, said she was "definitely excited" and cautiously optimistic about what could be a quickened pace for a new west Little Rock campus.
Pam Adcock, a parent and longtime community activist in southwest Little Rock, said she hopes the planning for a new high school "starts from square one."
"We do want McClellan to stay where it is," Adcock said about the school at 9417 Geyer Springs Road. "But we do want a new building. The main thing is, now that we have new people to work with -- Mr. Kurrus and [Arkansas Education Commissioner Johnny] Key -- maybe we can have open, honest dialogue."
Adcock and some other residents in southwest Little Rock were caught by surprise and were unhappy with the district's 2013 purchase of 56 acres on Richsmith Lane as a site for a new high school.
Key serves in lieu of a locally elected school board in the 24,000-student district that was taken over by the state Jan. 28 because six of the 48 schools are labeled by the state as academically distressed. Key selected Kurrus to be the superintendent of the district in May.
Key called the planning for two new campuses significant milestones and said he is in full support of the efforts.
"Having a modern education facility in southwest Little Rock that will provide 21st century learning opportunities should create excitement for the students and families in that part of the city," he said in a prepared statement. "At the same time, this agreement on the former Leisure Arts facility will allow us to determine the feasibility of converting this building to meet the educational needs of students in a rapidly growing part of the city."
Little Rock district leaders have been working for several years on new schools in the two sections of the district.
Parents in the northwest part of the city have aggressively advocated for new secondary schools west of Interstate 430 to serve pupils who complete kindergarten through fifth grade at Roberts Elementary school, the district's newest school.
Those pupils then have to travel several miles toward the center of the city to attend middle schools such as Henderson, Dunbar and Pulaski Heights or seek a seat at the district's Forest Heights STEM Academy for kindergarten through eighth grade. High schools for those students -- such as Hall, Parkview Magnet and Central -- are also a great distance away from the new northwest Little Rock neighborhoods.
The Little Rock School Board, just days before it was disbanded in January, voted in favor of a resolution to simultaneously construct a new high school in southwest Little Rock and a middle school in the northwest part of the city, all conditioned on the passage of a property tax increase by district voters.
Kurrus on Thursday said his efforts for moving forward with the planning for buildings was consistent with the spirit of the vote by the former school board, but different in that he is not including a property tax increase into the mix as he does not think that would win voter approval.
Gary Newton, executive director of Arkansas Learns organization that promotes parent choice for schools for their children, has urged the district for months to consider the Leisure Arts property for use as a middle school.
He said Thursday that he was appreciative that it was being studied and that it was an option worthy of exploration. He also complimented parents who advocated for the land to be considered, saying they not only identified a problem but also suggested a solution.
State Rep. John Walker, D-Little Rock, who has represented black students in the district's long-standing but nearly ended federal school desegregation lawsuit, said Thursday that he was reserving comment on the district's building plans until next week.
The northwest Little Rock property was originally used by the Leisure Arts company, a national publisher of craft books. The 75,000-square-foot office building and the 175,000-square-foot warehouse are on 23 acres.
Kurrus said the district only will pursue the purchase if the property is satisfactory.
"No amount of pressure is going to change our mind," he said if the buildings are not satisfactory. "It's got to be done reasonably. I've seen more people lose big money chasing deals, buying businesses that are good businesses but turn into bad business deals when they pay too much."
He also said that if the deal falls through in northwest Little Rock, that won't slow down efforts in southwest Little Rock.
Metro on 10/02/2015
MORE TOP STORIES IN TODAY'S DEMOCRAT-GAZETTE