ROSEBURG, Ore. -- A gunman opened fire at an Oregon community college Thursday, killing at least 10 people before dying during a shootout with police, authorities said.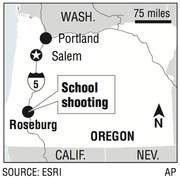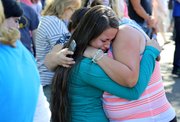 The shooting occurred at the Umpqua Community College in Roseburg, about 180 miles south of Portland.
Douglas County Sheriff John Hanlin said Thursday evening that 10 dead and another seven injured was the "best, most accurate information we have at this time."
FBI spokesman Beth Anne Steelelater said the 10 included the gunman. She declined to provide other information about the shooter.
Hanlin said the gunman was killed in a shootout with police, but he did not say whether the shooter was killed by officers or took his own life.
A government official late Thursday identified the gunman as Chris Harper Mercer, 26, according to The Associated Press and The Washington Post. The official wasn't authorized to speak publicly and provided the name on condition of anonymity.
State and local police officials refused to identify the shooter late Thursday.
"I will not name the shooter. I will not give him the credit he probably sought prior to this horrific and cowardly act," Hanlin said at a news conference.
The gunman was described as wearing a dark shirt and jeans, and having what appeared to be three pistols and possibly a semi-automatic rifle.
Authorities offered no immediate word on the gunman's motive and said they were investigating.
The sheriff's office reported on Twitter that it received a call about the shooting at 10:38 a.m. The fire district advised people via Twitter to stay away from the school.
"As you can imagine, it was chaos. That's what he said on the radio," said Mike Lane, assistant chief of the Roseburg Fire Department. He was relaying what a fire official was heard saying over a dispatch radio just after the shooting.
The school has about 3,000 students and about 200 full- and part-time faculty members. Its website was down Thursday, and a phone message left at the college was not immediately returned.
Neither state police nor the sheriff's office returned calls seeking details.
Former Umpqua Community College President Joe Olson, who retired in June after four years, said the school had no formal security staff, just one officer on a shift.
One of the biggest debates on campus last year was whether to post armed security officers to respond in case of shooting.
"I suspect this is going to start a discussion across the country about how community colleges prepare themselves for events like this," he said.
Hours after the attack, President Barack Obama spoke to reporters, saying the U.S. is becoming numb to mass shootings and that the shooters have "sickness" in their minds.
"Somehow this has become routine," he said at the White House. "It cannot be this easy for somebody who wants to inflict harm on other people to get his or her hands on a gun."
Repeating his support for tighter gun-control measures, he said thoughts and prayers are no longer enough in such situations because they do nothing to stop similar attacks from happening a few weeks or months later.
Josh Earnest, the White House spokesman, said "sensible steps that can be taken to protect our communities from gun violence continues to be a top priority of this administration."
Personnel from numerous law enforcement agencies responded to Thursday's shooting, officials said.
Corey Ray, a spokesman with the federal Bureau of Alcohol, Tobacco, Firearms and Explosives, said the agency was sending teams from Seattle, Portland and Eugene -- some of them canine teams. They will help search for firearms casings and other ammunition. The FBI field office in Portland also said it was sending agents to the scene.
Firsthand accounts
A student, Brady Winder, 23, who moved to Roseburg from Portland three weeks ago, said he was in a room in Snyder Hall adjacent to where at least one shooting took place.
"I heard at least nine shots," he said. "There's a door connecting our classroom to that classroom, and my teacher was going to knock on the door, but she called out, 'Is everybody OK?' and then we heard a bunch more shots. We all froze for about half a second."
All of the classrooms in the building open to the outdoors -- there are no hallways, he said, and "as we were running away, I think there were more shots, but my brain was kind of in panic mode, just focused on running as fast as I could."
Another student said the gunman asked people about their religion before spraying more bullets.
Kortney Moore told the Roseburg News-Review that she was in a writing class when a bullet punched through a window. The gunman entered her classroom and told people to get on the ground. The man then started asking people to stand up and state their religion before he opened fire.
"We locked our door, and I went out to lock up the restrooms and could hear four shots from the front of campus," Dennis O'Neill, executive director of the Umpqua Community College Foundation, told the newspaper.
Lorie Andrews, who lives across the street from the campus, said she heard what sounded like fireworks, followed by sirens. She walked up the road and spoke to students who had streamed out.
"One girl came out wrapped in a blanket with blood on her," Andrews said. "Everybody is in shock. Very, very shocked."
McCrae Kittelman was in math class when he first heard of a shooting in the school's science building a short walk away.
He learned of it when his professor sprinted into the room.
"That was one of the most strange and disquieting parts," said Kittelman, 17, "is that there were no sounds at all."
Kittelman's mother, Marilyn, first learned of it six minutes later. She immediately began texting her son, who responded.
"All of a sudden everyone was freaking out about stuff happening over in Snyder Hall, which is right next door to where my math class was behind held," Kittelman told Fox News.
Hanlin, the sheriff, did confirm where on campus the shootings occurred.
For some like Jodi Sonka and her professor, the first thought was that there was a drill going on.
"He was like, 'Oh, this never happens,'" Sonka told CNN. "Then he heard it was real and said we all need to get in the back room now, immediately."
Later, "we were all taken outside to be patted down by police officers to make sure no one else had anything on them," she said. "We were loaded on buses and taken to the fairgrounds."
Roseburg Public Schools Superintendent Gerry Washburn said a large number of Roseburg High School students go straight to Umpqua Community College after graduation.
"We are a small, tight community, and there is no doubt that we will have staff and students that have family and friends impacted by this event," he said.
On Thursday evening, residents gathered at a Roseburg park for a vigil for the victims. Many people held up candles as the hymn "Amazing Grace" was played.
Roseburg, population 22,000, is west of the Cascade Mountains in an area used by the timber industry. In recent years, officials have tried to promote the region as a tourist destination for vineyards and outdoor activities.
"It's sad that we're now in that horrible club of schools that have had to deal with this," Douglas County Commissioner Tim Freeman said. "I hope communities around our nation will pray for us."
Information for this article was contributed by Jeff Barnard, Steven Dubois, Martha Mendoza, Gene Johnson and Donna Blankinship of The Associated Press; by Richard Perez-Pena and Timothy Williams of The New York Times; by Susan Svrluga, Mark Berman, Jerry Markon and Nick Anderson of The Washington Post; and by Christine Mai-Duc, Lauren Raab, James Queally, Carla Rivera and Ann Simmons of the Los Angeles Times.
A Section on 10/02/2015
MORE TOP STORIES IN TODAY'S DEMOCRAT-GAZETTE