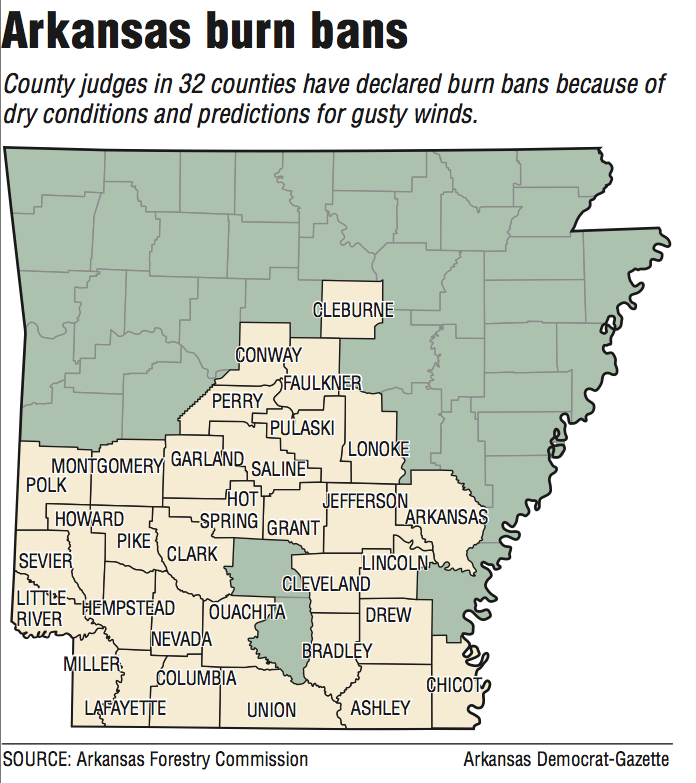 A map showing the Arkansas counties with burn bans. (Arkansas Democrat-Gazette / Source: Arkansas Forestry Commission )
The Arkansas Forestry Commission considers nearly half the state as having a high risk for wildfires, and 32 county judges have banned burning as winds are expected to increase this weekend.
The National Weather Service in North Little Rock said conditions over the past few weeks that have left 60.7 percent of Arkansas in a drought will continue into next week. Cool weather, low humidity and winds topping 20 mph have officials concerned about fire dangers.
"We need rain," said Robert Murphy,the forester for the commission's District 1 in Monticello, which covers nine counties in southeastern Arkansas. "But it's shut the faucet off. It's gotten real bad quickly."
In counties considered to be high in fire danger, residents are discouraged from burning anything while it's windy. That area is south of a line extending from Scott County to Saline County, then southeast to Desha County.
The remainder of the state is considered to be in moderate wildfire danger, and people are urged to burn only early or late in the day, when winds are less.
The state is entering its second time of the year for heightened fire activity -- although much later than normal, said Adriane Barnes, a spokesman for the forestry commission.
Generally, the "first season" occurs from February through April, and the "second season" happens between August and October, she said.
"It is later than normal," she said. "We have dry conditions, low humidity and gusting winds. It's all lined up for heightened wildfire danger."
As of Friday morning, 878 wildfires have burned 18 square miles in Arkansas, which is considered a low amount for the year, Barnes said.
In 2012, wildfires burned 53.8 square miles. The past two years had fewer fires due to a wetter season and increased community awareness of fire dangers. The lack of fires, though, has allowed more vegetation to grow and now provides more tinder for fires, Barnes said.
"The fuel is heavy on the ground," she said. "There's a lot that could burn now."
The forestry commission extended its contract with air tankers that fly over portions of the state and survey for any fires.
Normally, the tankers leave at the end of September, Barnes said. The commission will keep them in the state for at least two more weeks.
"We will keep them until we don't need them," she said.
The counties that issued burn bans are: Arkansas, Ashley, Bradley, Clark, Chicot, Cleburne, Cleveland, Columbia, Conway, Drew, Faulkner, Garland, Grant, Hempstead, Hot Spring, Howard, Jefferson, Lafayette, Lincoln, Little River, Lonoke, Miller, Montgomery, Nevada, Ouachita, Perry, Pike, Pulaski, Polk, Saline, Sevier and Union counties.
"We're trying to hold off fires," said Greg Carr, the director of the Cleburne County Office of Emergency Management, who, along with County Judge Jerry Holmes, issued a burn ban Thursday.
"There's been no rain in quite a while," Carr said. "It's getting real dry, and the winds are picking up."
The Weather Service forecasts that sustained winds will be between 10 and 15 mph today and Sunday, with gusts up to 25 mph.
Amid the sea of counties under burn bans, Calhoun County opted not to restrict burning.
"Our people have got enough sense to know when not to burn," Calhoun County Judge Floyd Nutt said. "It's extremely dry, but we know what we're doing."
Nutt said he may ban burning when deer hunting season opens in mid-November if the dry conditions remain, because hunters' campfires could create wildfires.
"Our main concerns are the high winds that are predicted," Murphy said. "We've had fires before started by truck tires blowing out and hot pieces of tires igniting them. We've seen fires start from a truck dragging a lift gate on pavement.
"We need a lot of rain," he said. "Half an inch of rain isn't enough. We'd be right back to where we started the next day."
He said Hurricanes Rita in 2005 and Gustav in 2008 -- two Gulf Coast hurricanes that blew remnants into Arkansas -- quickly dowsed drought conditions and curtailed wildfire danger in September.
"It won't take a hurricane to solve this, but we need more rain," Murphy said.
Any rainfall spawned from Hurricane Joaquin, which is forecast to churn up the East Coast this weekend, won't reach Arkansas, said National Weather Service meteorologist Jeff Hood of North Little Rock.
"We should see a slight stair-stepping in humidity each day," he said.
Today, humidity levels could reach the upper 30s, he said. On Sunday, forecasters expect humidity to climb to 50 percent in south Arkansas as moisture from an upper-level system over the southeastern United States reaches the state.
Although clouds are expected to cover some of the state this weekend, rain chances are minimal. There is only a 20 percent chance of rain for Thursday, the highest chance in the seven-day forecast.
State Desk on 10/03/2015
Print Headline: Bone dry and windy, 32 counties ban fires
Sponsor Content