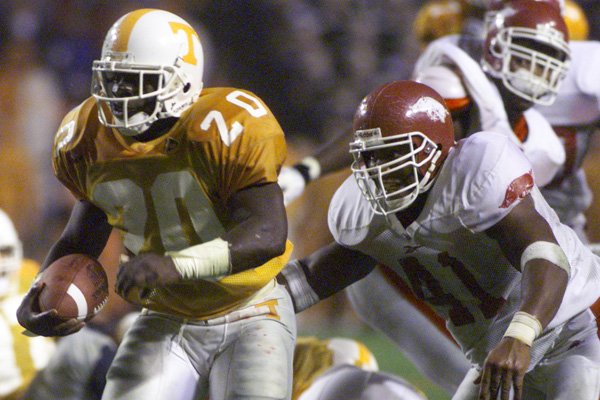 Tennessee's Travis Henry (left) breaks away from Arkansas' Melvin Bradley during the third quarter of the Volunteers' game against the Razorbacks on Saturday, Nov. 14, 1998, at Neyland Stadium in Knoxville, Tennessee. ( Cindy Blanchard )
KNOXVILLE, Tenn. — All week leading into Arkansas' first game at Tennessee on Oct. 10, 1992, the Razorbacks heard about the deafening crowd of more than 95,000 that would fill Neyland Stadium.
True freshman quarterback Barry Lunney Jr., making his first start, wondered what all the fuss was about when he went onto the field for warmups before the 11:30 a.m. kickoff.
Arkansas at Tennessee
WHEN 6 p.m.
WHERE Neyland Stadium (102,455) Knoxville, Tenn.
RECORDS Arkansas 1-3, 0-1 SEC; Tennessee 2-2, 0-1 SEC
RANKINGS Neither team is ranked
BETTING LINE Tennessee by 61/2
COACHES Bret Bielema (11-18 in 3rd year at Arkansas, 79-42 in 10th year overall); Butch Jones (14-15 in 3rd year at Tennessee, 64-42 in 9th year overall)
SERIES Tennessee leads 13-4 overall, 6-1 in Knoxville
TELEVISION ESPN2
RADIO Razorbacks Sports Network, including KABZ-FM103.7, in Little Rock; and KQSM-FM, 92.1, KEZA-FM, 107.9, KUOA-AM, 1290 and KUOA-FM, 105.3, in Fayetteville. Sirius 126, XM-Radio 191
"There was probably about 10,000 fans in the stadium because we were on the field at 10 o'clock in the morning," said Lunney, now Arkansas' tight ends coach. "I was thinking, 'This may not be that bad. It's really not as big as everybody made it out to be.'
"Then when we came back out for the start of the game I was like, 'Oh, it's a little different when they all show up.' "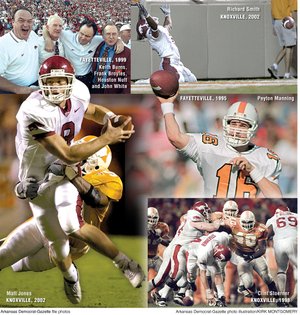 Photo by KIRK MONTGOMERY/Arkansas Democrat-Gazette photo illustration / Arkansas Democrat-Gazette file photos
Images from Arkansas/Tennessee football games over the years.
A crowd of 95,202 attended the game, but the Razorbacks silenced the orange-clad fans in the end when Todd Wright kicked a 41-yard field goal with two seconds left to lift Arkansas to a 25-24 victory.
Tennessee came into the game ranked No. 4 with a 5-0 record while the Razorbacks — playing their first season in the SEC — were 1-4, including losses to the Citadel and Memphis.
The Razorbacks' upset 23 years ago remains their lone victory at Tennessee in seven visits.
Arkansas (1-3, 0-1 SEC) will try to make it two victories at Tennessee (2-2, 0-1) at 6 tonight in Neyland Stadium, which now has a capacity of 102,455.
It is the teams' first meeting since 2011, when Arkansas won 49-7 at Reynolds Razorback Stadium, and their first game at Neyland Stadium since Tennessee's 34-13 victory in 2007.
The Razorbacks played Tennessee each of their first 11 seasons in the SEC as one of two crossover opponents along with South Carolina.
A scheduling change agreed to by the conference's athletic directors limited teams to one permanent crossover opponent starting in 2003, and the Arkansas-South Carolina game stayed.
Tennessee staying on Arkansas' schedule wasn't an option because of the Vols' longtime rivalry with Alabama.
Starting last season, Missouri became Arkansas' permanent opponent from the East.
Lunney said he always looked forward to Arkansas playing Tennessee.
"That's the way we were all raised in the SEC, but for our guys now it's kind of a foreign opponent," he said. "Arkansas playing Tennessee is the way it's supposed to be in my mind.
"It's going to be fun to play them again."
'SUCH A SICK FEELING'
Arkansas and Tennessee have played only 14 SEC games, but some are among the most memorable ever for the Razorbacks.
Their matchup most talked about nationally was in 1998, when No. 1 Tennessee and No. 10 Arkansas — both 8-0 — played at Neyland Stadium on CBS.
Arkansas had been 4-7 in 1996 and 1997 but enjoyed a revival in Houston Nutt's first season as coach.
"We got on a roll and started believing in one another," said Nutt, the Razorbacks' coach from 1998-2007 who is now a college football analyst for CBS Sports Network. "I thought for three-fourths of it we dominated that Tennessee game. I mean, it was beautiful."
Things turned terribly ugly for Arkansas with 1:43 left in the fourth quarter.
The Razorbacks led 24-22 and were attempting to run out the clock when quarterback Clint Stoerner tripped over guard Brandon Burlsworth's foot as he was dropping back to run a bootleg.
Stoerner put down his right hand — with which he was holding the ball — to regain his balance on the rain-soaked turf and fumbled.
"I remember it like it was yesterday, how it seemed like that ball stayed on the ground forever," Nutt said. "You kept waiting for one of those Razorback helmets to jump on the ball, but we couldn't get there."
Defensive tackle Billy Ratliff recovered for Tennessee at the Arkansas 43. Five plays later, Travis Henry scored on a touchdown run to give the Vols a 28-24 victory.
"To this day, I didn't think the ground could cause a fumble, but they called it a fumble, dadgum," Nutt said. "It was such a sick feeling.
"We were right there. I mean, right there."
Locker rooms were open for interviews back then, and Stoerner found himself surrounded by reporters after the game. He answered every question and took responsibility for the crushing loss.
"We had the game won and everybody knew we had the game won," Stoerner said. "The only thing you can't do to win the football game, I did it. It can't get any worse than that.
"It's tough for me to swallow. I can't believe it happened."
The Vols went on to finish 13-0 and win the national championship. Arkansas finished 9-3, including a Citrus Bowl loss to Michigan.
Nutt said the 1998 Tennessee game remains the most disappointing loss of his coaching career.
"We really had a good enough team to win it all," Nutt said. "I believe that."
'SUCH A GREAT FEELING'
Tennessee was ranked No. 3 and contending for a second consecutive national championship when the Vols played at Arkansas the next season.
Stoener, a senior, rallied the Razorbacks to a 28-24 victory, throwing a touchdown pass to Anthony Lucas with 3:44 left.
The Vols drove to the Arkansas 17, but the Razorbacks held on downs.
"It was such a great feeling to see Clint lead us to that victory, and by the same score, after what he went through the year before," Nutt said. "It takes a strong guy to do what he did."
Many Arkansas players and coaches were teary-eyed after the game and they remembered Burlsworth, the All-American who died in car accident in April of 1999 after being drafted by the Indianapolis Colts.
"Burls was up there watching today," Stoerner said after the game. "I promise you that."
THE 6-OVERTIME GAME
Arkansas' game at Tennessee in 2002 took six overtimes before the No. 10 Vols won 41-38 on Casey Clausen's 25-yard touchdown pass to tight end Jason Witten on a post route.
The Razorbacks tied the game 17-17 with 3:30 left in the fourth quarter on Matt Jones' 92-yard touchdown pass to Richard Smith.
It appeared Arkansas would win 23-20 in two overtimes when Jeb Huckeba got his hand on a 31-yard field-goal attempt by Tennessee's Philip Newman, but the wobbly ball barely went over the crossbar for a 23-23 tie.
"I thought, 'We've won! We've won!' " Nutt said. "Then the doggone ball goes through the uprights. I couldn't believe it."
PEYTON HAD HIS PLACE
Peyton Manning led Tennessee to four victories over Arkansas, including 30-22 at Little Rock in 1997 when he was a senior and the Vols were ranked No. 5.
Russ Brown, a starting guard for Arkansas from 1995-1998, recalled in a 2002 interview that when Manning came onto the field in 1997 to walk around before the game, he was accompanied by two Tennessee state troopers.
"That was the first time I ever saw a college player with his own security guards," Brown said. "I remember thinking, 'What's the deal with that?'
"But seeing something like that, you knew that when we played Tennessee it was just a different environment. Playing Tennessee was always special."
IN THE BEGINNING
Arkansas had no reason to believe anything out of the ordinary would happen when it traveled to Knoxville in 1992.
The Hogs were 1-4 and in a state of disarray after Athletic Director Frank Broyles fired Coach Jack Crowe the day after an opening loss to the Citadel.
There was an interim coach, Joe Kines, and a true freshman, Lunney, making his first start at quarterback.
And then there was the coin toss.
Tennessee won the toss and deferred its choice to the second half. Instead of the Razorbacks having Tennessee kick off, an Arkansas captain — Kines couldn't remember who — chose to defend the south goal.
So Arkansas kicked off to Tennessee to start both halves.
"I remember a reporter asked me about it after the game and he was going to write down all the philosophical reasons, and I said, 'You know what? The ol' boy said the wrong thing,' " Kines said. "But it ended up working out for us."
Before the game, Kines talked to the Razorbacks about a story in the Knoxville newspaper referring to the "Pot-Bellied Pigs" coming to play the Vols.
"I've always wanted to thank that writer for that article," Kines said. "It was the greatest favor anybody could have done for us, because kids have pride."
Kines appealed to his players' pride.
"Coach Kines said, 'Are you guys Pot-Bellied Pigs? Is that what you are?' " Lunney said. "It got everybody fired up. He could really get you going."
Arkansas overcame a 24-16 deficit by scoring nine points in the final 2:28.
Orlando Watters' 71-yard punt return for a touchdown pulled the Razorbacks to within 24-22. The Vols tackled Lunney short of the end zone on a two-point run attempt, but Darwin Ireland recovered an onside kickoff and Lunney connected with Tracy Caldwell on two third-down plays — including a 22-yard gain on a third-and-16 play — to set up Wright's game-winning field goal.
"It was meant to be for us that day," Lunney said.
Broyles was heard to say after the game Arkansas had risen from the dead.
It was a brief interlude.
The Razorbacks finished 3-7-1 in 1992, and Kines went back to being their defensive coordinator when Danny Ford — brought in by Kines as an assistant — became the head coach.
Kines said winning at Tennessee is among the most memorable games he was a part of in 43 years in the coaching business.
Lunney said nothing can take away from the memory of winning at Tennessee.
"It wasn't a great year for us, but that Tennessee game was kind of a reprieve for the Arkansas fans our first year in the SEC," Lunney said. "It was our way of saying, 'We do belong in this league.' "
Lunney said the Razorbacks' victory at Tennessee has been brought up a few times this week.
"I don't think you ever shy away from embracing history," he said. "History has a tendency to repeat itself, so hopefully it can 23 years later."
Print Headline: Knock-down, drag-out battles
Sponsor Content