The University of Arkansas athletic department doesn't have an official waiting list for businesses or individuals wanting to lease some of the 133 suites in Donald W. Reynolds Razorback Stadium on the Fayetteville campus.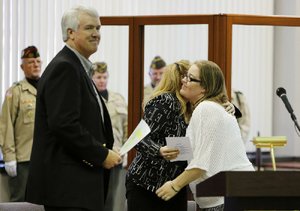 Photo by Democrat-Gazette file photo
Arvest Bank President Donny Story, left, is shown in this file photo.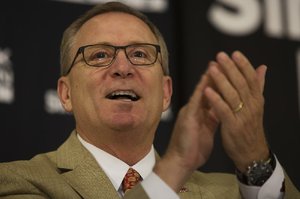 Photo by Melissa Gerrits
University of Arkansas Athletic Director Jeff Long claps for honorees before his addressing the crowd during the Little Rock Touch Down Club at Embassy Suites September 21, 2015.
Athletic Director Jeff Long said the department doesn't need one to gauge the demand for the premium spots from which to watch the Razorbacks play. When a suite becomes available, the athletic department reaches out to donors who have expressed interest in one, and the vacancy is quickly filled.
"We're really fortunate," Long said. "We don't really have to sell them."
UA has reaped the rewards of the high demand, turning the suites into a significant source of revenue for a program competing in the lucrative Southeastern Conference.
The athletic department expects to earn $5.75 million from suite ticket sales for its three major sports -- football, men's basketball and baseball -- for the 2015-16 season, according to figures obtained under the Freedom of Information Act. That amount accounts for roughly 6 percent of the department's budgeted revenue for the year, which is $97.5 million.
Like other athletic departments, UA has tapped into a booming trend throughout professional and college sports. The desire for premium seating in stadiums and arenas is growing. So, too, are the number of offerings.
"That's not only in Arkansas, that's been the curve out there across the country for a number of years," Long said. "The game has become more social. People are enjoying football, but they're also enjoying it as a social environment. They're looking for video boards and comfortable seating and Wi-Fi -- being able to view other games because, as we all know, there are many games on television now.
"So I think people are looking for those premium experiences."
Bill Dorsey, chairman of the Association of Luxury Suite Directors, said it's an experience few were able to get 25 years ago.
In 1990, he said, only 3 percent of a stadium's seats were considered premium. Now, premium seats account for about 20 percent of the seating in new stadiums, and they can generate as much as 50 percent of ticket-sales revenue for professional teams, he said.
The percentage isn't nearly as high at the college level, he said, but the effect of suite and premium seating on an athletic department's bottom line is clear.
The suites account for roughly 2,000 seats in the 72,000-seat Razorback stadium. Those 2,000 seats, and about 630 standing-room-only suites, account for 16 percent of UA's football ticket-sales revenue.
"It's becoming a very, very important part of the business," Dorsey said.
Suites revenue for UA sporting events comes from a mix of individuals, families, small businesses and corporate heavyweights.
Documents obtained through a Freedom of Information Act request reveal that some companies pay six figures to lease luxury boxes at multiple Razorback sporting events.
Citing a competitive-advantage exemption, UA would not release the names of suite-holders at Baum Stadium, the athletic department's baseball venue. Therefore, UA documents for this article reflect suite expenditures by company for only Razorback Stadium and basketball venue Bud Walton Arena.
Tyson Foods Inc. tops the list, at $116,800, spent on basketball and football suites. Spokesman Worth Sparkman said the company also leases a luxury box in Baum Stadium.
George's Inc. of Springdale, Dillard's Inc. of Little Rock, Entergy Arkansas Inc. of Little Rock and East Arkansas Seeds Inc. of Moro all spend at least $73,000 annually on leases at Razorback Stadium and Bud Walton Arena.
Razorback Sports Properties, which is the rights holder for the UA athletic department; SamGlenn Properties of Fort Smith; BAM Scholarship LLC of Harrison; Everett Group LLC of Bryant; Arvest Bank of Fayetteville; Stephens Inc. of Little Rock; and Zero Mountain of Fort Smith also have commitments in multiple venues.
Suites at Razorback Stadium can accommodate -- with seats and standing-room-only -- from 12-44 people. Bud Walton Arena suites seat 10-15 in a single box, though Tyson Foods has modified two boxes into a single suite that accommodates 20 people.
UA also offers court-side seats in Bud Walton Arena, which generate $360,000 a year. George's and Razorback Sports Properties lease court-side seats, in addition to others in Bud Walton Arena and Razorback Stadium.
Arvest Bank will spend about $53,450 on basketball and football venue suites this year. The bank also leases two boxes in Baum Stadium that can accommodate up to 50 people on game days.
Premium seating can be appealing for several reasons.
Arvest Bank President Donny Story said that for the bank it boils down to two main ones: the suites help Arvest affiliate with the Razorback brand, and help the bank build relationships with current and potential customers.
Little actual deal-making occurs in the suites, he said, but they afford the opportunity to build relationships, which makes the expense worth it.
Story said the company hosts four to six customers and their guests at each football game. Joining Story as hosts in the box are his wife, Cheryl, and Karen Gray, vice president of marketing and public relations. Deciding who joins them is "very intentional," Story said.
"You're not really closing transactions, but you might learn of an opportunity with a customer," Story said. "Typically, it's more social, a chance to deepen relationships. This is part of how you show you want to help them be successful and can be a good resource to add value to the relationship. I'm sure different folks do it different ways, but that's pretty normal for us."
PAM Transportation Services Inc. has leased a suite in Razorback Stadium for nearly 20 years and rotates who uses it from game to game. Department heads of the Tontitown-based trucking firm might invite customers or vendors, or a manager might invite employees as a team-building event, the company said. Employees are picked by random drawing, performance or "specific selection, or simply based on who hasn't been to a game," Chief Financial Officer Allen West said.
The company spends nearly $32,000 a year on a suite with 15 seats. Additionally, it buys standing-room-only tickets that cost $300 apiece. The box can accommodate up to five standing-room-only visitors.
"We believe that it is beneficial because it allows us to give our employees, customers and vendors an opportunity to experience the game in a way that so few get to experience," West said. "There are few other venues where the atmosphere is equal to that of a Hogs game, and the suite allows one to experience that great atmosphere in a relaxed and comfortable environment."
That unique game-day experience is a big selling point for UA.
Arkansas has no major professional sports franchises, and UA has often billed its games as the closest thing to a major professional sports event in the state.
Long, who took over as athletic director in 2008, said that has helped in persuading businesses across the state to lease suites in the Fayetteville venues.
"It does go back to the fact that we hear all the time we are the professional and college team," Long said. "So I think that plays a big role in it. So it's not only the companies, which are an important part of it, but it's also the fact that we are the product in the state -- pro and college -- for people to follow."
UA continues to draft plans for expanding premium offerings in all three of its top sports venues, which Dorsey said is no surprise. Improving the games' experience is the "mantra" among professional and college teams as they seek to attract fans and increase ticket-sales revenue.
The suites at the UA venues include dormitory-sized refrigerators, warming islands, private restrooms, flat-screen televisions, sliding windows at the fronts and public address/radio systems.
"When you build on, it's almost always premium [offerings]," Dorsey said. "That's the first thing that's built. Very rarely do they just build on and add regular seats. Ninety-nine percent of the time, it's premium."
Improvements at Razorback Stadium, Bud Walton Arena and Baum Stadium are part of UA's $325 million facilities master plan, which was unveiled in 2011.
Projects like the football operations center, basketball practice facility, baseball/track indoor facility and student-athlete success center have been completed at a cost of about $97 million, leaving revenue-producing projects next in line on the athletic department's wish list.
The biggest and most expensive undertaking would be a north end-zone expansion at Razorback Stadium. Long said most of the additional seats in that expansion would be considered premium because of the high demand for them. Revenue generated from those added suites and club seats would be important in paying for the project that is estimated to cost more than $100 million.
Long said a survey indicated that the football program has enough fans to fill as many as 60 additional suites at Razorback Stadium. There are no immediate plans to add that many, but he said he's confident that the program could fill that many if they were built.
In the meantime, Long said UA continues to look for ways to add to the stadium experience, and premium seating is just part of that. Nearly all major sporting events today are broadcast on TV or online, so schools are looking for ways to entice fans to the venues to watch the games.
Changes UA made this year include lower concession prices, and upgrades on wireless Internet and the stadium's sound system.
"We're looking for ways to embrace all of our fans and make the experience better for them -- keep them coming to the games," Long said. "Our biggest concern and challenge is keep having fans come and be part of this environment because it generates revenue, but also because it creates that home-field advantage you need for your sporting teams."
SundayMonday on 10/04/2015