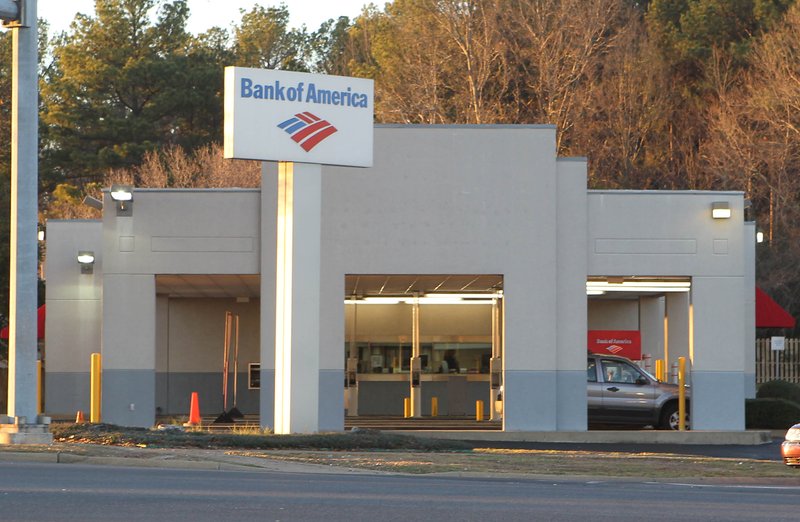 FILE — A car uses the drive-thru lane at a Bank of America in Hot Springs in this 2012 file photo. ( Richard Rasmussen)
Bank of America has been closing the drive-thru lanes at some of its 23 branches in Arkansas, a bank spokesman said last week.
Media reports indicate Bank of America also has closed drive-thru lanes in the Kansas City, Mo., area; Nashville, Tenn.; Tampa and Orlando, Fla.; and in Charlotte, N.C., where the bank is based.
A national banking giant with $1.6 trillion in assets, $1.4 trillion in deposits and almost 5,000 U.S. branches, Bank of America is making changes in how its branch banks operate, said Diane Wagner, a spokesman for the bank.
"Part of that is how the customers are actually using the facilities we have, and what their preferences are and how they like to do business with us," Wagner said.
At locations where drive-thru lanes are closed, Bank of America is directing customers to its automated teller machines, Wagner said.
"That will be something a little different," Wagner said. "The drive-up ATM can offer quicker service and greater availability because you can access it [anytime]."
Many of Bank of America's customers are now using smartphones for mobile banking, including for making deposits, Wagner said.
"A lot of things are taking over because of technology," she said.
Bank of America has more than 18 million customers who use mobile banking and it is growing at a rate of 5,000 per day, she said. In addition, 31 million customers use online banking from computers in their workplaces or homes, Wagner said.
But the bank still considers the average consumer who visits a branch a "strong component of what we do in our core services," she said.
Tellers who have been working at drive-thru windows now will move inside the branch "to help our customers," Wagner said.
"So you might find that there is a little bit more time we need to spend with some of our customers," Wagner said. "Hence the wait time may be a little bit longer."
The move to limit drive-up banking is "another first by Bank of America," said Randy Dennis, president of DD&F Consulting Group, a bank consulting firm based in Little Rock.
Dennis was uncertain why Bank of America would close drive-thru lanes.
"They may say it's for security," Dennis said. "But sometimes in rural markets a bank might close walk-in [traffic] and keep the drive-thru [lanes] open for security reasons."
Very few banks are trying to drive traffic into their lobbies, Dennis said.
"It's expensive," Dennis said. "[Other banks] are pushing people to ATMs and drive-thru [lanes] or electronic transactions."
Wagner said the bank has been fielding questions from reporters about the change.
"I think they are seeing there are more people inside the banking center and perhaps a longer wait time," Wagner said.
Customers who walk into Bank of America branches to withdraw cash or make deposits are being instructed by bank employees to use drive-up ATMs, rather than wait in line, she said.
Wagner said no jobs will be lost because of the changes.
It was not clear how many Bank of America branches in Arkansas no longer allow customers to drive up to a teller window to make transactions. Wagner declined to name the branches that have dropped the service.
Bill Holmes, chief executive officer of the Arkansas Bankers Association, said he had not heard about Bank of America closing the lanes. Several bankers he called in central Arkansas also were not familiar with the changes at Bank of America, Holmes said.
There is one outcome that seems likely from Bank of America's decision to close some drive-thru lanes, Dennis said.
"One good thing is that this will definitely benefit community banks," he said. "The drive-thru [lanes] are still alive and well at community banks."
SundayMonday Business on 10/05/2015
Print Headline: Banking giant cuts down on drive-up lanes
Sponsor Content