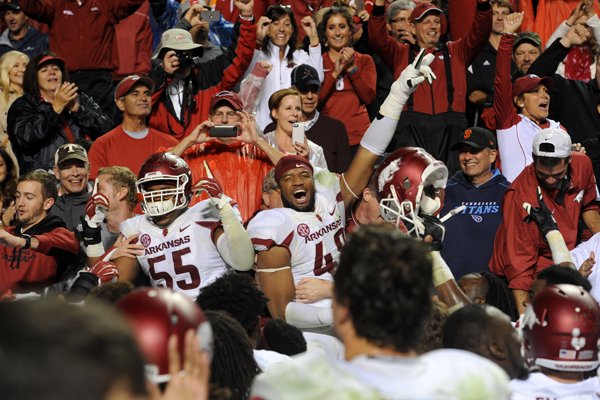 Arkansas players celebrate with their fans following their 24-20 victory over Tennessee in an NCAA college football game at Neyland Stadium in Knoxville, Tenn. on Saturday, Oct. 3, 2015. (Michael Patrick/Knoxville News Sentinel via AP)
KNOXVILLE, Tenn. -- For the first time in a month, the Arkansas football team got to celebrate a victory.
As the Razorbacks ran off the Neyland Stadium field Saturday night after beating Tennessee 24-20, several players jumped up and smacked the goal post's crossbar with their hands.
Some Razorbacks ran toward the stands and hugged friends and family members.
The party atmosphere continued in the locker room, where loud music and joyful yelling was heard.
The Razorbacks (2-3, 1-1 SEC) were anxious to cut loose after ending a three-game losing streak to Toledo, Texas Tech and Texas A&M.
"After the past three games, you probably could have heard a pin drop," Arkansas sophomore defensive end Tevin Beanum said of the locker room atmosphere. "But as you could hear tonight, everybody was in there pretty hyped.
"It was crazy."
Arkansas hadn't won since beating Texas-El Paso 48-13 Sept. 5 to open the season.
"It's awesome," senior quarterback Brandon Allen said. "We have music playing. Guys are smiling.
"We haven't had this feeling in a while, so it's good to get it back, especially on the road. For a lot of guys on this team, that was their first SEC road win."
Arkansas hadn't won an SEC road game in three years, since a 24-7 victory at Auburn Oct. 6, 2012 when John L. Smith was the Razorbacks' interim coach.
The Razorbacks had lost 11 consecutive SEC games away from home -- including overtime losses to Texas A&M in Arlington, Texas, last season and this season -- before beating Tennessee.
"We've been wearing these little red bracelets all week just to teach our guys to win on the road is a big deal," Arkansas Coach Bret Bielema said. "We call it 'code red,' because you've got to persevere, you've got to be locked in.
"The crowd noise, it was loud out there when they got rockin' and rollin'. Our guys didn't flinch, didn't jump offsides, did a lot of really good things.
"I think they learned how to win on the road."
The Razorbacks play this Saturday night at No. 8 Alabama (4-1, 1-1 SEC), which is coming off a 38-10 victory at Georgia.
"Obviously, we're going into the toughest atmosphere probably in college football that I've been in, when we go to Alabama," Bielema said. "So we're probably going to need to put on two red wristbands this week."
The Razorbacks not only broke their SEC road losing streak in beating Tennessee, but for the first time in Bielema's three seasons Arkansas won a game decided by seven or fewer points. They had been 0-9 in those one-possession margins, including 0-2 this season.
"I think we can't lose sight of what made us get to what we are," Bielema said. "We're the definition of perseverance.
"I've had every biblical quote come across my desk, every letter from Hog fans, from people we don't know."
Bielema said he and wife, Jen, read several letters from fans Friday night.
" I just use Fridays as a day to kind of catch up on mail," Bielema said. "Everybody has been so positive, it's just been unbelievable."
Arkansas overcame a 14-0 Tennessee lead.
"We weren't going to back down," Allen said. "I don't think we have all year.
"Even when people get up on us, we try to battle back and do the best we can."
The Razorbacks had a 75-yard touchdown drive on their second possession to cut the Vols' lead to 14-7. Allen said that gave extra confidence to Arkansas' defense.
"They really stepped up big for us late in the game," Allen said. "Any time you can give the defense confidence with what the offense is doing, that really helps."
Tailback Alex Collins, who rushed 27 times for 154 yards and 2 touchdowns, said the Razorbacks were determined not to let another close game go against them.
"We've focused a lot in practice on finish," Collins said. "Finish, finish, finish.
"To see it finally work out, now everyone's got it in their minds that we're capable of finishing games, even when they're close.
"Now that we know how to do it, we can keep doing it."
Beanum said the comeback victory was redemption for the Razorbacks after Tennessee's Evan Berry returned the opening kickoff 96 yards for a touchdown and the Hogs went down 14-0 after an 89-yard drive capped by quarterback Josh Dobbs' 7-yard touchdown run.
"Things weren't looking too good, and we just got together as a team and made it about each other," Beanum said. "We just got our minds right.
"Our coaches preached to us to play each play like it's the first one, so we couldn't let our mistakes affect our play. I felt like we got better progressively as the game went on."
Bielema said the Razorbacks weren't going to be negatively impacted or become conservative by their previous close losses.
"We weren't going to be hesitant," he said. "I wanted to be aggressive. I wanted to be full throttle.
"The last thing I said before we took the field was we were going to outhit them longer, we were going to outplay them longer and we were going to win this thing together.
"I think that defined it."
Sports on 10/05/2015
Print Headline: 'Code red' theme produces urgency
Sponsor Content