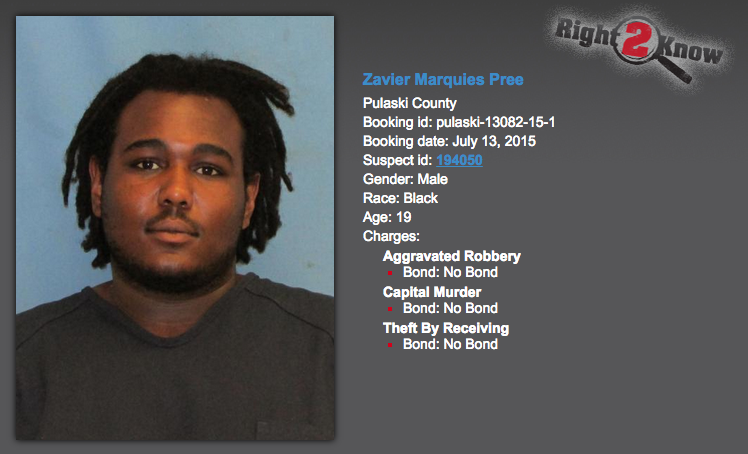 Zavier Marquis Pree ( Pulaski County sheriff's office )
A map on a slain teenager's cellphone led police to the home of the Jacksonville man accused of killing him -- a man who is also a part of a group of armed robbers calling themselves the Taliban Gang, prosecutors said Wednesday.
MORE TOP STORIES IN TODAY'S DEMOCRAT-GAZETTE
Zavier Marquis Pree was charged with capital murder and aggravated robbery in the July slaying of 18-year-old Aaron Crawford after North Little Rock police arrested him driving Crawford's 2006 Dodge Magnum 10 hours after the teen was found fatally wounded.
Pree, 19, made his first appearance in Pulaski County Circuit Court on Wednesday on those charges and eight aggravated robbery counts over accusations that he and two other men are responsible for five Little Rock holdups, including one in which a man was shot in the back.
He is scheduled to stand trial on the murder charge in March.
Deputy prosecutor Scott Duncan told Judge Herb Wright that Pree was a "one-man crime wave" who has displayed increasing levels of violence.
Crawford had recently graduated from high school and turned 18 about a month before he was killed, the prosecutor said.
Witnesses saw the wounded teenager collapse in the parking lot of the U.S. Bank on Riverfront Place in North Little Rock, Duncan said.
He had been shot four times with a .22-caliber weapon, once in the face and three times in the back, the prosecutor told the judge.
Crawford was able to tell the witnesses and police that his 2006 Dodge Magnum had been stolen, Duncan said. Crawford later died in a local hospital.
Crawford's cellphone showed that he and Pree had exchanged messages on Facebook, the prosecutor said.
Pree had offered to pay Crawford $300 for a ride from Jacksonville to Little Rock, but Crawford was suspicious and questioned whether he was being set up since the two were not Facebook friends, Duncan told the judge.
Still, Crawford ultimately agreed to the arrangement, the prosecutor said.
Investigators also found a map on Crawford's home phone that showed the route to the Northeastern Avenue home that Pree shared with his mother, Duncan said.
North Little Rock police found Crawford's car outside the home and put the residence under surveillance, arresting Pree when he drove the car.
Investigators discovered a .22-caliber shell casing in the vehicle. Inside the home, they found the pistol that forensic testing shows fired that shell, Duncan said.
Authorities cannot say whether the weapon was the gun used to kill Crawford because the bullet recovered from his body was too damaged for analysis, the prosecutor said.
Duncan said that Pree admitted to investigators that he had shot Crawford and took his car.
The validity of that statement is in dispute. Pree's attorney, Omar Greene, said he plans to challenge the legality of Pree's questioning.
Deputy prosecutor Matt Stauffer told the judge that Pree and his robbery co-defendants -- Deonte Dequan Powell, 21, and Travoz Larry Barker, 18 -- took to calling themselves the Taliban Gang because of the way they wrapped shirts around their heads when they robbed people.
They would wrap their shirts so only their eyes would show, mimicking the headgear worn by members of the militant Islamic extremist movement in Afghanistan, the prosecutor said.
Stauffer said the information comes from someone Pree tried to recruit into the group and statements the robbers made during at least one holdup.
The robbers also used a Chevrolet Avalanche, Stauffer told the judge, noting that Pree's father, George Wayne Pree Sr. of Jacksonville, owns that same make and model of that vehicle.
He told the judge that over 27 days between May 29 and June 24, the gang robbed four convenience stores, shooting at a customer during one holdup.
They shot a man on Arch Street and raided an A Street home and robbed two men, Stauffer said.
Pree and the men were all arrested on the same day, July 14, court records show. All three are jailed, with charges that include first-degree battery, aggravated residential burglary and aggravated assault.
Pree has been denied bail.
Pree's father, mother Darlene Pree and brother George Pree Jr. asked the judge Wednesday to set bail at $100,000 for the defendant, who has no prior criminal record. They promised they would abide by any requirements the judge would impose as a condition of bail, saying they would turn Pree in if he violated any rule.
They promised they would turn Pree in if he violated any of those conditions, but the judge declined to set a bail amount.
The proceedings were briefly interrupted when a supporter of Crawford's family jumped to his feet cursing.
The judge ordered the man, who was not identified, arrested and warned the audience that courtroom outbursts will not be tolerated.
"I'm sorry for your loss, but we've got to have order in the court," Wright said, warning that anyone who creates a disturbance could be barred from the courthouse.
Metro on 10/08/2015
Print Headline: Phone's map led to arrest: Teen denied bail in NLR slaying
Sponsor Content