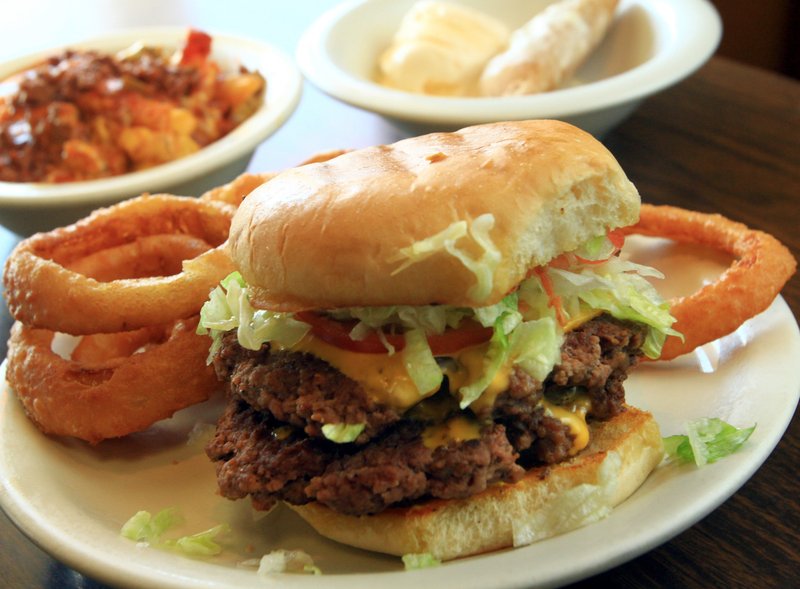 FILE — Double Cheeseburger with onion rings from Burger Mama's when it was located at 7710 Cantrell Road in 2012. ( Stephen B. Thornton)
The closure of the popular Mama B's Big Burgers, aka Burger Mama's, formerly at 10721 Kanis Road, Little Rock, to make room for outlets of chains -- to wit, Panera Bread and Dunkin Donuts -- caused great lamenting. A migrant location on Cantrell Road was short-lived. Now, phoenix-like, Mama B's is back in Little Rock, reopening a couple of weeks ago at 1200 W. Daisy Gatson Bates Drive (at Cross Street) in a building that previously housed Just for You Burgers. Hours are 10 a.m.-7 p.m. Monday-Friday, 11 a.m.-7 p.m. Saturday, and, though they were closed this past Sunday, possibly 11 a.m.-7 p.m. Sundays henceforth. The phone number is (501) 777-1126.
We got a bit of a shock pulling up to Lulu's Latin Rotisserie & Grill, 315 N. Bowman Road, Little Rock, on a Wednesday night, only to discover that the place was locked, the wicker blinds drawn over the windows and nobody answering the phone -- (501) 228-5564. Only then did we discover the Sept. 28 posting on the Facebook page (facebook.com/luluslatin): "We are changing our hours slightly. We are going to be open for lunch every day of the week, Monday-Sunday, but we are only going to open at night Thursday, Friday and Saturday. We will do this until there is a greater awareness and/or demand for our delicious food at night." So the hours are now 11 a.m.-3 p.m. Sunday-Wednesday and Saturday, 11 a.m.-9 p.m. Thursday-Saturday. And, we've learned, they've applied for a mixed-drink license.
And speaking of Latin American cuisine, Sunrise Cafe Boutique, which recently opened in the Pleasant Ridge Town Center, 11525 Cantrell Road, Little Rock, has a bit of an Argentine accent, which is no surprise since owner Martina Casserly and her family come from Argentina. Our colleagues at Sync report it's primarily a coffee and pastry shop with a small lunch menu -- including empanadas -- and a good-size dessert lineup with several Argentine sweets. Hours are 8 a.m.-7 p.m. Monday-Thursday, 8 a.m.-8 p.m. Friday-Saturday, 10 a.m.-5 p.m. Sunday. The phone number is (501) 219-8787; the Facebook page, facebook.com/sunrisecafeboutique.
And still speaking of Latin American cuisine, 5 p.m. Oct. 16 is now the the target date for the opening of La Terraza Rum and Lounge, in the former Acadia space at 3000 Kavanaugh Blvd., Little Rock, timed to coincide with Hillcrest's Harvest Fest that weekend. You will recall that the establishment is a transplant by Venezuelan couple Carlos Valdivieso and Ana Lara, with their son and daughter-in-law, co-owners Armando and Sarah Bolanos, of a longtime Caracas restaurant. The menu will include signature Venezuelan sandwiches, and authentic dishes made with plantains and yucca; Pabellon Criollo, shredded beef and black beans over rice that has been called the national dish of Venezuela; and Cachapa, cornmeal pancakes folded around queso fresco. Mediterranean items will include a lasagna with Italian sausage and bechamel, and meat sauces and paella. The drink menu will include a lot of rum-based drinks (mojitos, Cuba libres). Regular hours are still in flux but they'll be serving Sunday brunch and they will be closed on Mondays. The phone number (501) 251-8261.
And speaking of Kavanaugh Boulevard in Hillcrest, as of Monday, Kemuri -- Sushi, Seafood, Robata, 2601 Kavanaugh, has reopened for lunch -- 11 a.m.-2 p.m. weekdays -- and they're using Chef Shuttle for lunch deliveries. They've also adjusted their Sunday brunch hours, which are now 10:30 a.m.-2:30 p.m. The place reopens for dinner at 4:30 p.m. daily. The phone number is (501) 660-4100.
And still speaking of Kavanaugh Boulevard in Hillcrest, we're now told that the original Damgoode Pies at 2701 Kavanaugh will definitely reopen Saturday. The universal phone number for all the Little Rock Damgoode locations is (501) 664-2239; the website is damgoodepies.com.
Finally, an update and a clarification on Jerky's Spicy Chicken and More and its new location, 521 Center St., Little Rock: We're still getting the same voice mail message on the phone -- (501) 246-3096 -- urging customers to have patience, and there's nothing yet on the website, jerkys.net. But a post Monday on the "Jerkys Jamerican" Facebook page (facebook.com/jerkys.jamerican) reveals that the delay in getting the place open has been due to "an issue with our smoke venting out," and, "We are resolving it at a very high cost, but plan on opening any day now." We're standing by with bated breath.
Stephanie Keet, with the Juice Bar Midtowne, in the Midtowne Shopping Center, 201 N. University Ave., Little Rock, says the store is still using a cellphone, (501) 744-5842, to conduct business, but will have a landline in service soon. Be aware, however, that we got a message at that number saying that nobody was available to take the call and a voice mail box has not yet been set up. You can still get in touch via the Facebook page, tinyurl.com/ogv7z9w.
Ouachita Landing at the Bill and Hillary Clinton National Airport/Adams Field in Little Rock is one of 60 airport restaurants participating in Bethesda, Md.-based HMSHost's Airport Restaurant Month, offering a special seasonal menu (including pan roasted Atlantic salmon with maple mustard; grilled chicken breast with fall mushroom ragout; and Berkshire pork tenderloin with caramelized apples, pan jus) through the end of October. Check out the menu at the website, tinyurl.com/pj8e92s. The restaurant does not have a listed phone number, but the airport number is (501) 372-3439.
Has a restaurant opened -- or closed -- near you in the last week or so? Does your favorite eatery have a new menu? Is there a new chef in charge? Drop us a line. Call (501) 399-3667 or (501) 378-3513, or send a note to Restaurants, Weekend Section, Arkansas Democrat-Gazette, P.O. Box 2221, Little Rock, Ark. 72203. Send email to:
eharrison@arkansasonline.com
Weekend on 10/08/2015
MORE TOP STORIES IN TODAY'S DEMOCRAT-GAZETTE
Print Headline: TRANSITIONS
Sponsor Content