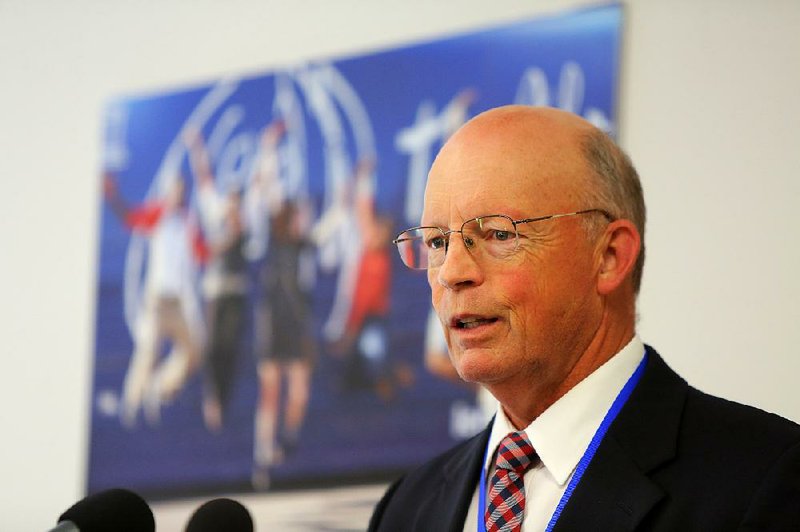 Little Rock School District Superintendent Baker Kurrus speaks to the media about plans for two new new LRSD schools during a press conference Thursday in Little Rock. ( Stephen B. Thornton)
Arkansas and Little Rock education leaders said Thursday that they will focus on supporting teaching and learning in the classrooms and leave a newly filed federal lawsuit alleging racial discrimination to others to resolve.
State Education Commissioner Johnny Key told the Board of Education that his staff and attorneys in the state attorney general's office will review the lawsuit that claims black students in Little Rock have been subjected to intentional racial discrimination.
The suit also seeks to void the Jan. 28 state takeover of the Little Rock district as well as stop the development of new district schools and independently run charter schools in west Little Rock.
"It is premature to comment on the veracity of the claims made in the lawsuit," Key said. "This we do know: Student learning occurs in the classroom, not the courtroom. To that end, this agency will remain focused on supporting [Little Rock Superintendent] Baker Kurrus and his team in improving the delivery of education to all the students of the Little Rock School District."
Kurrus, superintendent of the state-controlled district since May, said he was heeding the advice of his father -- to keep his eye on the ball and not get distracted by activity around him.
He noted that the state takeover of the district was the subject of an Arkansas Supreme Court ruling earlier Thursday morning, and that he expected to be served within the day with the new lawsuit filed by a legal team headed by Rep. John Walker, D-Little Rock.
"Every day I'm going to get up ... and give it everything I've got," Kurrus said about heading the district in the midst of the different lawsuits. "Our team is going to do the same thing. Our parents need to know that, they need to know that -- come what may, let the chips fall where they may. We are going to work as hard as we can every single day."
He said that will include pursuing the building of a new high school in southwest Little Rock "without fail. We don't have any excuses. Our kids deserve it. There is no real question on whether we need a new middle school in west Little Rock," he said, adding that the Little Rock School Board voted in January days before they were dismissed by the state in favor of building a new middle school.
Last week, Kurrus signed a conditional contract to buy the former Leisure Arts office building and warehouse for $11.5 million. The sale is conditioned on the district doing a study to ensure that the property is suitable for use as a school.
"I'm not waiting on anybody to do those things," Kurrus said. "We are going to collaborate and cooperate with the community. We're going to move out on those projects. It's going to be tough. We have a lot of financial issues."
In response to a question from Education Board member Diane Zook on a location for the southwest Little Rock high school, Kurrus said that he knows there are differences of opinion on whether to build on a new site or on the current McClellan High site. He said he is talking to southwest Little Rock community leaders about the issue.
"We can not sit around and lose enrollment," Kurrus said. "We cannot sit around and ask our kids to go to substandard facilities."
The black plaintiffs in the suit argue that the students are assigned to academically distressed schools that are aging, dingy, and have unreliable air conditioning systems as well as insects and rodents.
"These are clean facilities," Kurrus told the Education Board about southwest Little Rock schools. "They are the same everywhere. There is no big conspiracy to defraud African-American kids of anything. I wouldn't stand for that. People who know me know that.
"That's not the problem. The problem is we don't have what we need everywhere. We have pockets of excellence -- Wakefield, Stephens, King, Roberts [elementary schools]. They are all first-class facilities. But everywhere else is just so-so. We cannot give that to our community and expect our kids to do as well as they can do."
He said he will engage the community in the building decisions and make the best decisions possible, but he also doesn't expect to make everybody happy.
Marvin Burton, the Little Rock district's deputy superintendent, described for the Education Board some of the academic challenges in the district and the steps the district leaders are taking to address them.
At Hall High School, for example, one of the schools that is classified by the state as academically distressed, 118 of 125 ninth-graders -- 94 percent -- tested on the Scholastic Reading Inventory at three or more years behind grade level. That was true for 54 of 58 ninth-graders at McClellan, 93 percent, and 55 of 96 students at J.A.Fair High school, which was 57 percent.
Burton said some of the initiatives to help students include the Read 180 supplemental reading program, City Year volunteer tutors, and training teachers to teach reading skills in conjunction with instruction in science, math and social studies. Additionally the secondary school teachers are using collaborative planning time to develop pre- and post-tests for three-week units of instruction. The results are used in part to identify what needs to be re-taught. The district is also using quarterly tests, the results of which will be reported to the Arkansas Education Department.
"All the problems flow to the schools," Kurrus said. "The key to solving the problem is to never send another student to Hall who isn't reading at grade level. It's a pig in the python, so to speak. The key to solving the problem is systematic change across the board at the schools that aren't even on your hot list right now, schools all over our district."
Metro on 10/09/2015
Print Headline: Bias lawsuit not focus, kids are, Key says
Sponsor Content