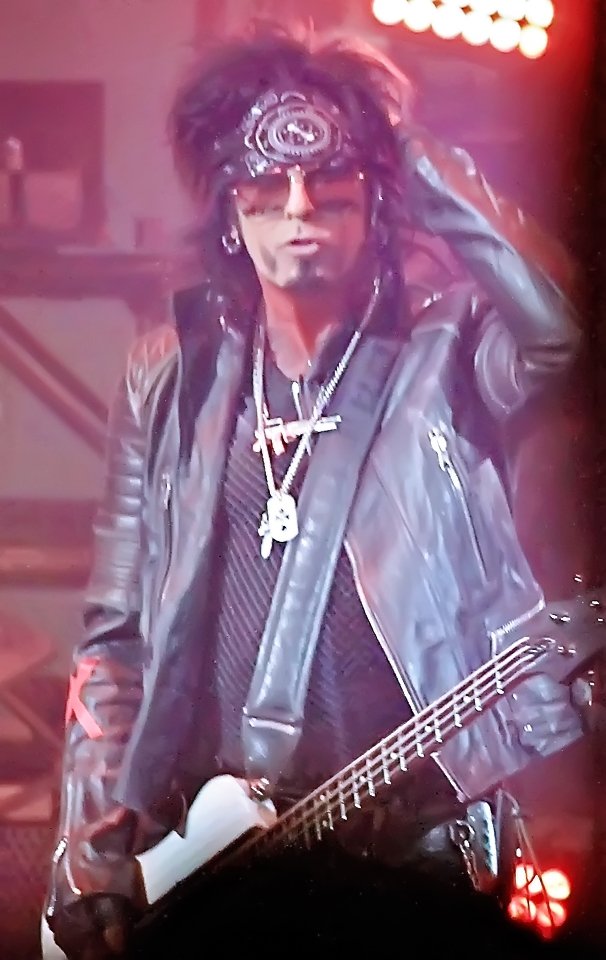 Photo by Sydney Frames | Motley Crue guitarist Nicky Sixx.
Of all the partying Motley Crue has done in 34 years, their farewell bash may be the best. The All Bad Things Must Come to an End Tour stopped at Verizon Arena on Thursday night, and rock's bad boys pulled out all of the stops.
Guitars that shot out fire. More fire and some more fire. Pyrotechnics and more pyrotechnics. Scantily clad dancing girls gyrating onstage and one of the coolest things I have ever seen at a show: drummer Tommy Lee playing on a stage that moved high above the arena on roller-coaster tracks and rotated to where he spent some of the trip upside down.
It was indeed a party of epic proportions fit for a Rock and Roll Hall of Fame band that has only 30-plus gigs left.
The group wasted no time in revving up the crowd by starting with "Girls, Girls, Girls" and moving right into "Wild Side." Fans sang along to both tracks and applauded wildly at the conclusion. The two-hour 16-song extravaganza was off and running.
The crowd seemed a little more subdued when the foursome followed hit "Smokin' in the Boys Room" with "Looks that Kill," "Motherf----- of the Year" and "Anarchy in the UK." But things quickly turned around when the first chords of "Shout at the Devil" were heard.
A later song is when things got very interesting. Lee hopped on his drum coaster and played a solo to different songs, including "Uptown Funk." The crowd was mesmerized, with cellphone cameras aimed at the rock legend while he wailed away on the skins.
Guitarist Mick Mars, who appeared frail and covered his face with a black top hat, rattled off a long but entreating guitar solo.
Lead singer Vince Neil and bassist Nicky Sixx returned and rounded out the show with "Live Wire," "Dr. Feelgood" and "Kickstart My Heart." Other than the drum solo, that was easily the most raucous part of the set. Confetti fell as "Kickstart" ended.
Then, after saying farewell, the band exited the stage, only to return on the floor aisle of another stage positioned behind the soundboard.
A rendition of the classic ballad "Home Sweet Home" serenaded the crowd of more than 9,400 fans. Lee played piano and drums during the song, hopping from the piano bench to his drum kit on a stage that was elevated on the same track as his drum coaster.
Even after 34 years, Motley Crue still rocks, and the fans seemed to appreciate the gravity of the farewell gig, showing approval early and often. The Crue definitely left central Arkansas in style.
New York City rockers The Cringe opened the night with a 30-minute set giving way to shock rocker Alice Cooper, who is 67 years young.
Cooper, who has in recent years seemed more mainstream by picking up golf and opening restaurants, showed he still has a bizarre side and can rock his ass off.
Cooper pulled out a machete, which he used to pop huge colorful balloons, a Zorro sword, which was skewered with bills he tossed into the crowd, and a large whip.
Cooper was also guillotined, wore a straight jacket and turned into a giant Frankenstein.
The antics from Cooper, who was clad in face paint, was entertaining, but his music was equally well received with hits such as "Poison," "No More Mr. Nice Guy," "School's Out" and more.
Sponsor Content