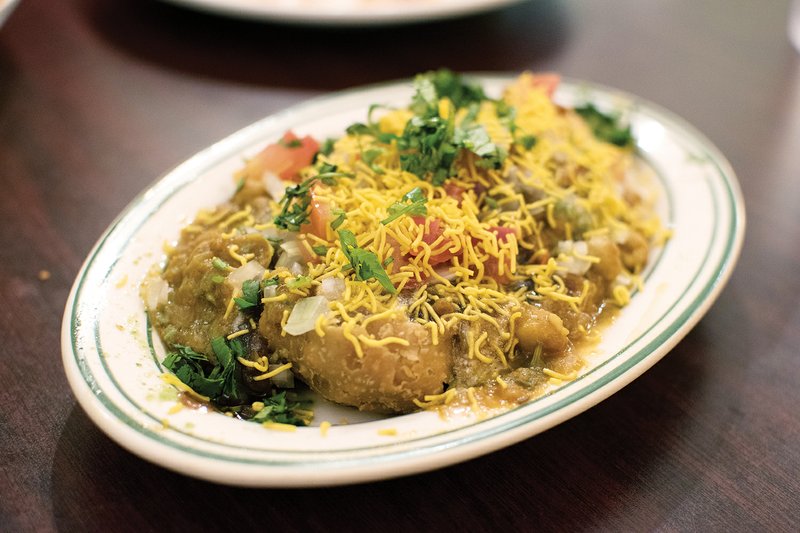 Samosa Chaat ( Steve Shuler )
The topic of Indian food rarely brings out a middle-of-the-road opinion. People generally tend to either hate it or love it, and it's not too hard to see why. Indian food is assertive, bold and almost completely different from the more common food styles found in this country. But the aggressive, complex flavors of Indian food offer it the chance to be some of the best cuisine found on the planet. Here in Little Rock, we're lucky to have at least a couple of standout options that have been open for many years. And earlier this year, a newcomer joined the ranks. Flavor of India has arrived at the Valley Village Shopping Center and is already one of the better Indian choices in central Arkansas.
GREAT FOR BEGINNERS
Flavor of India is an excellent choice for those just starting out with Indian food, as well as people who might not enjoy this style. While it covers food from all over the country, Flavor of India specializes in south Indian cuisine. This region uses sweeter, brighter flavors that are more accessible to American palates while still keeping the deep spices that make Indian food unique. True beginners should visit Flavor of India at lunch for a couple of passes through the buffet. While I've yet to find a buffet that is truly excellent, Flavor of India's all-you-can-eat lineup features entrees that serve as introductions to Indian food, and most are successful. In particular, I found the bhindi pakora (fried okra and other vegetables) and chicken tikka masala easy and appealing. Of course, every buffet has its misses, but for $8.99, it's worth getting a taste of what Flavor of India has to offer.
And I do mean just a taste — because where Flavor of India truly shines is at dinner. Here, the menu sprawls with a dizzying number of widely varying dishes. Still, there is plenty here for first-timers. I fully recommend the paneer butter masala, a thick, creamy broth of gentle flavors and fresh-made cottage cheese curds. Our table had this plate at the lowest spice level, and everyone enjoyed it. Also great for newcomers is the cheese dosa, a crepelike pastry served with several accompaniments for dipping. Of course, no Indian restaurant is complete without naan, and Flavor of India features at least six varieties of the famous tandoori flatbread. I found the naan excellent.
ADVANCED INDIAN EATING
Please don't think Flavor of India is just for newbies; it also features some wonderfully challenging dishes that my table kept exclaiming over. In particular, the samosa chaat from the street-food menu was exceptional. Four tiny fritters came swimming in a sweetened yogurt sauce with garbanzo beans, spices and chutneys. It was, for our table, the highlight of the night and had us all making plans to return for even more street fare. Equally complex and delicious was the lamb kadai, a wok-cooked stew with tomatoes, cilantro, green chilies and ginger. The tender lamb was cooked perfectly, and the depth of the spices framed the heat and fresh flavors beautifully. Oh, and please don't skip over the tandoori chicken. Four dark-meat pieces get marinated overnight and grilled, and the result is a juicy bird with a wide range of flavors that manage to come together seamlessly. It was but one of many memorable moments from a dinner that fully convinced me of Flavor of India's greatness. For more on the food I tried, be sure to check out The Dish.
I have to talk briefly about spice here. Like many Asian restaurants, Flavor of India offers all of its food on a 1-5 spiciness level. My table didn't order anything over a 3, which we found just about right in terms of heat. But I was particularly pleased with the way Flavor of India applies the heat at each level. There was a distinct jump in spiciness with each tier, and I'm confident that I'll be able to get my preferred spice level just right on my next visit.
FINAL VERDICT
There are very few new restaurants in Little Rock this year that I can recommend as fully as Flavor of India. This is a special place featuring accessible cuisine for beginners without compromising on the big vibrant notes that mark the best Indian food. Even if you have hated Indian food in the past, I urge you to try this place. Flavor of India does its genre proud and deserves every bit of your attention.
THE DISH
SAMOSA CHAAT ($4.99)
A truly excellent value off the street menu, this easy-to-share plate tops four perfectly fried samosas with a smorgasbord of Indian ingredients. Garbanzo beans, two kinds of chutney, cilantro and a sweet yogurt sauce bring a wide array of flavors that somehow manage to work together brilliantly. A pleasant lingering heat finishes off this impressive small plate. (ss)
TANDOORI CHICKEN ($8.99)
Where almost every other tandoori chicken I've tried is practically neon red, this version features a more natural orange hue. It also showcases some impressive depth and restrained heat in its spices. But the chicken itself, expertly cooked and juicy, is the true winner. (ss)
PANEER BUTTER MASALA ($9.99)
Whether you are a vegetarian, there's a lot to love in this surprisingly delicate presentation. Homemade cottage cheese gets a sweet bath in an almond cream sauce that keeps the spices somewhat muted. I loved it even at spice level 1, though I certainly want to try a spicier version next time. (ss)
LAMB KADAI ($10.99)
This was the most developed dish I tried, as deep notes of cumin, cinnamon and cardamom brought that distinct Indian heritage to the table. Tender lamb meat mingles with onions and potatoes in a warm tomato stew that almost reminds me of a pleasant Indian pot roast. (ss)
IN A NUTSHELL
Flavor of India offers a huge range of dishes from all regions of India, including traditional items and a unique street-food menu that is sure to appeal to almost everybody.
Location: 11121 N. Rodney Parham Road, Suite 40B
Phone: (501) 224-4567
Hours: 11 a.m. to 3 p.m., 5-10 p.m. Tuesday through Sunday
Prices: $1.49-$12.99
Alcohol: Yes
Kid-friendly: Yes
Dress: Casual
Takes reservations: No
Sponsor Content