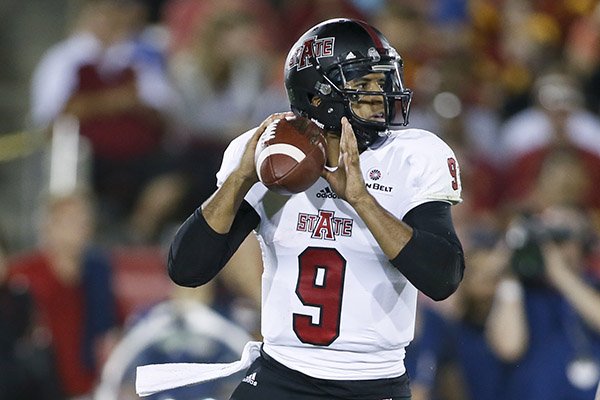 Arkansas State quarterback Fredi Knighten throws the ball against Southern California during the first half of an NCAA college football game, Saturday, Sept. 5, 2015, in Los Angeles. (AP Photo/Danny Moloshok)
MOBILE, Ala. -- Fredi Knighten had missed time on a football field for only one other incident before this season.
It came when Knighten was 16 years old, a soon-to-be junior at Pulaski Academy in Little Rock. That was when he dropped a knife while cooking, stepped on it and gashed a hole in the bottom of his foot that required 13 stitches. It was the summer, so Knighten didn't miss any real games, but rather three to four weeks of offseason workouts and 7-on-7 games.
Today's game
Arkansas State at South Alabama
WHEN 7 p.m. Central
WHERE Ladd-Peebles Stadium, Mobile, Ala.
RECORDS Arkansas State 2-3, 1-0 Sun Belt Conference; South Alabama 3-2, 1-0
SERIES ASU leads 3-0
BETTING LINE ASU by 6
TV ESPN2
RADIO KASR-FM, 92.7, in Little Rock/Conway; KFIN-FM, 107.9, in Jonesboro
INTERNET ESPN3.com
"I was an idiot," Knighten said earlier this week. "I learned my lesson, though."
Now an Arkansas State senior, Knighten is ready to return from his second major injury that caused him to miss much more.
Today, ASU (2-3, 1-0) will play South Alabama (3-2, 1-0) at 7 p.m. at Ladd-Peebles Stadium and attempt to improve to 2-0 in the Sun Belt Conference for the third consecutive season. The Red Wolves are expected to get a boost with the return of Knighten, their senior quarterback who hasn't played since he hobbled to the home sideline in the third quarter of a Sept. 12 loss to Missouri with a pulled groin.
Since then, Knighten has endured hours of therapy, gone through one game week where coaches thought he would play only to change their minds and sat through another game where he felt healthy enough to play but watched to give the muscle another week of recovery.
Knighten said last week he feels fine for tonight's game, as he tries to revive an offense that has been inconsistent through the season's first five games.
"It feels amazing," Knighten said. "You never know how much it sucks when it's taken away from you, when you can't play."
Coaches seem ready to put the offense back in Knighten's hands, too.
ASU struggled through the first seven quarters with Knighten at quarterback, but those were in a 55-6 loss to Southern California and a 27-20 loss to Missouri .
With freshman James Tabary at quarterback, ASU has dominated one FCS-level team in Missouri State, a 70-7 victory, were rendered largely ineffective in a 37-7 loss at Toledo and overwhelmed Sun Belt-foe Idaho with a developing run-game in a 49-35 victory.
ASU Coach Blake Anderson called Tabary's time at the controls "good, but inconsistent." Anderson has expressed relief to get back Knighten, who led ASU to one of its best offensive outputs ever last season while gaining more than 4,000 yards of offense and earning Sun Belt Offensive Player of the Year honors.
"If he's healthy -- which he is, he looks great -- it opens up the field a little bit and creates some other issues for defenses," Anderson said. "It's important to get back to our identity of what we really are."
It wasn't easy getting here.
Anderson at first thought Knigthen would only miss the Sept. 19 victory over Missouri State. But he decided a few days before the Sept. 26 game at Toledo that Knighten wouldn't be ready. Tabary played, but threw three interceptions without the help of an effective run game in the loss to Toledo.
Knighten said he felt fine to play in last week's victory over Idaho, but coaches told him to give it one more week.
"I could have played," Knighten said. "But there was no reason to try and hurt it worse. ... It's the sacrifices you make, and I feel better now."
The decision meant one more week of therapy, a grueling schedule that Knighten is still going through but was able to laugh about last week with his return on the horizon.
Every day since the injury, Knighten said he has woken up at 6:30 a.m. to head to ASU's training room. He works with trainer Ron Carroll and his staff, going through a variety of treatments, including work with sleeve-like device that squeezes the muscle and then relieves pressure in an attempt to stimulate blood flow.
Knighten said he starts his mornings in Carroll's training room, then spent some more time there after class and after practice. In all, it's about five hours each day of therapy.
"Pretty much everything we possibly could do, we did," Knighten said.
Anderson and offensive coordinator Walt Bell said they won't alter their play calling tonight in an effort to protect Knighten, who is considered just as dangerous with his legs as his arm. And Knighten doesn't want a change either. Knighten ran the second-team offense when he returned to practice before being given full controls this past week.
Knigthen said he won't return with fear of another injury.
"If it happens, it was meant to happen," he said. "James will step in and we'll move right along. At this point in time, I feel great."
Sports on 10/13/2015
Print Headline: Knighten healthy, ready to go for Red Wolves
Sponsor Content