FOUKE -- There's not so much to Fouke. A couple of gas stations and convenience stores on U.S. 71. A post office. A bit of excitement from the high school marching band, practicing for the Friday night game against the Redbugs of Fordyce.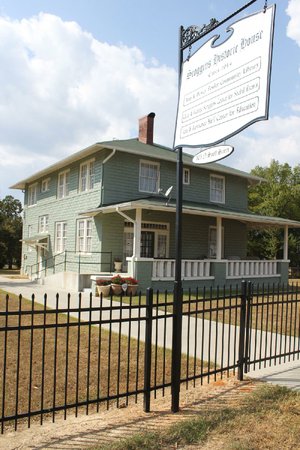 Photo by Frank Fellone
Scoggins Historic House was bought and renovated by Citizens for a Better Community.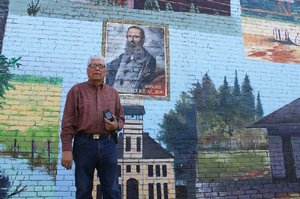 Photo by Frank Fellone
Muralist Joseph Davis stands in front of the mural he painted to commemorate Fouke's history. The mural includes a portrait of the town's founder, Seventh Day Baptist preacher J.F. Shaw, who founded the town in 1890.
Judge not this town by its tranquility. Its stillness runs deep. Underneath the surface there is a mighty effort to make Fouke a better place to live.
The effort is both singular and plural. It's led by Ann Fowler, Clarice Allen, Frank McFerrin, Deryl Jones and many others. It's supported by overlapping organizations -- the nonprofit Citizens for a Better Community, the Miller County Rural Development Authority, the Fouke School District, city government.
Something is working. Or everything is working. Fowler said about $1 million has been raised in grants, donations, fundraisers and in-kind labor since 2006, when the group formed, and plowed right back into Fouke.
Fouke's population is reported to be 859. That's a lot of accomplishment, a lot of doing good, by and for 859 people.
Barbara Horn of nearby Texarkana, a former state legislator, credited a willingness to work.
"A lot of times stick-to-it-tiveness is very important," she said. "That's what it takes. You can't just work at something a little while and quit. There will be some bumps in the road and hills to climb. You can't do it overnight. They set a goal and go for it, working together."
Ken Cox, executive director of the Texarkana Area Community Foundation, an affiliate of the Arkansas Community Foundation, expanded.
"Ann Fowler," he said. "You have a person who comes in there and cares and who has pulled other people together. Her husband, too. By golly, they said, we are going do something with our lives. You have to have someone who is willing to be a little bit crazy in your organization to get it off the ground."
The next sound is Ann Fowler, scoffing.
"This is not about me," she said. "We all work together. That's why we've done what we've done."
In the beginning
Fouke is right in the middle of south Miller County, in extreme southwest Arkansas. It's 15 miles from downtown Texarkana -- 13 minutes via Interstate 49, McFerrin said -- and 15 miles from the Louisiana state line.
The town's founder is acknowledged to be a Seventh Day Baptist preacher, J.F. Shaw. Seventh Day Baptists, McFerrin explained, believed the Sabbath to be on Saturday. In the late 19th century, the law insisted no work be done on Sunday, and so the Seventh Day Baptists were outside the civic and religious mainstream of Texarkana.
Shaw and his followers "would be castigated because they worked on Sunday and they would be set upon because they refused to work on Saturday," McFerrin wrote in a history of the town. So they up and moved to the colony of Fouke in 1890.
Cotton and timber were the mainstays back then. All this and more is commemorated in an expansive mural painted on one side of an old bank building. The mural, and the mural on the other side of the building honoring veterans, are projects of Citizens for a Better Community. As are the historical markers. On which, Fowler reminded, many people pitched in.
The murals are the work of Joseph Davis, who came to Fouke nine years ago from San Bernardino, Calif. His daughter, a truck driver, lived here, and encouraged her parents to come here, too. "I came back with her on the truck," he said.
Davis drove around Fouke with a video camera. He went back to California with the video. "That's Fouke," he told his wife, Karen. And they came.
The murals took him about three years to complete. "I only fell off four times," he said cheerfully.
A visit to the mural was one of several stops on a tour of Fouke. In the tour group were Fowler, Allen, McFerrin, Jones and Mayor Terry Purvis. Discussion of the mural led someone in the group to remind the rest that another project needed some work -- signs on I-49, north and south of town, that proclaim Fouke to be a place of "Faith, Family and Friends."
Those signs are a point of pride and some contention. Repeated vandalism inspired a push for the sheriff and prosecutor to find and prosecute those responsible. One of the vandals turned out to be a convicted felon. He shot up a sign with a shotgun. A witness came forward. Convicted felons aren't supposed to have shotguns. The felon went back to prison, McFerrin said.
Don't mess with Texas? Don't mess with Fouke.
Next stop on the tour was the town square. Or what will someday be the town square. It's a full city block, most of which is vacant and which later in the day was where the school band practiced.
In one corner of the block is the old home place, now renovated, of Effie Pace, who taught for many years at the school. A donor in Illinois, a former resident, donated $10,000 to build a garden here, Fowler said. The only stipulation was that it have the same kind of crape myrtles as the donor's mother had in her garden.
The school is the tie that binds. Fowler, McFerrin and others are graduates of the high school. Allen's family moved to Texarkana, but not before she spent some time in Fouke's elementary school.
The school remains the tie that binds. Purvis asks newcomers what brings them to Fouke. "Ninety-nine percent of the time, it's our school."
Linda Scoggins is a 1965 graduate of Fouke High School. She left Fouke, was an earth science teacher and later a librarian in the Irving, Texas, schools. She came back 15 years ago.
"It's like everyone else around here," Scoggins said. "A lot of us have come back."
Scoggins came back to a pleasant surprise. Her high school sweetheart was still in Fouke and still single. Yes, they got married.
Fouke being so small, Scoggins is the librarian in what is known here as the Scoggins Historic House. The old house, built about a century ago and now renovated, is the crown jewel of Citizens for a Better Community. It's a block off U.S. 71, nicely fenced and neatly trimmed, rebuilt and beautiful. Upstairs is the original bathtub; downstairs is the library.
The library has more than 2,000 books. Not much by big city standards, but the nearest big city library is in Texarkana, at least 15 miles away. Many of the books were donated.
"A lot of people like me who moved back brought their library with them," Scoggins said. So many books have been donated that boxes of them fill closets on the second floor.
The library, run by volunteers, is open from 11 a.m. to 2 p.m. Saturdays. Fifteen or so books are lent on a typical Saturday.
"And they bring them all back," Scoggins said of borrowers and books. "I'm so proud of them. We're really proud of this. It serves our community well, just to have access to a library."
"The people who read have taken advantage of it," she said. "It's a long drive to town."
The school is much closer, right across the street from the Scoggins House. Forrest Mulkey is the superintendent, and has been for five years. He's got 1,040 students, K-12, and bumped up a little this year. He credits that good fortune to the leaving of the Alamo cult after a raid by state and federal authorities, arrests and convictions, and the eventual sale of the Alamo property at a sheriff's auction.
"All that property is now privately owned, and that opened up a lot of housing," he said.
Mulkey appreciates Citizens for a Better Community.
"When I came here, this house, you would not have recognized it," he said.
"They are civic-minded," he said of people involved in the nonprofit, "and a very strong influence in the community. They're wonderful."
"They want what's best for Fouke," Mulkey said. "How many towns this small have a library?"
How many towns this small have a veterans park?
Fouke does. It's another project of the nonprofit, which bought the land, put in a memorial stone and brick walkways, put up more historical panels, installed a sprinkler system and built a wrought-iron fence. By the way, McFerrin said, anyone can have a brick engraved for a veteran, $40, no need to be from Fouke.
COMMUNITY PROJECTS
Fowler graduated from the high school in 1950. She attended business school in and worked in Texarkana. In 1953, she married Dewey. They lived in Shreveport for most of their married life. Ann was a teacher, principal and administrator in the Caddo Parish schools. She also worked for 10 years for IBM as a consultant.
She and Dewey came back to Fouke in 2006, to the property her family has owned since 1858. Dewey passed away in 2013.
Citizens for a Better Community, a 501(c)(3) nonprofit, was formed in 2006. Fowler is executive director. Allen is the chairman. The nonprofit's latest IRS Form 990 shows 10 officers and directors, none of whom were compensated in any way.
The group's income comes from a variety of sources: donations of cash, labor and materials, grants, auctions, barbecues, bingo, brick sales, cake and pie auctions, ice cream socials and pancake breakfasts.
There are benevolent efforts such as a children's fund, and financial help for residents who have to travel for medical care, or for destitute families for funeral expenses.
Projects are the big achievements. The nonprofit's estimate of costs include $220,000 for the veterans park, $375,000 for the Scoggins House, and $135,000 for the town square.
"Our influence is more important than the projects," Fowler said. "We've brought people together."
Other small towns in Miller County should take note, McFerrin said. Genoa. Garland. Doddridge. "We hope that by looking at our example, that would encourage them to get their own thing going."
Things are looking up for Fouke, Allen said.
"We're going to be better," she said. "We're going to be better."
Style on 10/13/2015