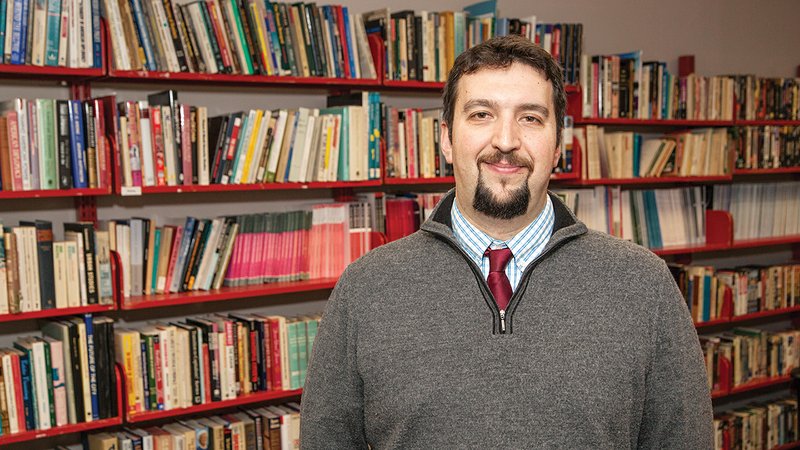 Gregory Shufeldt, assistant professor at the University of Arkansas at Little Rock's political science department, says that the statistics on gun deaths don't tell the full story. ( Submitted photo )
On Oct. 1, Christopher Harper-Mercer reportedly killed nine people and himself at Umpqua Community College in Roseburg, Oregon.
In 2013, there were 501 gun deaths in Arkansas, according to the National Center for Health Statistics. This translates to a rate of 16.8 people per 100,000. In the same year, 212 Arkansans died from homicide, and it is estimated that 148 people died in homicides involving a firearm. So what about the 353?
There are different explanations. Causes of death by firearm also include accidental discharge and suicide.
According to WorldLifeExpectancy.com, the U.S. suicide rate is 12.61 per 100,00 people. Arkansas is 12th on that list with a suicide rate of 17.34. In 2013, there were 505 gun deaths due to accidental discharge in the U.S., according to the Centers for Disease Control and Prevention.
"It's important to note that these are correlations, not causation," says Gregory Shufeldt, assistant professor at the University of Arkansas at Little Rock's political science department. "People may connect the two, but the research doesn't say that."
While the CDC has the numbers for causes of death, it had been restricted in researching them due to a bill passed by Congress in 1996. One of the names attached to that restriction is former U.S. Rep. Jay Dickey, R-Arkansas.
Following the Charleston, South Carolina, church shooting in June, a House of Representatives Appropriations Committee rejected an amendment that would allow the CDC to study the relationship between gun ownership and gun violence, according to Business Insider.
"Research on [the] public health effect of guns is done by outside entities," Shufeldt says. "There's been no funding for public health studies on firearm deaths."
Many of these entities, such as the NRA and Brady Campaign, fund research that is favorable to their point of view.
"At face value, [the numbers are] not taking in account urban vs. rural, race or income," Shufeldt says. "It's just the sheer number of fatalities attributed to firearms per 100,000 people."
The top five states for deaths by firearm, aside from Alaska, have some of the lowest average income and education rates in the country.
"When we look at this in broader terms, the states that have the highest rates of gun deaths are small rural states," Shufeldt says. "We need to look at that in concert with other data."
Shufeldt says Southern and frontier states tend to have more firearms than states in New England. They also have different demographics and policies from coastal and Midwestern states.
"There's some correlation between blue and red states," Shufeldt says. "States with fewer people and more guns tend to be higher on the list."
Arkansas is No. 5 in total gun ownership per capita, according to the Henry J. Kaiser Foundation.
Wyoming is the state with most households owning guns in the U.S. at 62.8 percent. It ranks No. 3 for completed suicides at 21.47 per 100,000 but had the 10th-lowest homicide rate in the nation at 2.4 per 100,000. It's a similar case with other Western states such as Idaho and Montana. The states with the lowest homicide rates are New Hampshire at 1.1 per 100,000, Vermont at 1.3, Iowa at 1.6, Massachusetts at 1.8 and Utah at 1.8.
Aside from its high suicide rate, Arkansas also has one of the highest homicide rates in the country with 6.3 homicide deaths per 100,000 people from 2012 to 2013. Louisiana, Mississippi, Alabama, Tennessee and South Carolina are also in the top 10.
"States where there are more guns have higher suicide [completion] rates," Shufeldt says. "If you look at a map, you [also] see a pattern of income distribution that tends to mirror the death rate."
Contact Joseph via email (joseph@syncweekly.com)
Sponsor Content