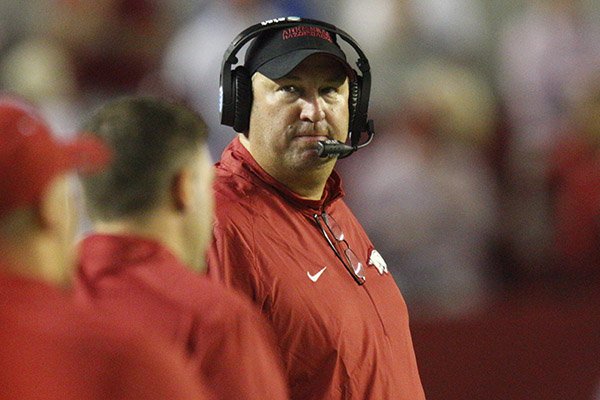 Arkansas coach Bret Bielema watches from the sideline during a game Saturday, Oct. 10, 2015, at Bryant-Denny Stadium in Tuscaloosa, Ala. ( Jason Ivester)
FAYETTEVILLE -- Bret Bielema laughed off the suggestion he was an instigator or tried to "flop" when he intervened after a confrontation between opposing players near the Arkansas sideline in the first half of Saturday's 27-14 loss at No. 8 Alabama.
Bielema, speaking at a news conference Tuesday during Arkansas' bye week, re-enacted how he walked into the escalating situation between Alabama offensive lineman Cam Robinson and Arkansas defensive lineman JaMichael Winston after an interception return by safety Santos Ramirez to the Alabama 24.
Robinson was flagged for unsportsmanlike conduct after the incident, when he appeared to push Bielema's right arm away and the coach lurched back slightly.
MORE IN TODAY'S DEMOCRAT-GAZETTE
Bielema said one of his mentors, Iowa Coach Hayden Fry, taught him to intervene with his face to his own player so as not to appear confrontational.
"I knew my players weren't going to touch me," Bielema said. "I knew that. So I kind of jumped in front and ... when I turned, I know I got pushed out. I don't know if -- whatever happened -- but I turned around and that's when I saw the flag."
A 15-second video of the incident, which appeared to be taped from a sideline boom microphone, blew up on social media Monday, and SEC Commissioner Greg Sankey called Bielema to discuss the incident.
"I visited with Bret over the phone on Monday and we discussed the play that has now become widely reviewed through a brief video clip," Sankey said in a statement released Tuesday. "Football is played in an intense, competitive environment, and I reminded him of the need for head coaches to resolve with their own players issues that may arise, which was his intent.
"The unsportsmanlike penalty assessed on the play was not directly associated with Bret's efforts to intervene at the end of the play, and we are moving forward in a positive manner."
Bielema said an element that concerned him was why a video camera was taping from the Arkansas sidelines, which he discussed with Sankey.
"There's a huge concern," Bielema said. "You're always just worried there are cameras on the sidelines -- especially that one had to be on our sideline -- and you just worry if there's anything that's being covered from a signals standpoint, communication in between series. ... As coaches we shouldn't have to police everything that's going on over there. I'm glad people are looking into that with high awareness.
"I just want to find out the heritage, I guess, of where that video originated and got to, because there are a couple teams in that state, you know."
The amateur video, reportedly recorded by a friend of the Pelham (Ala.) High School Coach Anthony Jacks, begins with Arkansas defensive lineman Hjalte Froholdt smashing into Robinson about 6 yards away from the Razorbacks' sideline following an interception by the Razorbacks.
As Bielema sees after Froholdt, who tumbled out of bounds after his pancake block, Robinson starts to get up with Winston standing above him looking down. Bielema turns back to the field just after Robinson, who is on his knees, shoves Winston in the mid-section, a move that doesn't draw a penalty flag from either field judge Jeff Batts or line judge Mickey Bryson.
As Batts steps between Winston and Robinson, Bielema edges in from behind Batts and puts his right arm up toward Robinson's chest. Robinson appears to swipe away Bielema's arm and Bielema staggers backward for a brief second before regaining his footing.
At that point, Bryson pulls out his flag and throws it high for the penalty on Robinson. Bielema immediately celebrates, shouting "yeah!" as he pivots back to the Arkansas sideline, then dips down to perform a fist pump. As the video concludes, Bielema is seen striding back on the field to talk to Arkansas' defenders.
Bielema said he had cautioned the officials a couple of plays earlier that tensions were escalating and the crew might need to throw a flag to settle things down.
"Guys were getting chippy," Bielema said.
Bielema also explained what he called the "jig" he performed at the end of the play.
"That jig? I probably do that at least 10 times a game when good things happen," he said. "That was a good thing. We had an interception that gave us the ball in the red zone, a chance to score. I would do that same dance if we did the same thing again tomorrow.
"It wasn't a reaction to the penalty. It was more a reaction to we'd just intercepted a pass, got it into the red zone and it obviously turned out to be a really good situation for us."
Arkansas drove 12 yards for a go-ahead touchdown after the interception, with Brandon Allen's 4-yard touchdown pass to Drew Morgan giving the Hogs a 7-3 lead.
Bielema made reference later to the "flop" accusations that have been pointed at him in some quarters.
When asked specifically about the rehabilitation receiver Jared Cornelius is undergoing for his double left arm fracture, he said, "I got accused of being an actor this week, I don't want to be accused of being a doctor all in the same week "
Alabama Coach Nick Saban steered clear of any controversy Monday when asked about Robinson's penalty and whether he thought "some of it was instigated on the opposing team's sideline." Saban said he hadn't seen the amateur clip.
"This is something that has just come up here recently for me," Saban said. "I have not seen it. What I did see was Cam got blocked pretty well on the play by one of their players.
"In our tape, he got up and shoved another player in frustration. And that's basically what I saw and that's what I assumed the penalty was for and about. So that's really all I can comment on. I think when you retaliate and push a player you can expect to get a penalty. The rest of it I can't really comment about because I haven't really seen it."
Sports on 10/14/2015
Print Headline: Razorbacks coach shrugs off flop flap
Sponsor Content