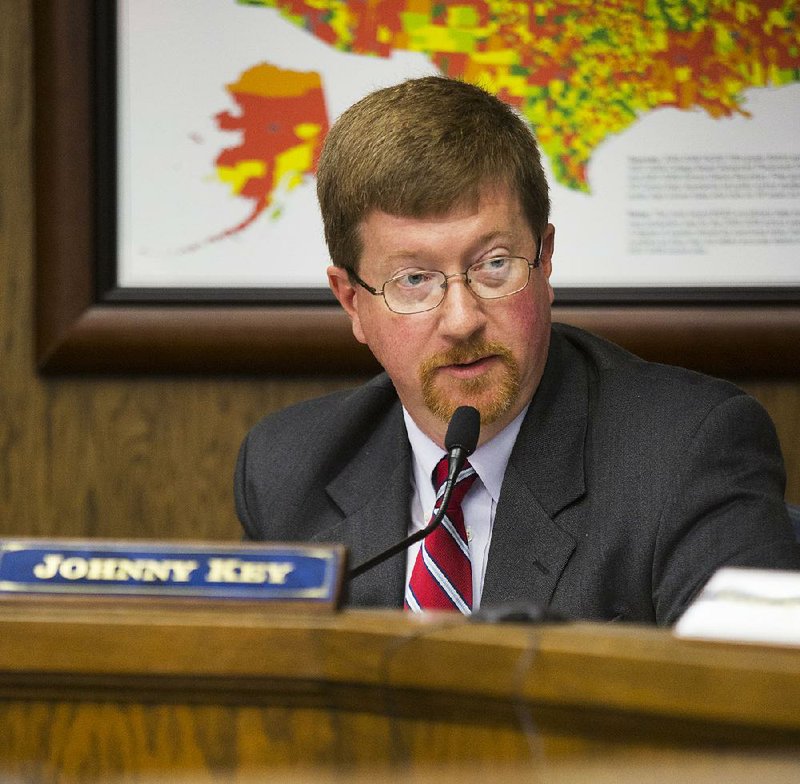 Arkansas Education commissioner Johnny Key speaks at a school board meeting October 8, 2015 in Little Rock. ( Melissa Gerrits)
Arkansas Department of Education leaders elaborated Tuesday on the scoring levels that will be applied to state exams taken by more than 200,000 third-through-11th-graders last spring.
In a statement, state Education Commissioner Johnny Key said that score information from the department last week "left a misleading impression that Arkansas was backing away from high standards" on the Partnership for Assessment of Readiness for College and Careers, or PARCC, exams.
"Nothing could be further from the truth," Key said in the statement issued Tuesday evening.
Key's statement and a letter to parents followed a Washington Post report published in Tuesday's Arkansas Democrat-Gazette that said Arkansas and Ohio had redefined what it meant to be "proficient" on the tests.
The statement and letter, which will be posted on the department's website, was sent to superintendents and distributed through social media.
State Education Department leaders first said that high school students scoring at levels 3, 4 or 5 on PARCC's algebra I and II, geometry and English/language arts tests were "on track" to graduate from high school ready for college and careers.
But the coalition of states that developed the PARCC tests describes students who score at level 3 as "approaching" academic expectations, while students scoring at levels 4 and 5 -- the highest performance levels -- are meeting or exceeding academic expectations for the subject at their grade levels.
David Connerty-Marin, spokesman for PARCC Inc., confirmed Tuesday that the PARCC governing states had "determined to use levels 4 and 5 as indicators of readiness for college and careers" at the high school level.
"Any assertion that Arkansas has adopted Level 3 as demonstrating proficiency is inaccurate," Key said in his statement Tuesday.
"We fully embrace the higher level of expectations reflected in our standards and our assessment system, as these are critical components of advancing our K-12 education along the path to excellence.
"Our description of Level 3 and above as reflecting students being 'on track for college and career readiness' was in error," Key's statement continued.
"We should have then, as we will from this point forward, used the actual descriptions from PARCC to accurately reflect the performance of students at Level 3 as approaching academic expectations for college and career readiness."
The description of students at levels 3 through 5 as being on track for college and careers occurred during an Arkansas Board of Education meeting in which the board voted 5-0 to adopt the minimum scores for each of the five performance levels on the test.
The five performance levels and the minimum scores for each level were those recommended by PARCC Inc.
The levels range from 1, in which a student does not yet meet academic expectations, to 5, in which a student exceeds the expectations.
The minimum score for a level 2 performance is 700.
The minimum score for a level 3 performance is 725.
The minimum score for level 4 is 750, and the threshold score for level 5 is about 803, depending on the grade level and subject tested.
The differences in the percentages of Arkansas test-takers scoring at levels 3 through 5 and those scoring at levels 4 and 5 are significant.
The percentage of students who scored at levels 3-5 ranged from 39 percent in Algebra II to a high of 69 percent in English/language arts in 11th grade.
The percentage of Arkansas students scoring at just levels 4 and 5 range from 15 percent in Algebra II to 43 percent of 11th-graders in English/language arts.
Key, a former state senator and electrical engineer who has been commissioner since March, told parents in the letter separate from his statement that students scoring at level 3 "will need support to reach Level 4 or 5."
"These students need improvement to attain college and career readiness. With your continued support, as well as assistance from teachers, students can be successful," he said.
As for parents of students scoring at levels 1 and 2, "please contact your child's school to assist in the development of an Academic Improvement Plan," Key wrote.
State educators have in the past, under previous state testing programs, developed the individual student-improvement plans for low-achieving students, and they will continue to do so under new testing programs.
Arkansas' categorizing high school students scoring at level 3 as being on track to graduate ready for college and careers attracted the attention of not only the Washington Post, but also the Collaborative for Student Success, an Alexandria, Va., nonprofit that works to promote high education standards for students, particularly the Common Core State Standards that were adopted by Arkansas and a majority of the 50 states in 2010.
The PARCC exams are based on those standards.
"Last week, Arkansas became the second state to walk back from setting high proficiency levels for their students," Karen Nussle, the organization's executive director, posted on the organization's website earlier this week.
"Like Ohio, Arkansas announced that students scoring at levels 3 and above are considered on track for college and career readiness -- differing from PARCC's definition of proficiency, which is set at level 4.
"Like Ohio's decision, the decision by Arkansas to set proficiency lower for their students undermines the promise of ensuring that all students are prepared for life after high school," Nussle wrote.
"We encourage Arkansas parents to demand an honest account of how their students are progressing academically -- not one that makes political sense for Arkansas policymakers."
Blair Mann, a spokesman for the collaborative, said earlier Tuesday in anticipation of Key's statement and letter that her organization was hopeful the Arkansas agency would clarify its position and give parents more information.
"When you are labeling proficient at a 3 and other PARCC states say proficient -- on track for college and career -- is a 4 or 5, you aren't being honest with parents," she said.
Gov. Asa Hutchinson has been interested in the student testing issue since taking office in January.
J.R. Davis, Hutchinson's spokesman, said Tuesday that the governor became aware of the recommendations for the five performance levels on the PARCC exams at about the same time state Education Department staff members recommended the levels and the minimum cutoff scores to the Education Board, which was Thursday.
"The governor has always been an advocate for high standards, and for parental and district involvement, in order to reach the highest performance in education in Arkansas," Davis said when asked whether the governor had advocated for a change in the initial description of student achievement.
The PARCC exams were given only last school year and will be replaced by the ACT Aspire exams in math, English and science this school year in grades three through 10.
The PARCC exams replaced the Arkansas Benchmark and End-of-Course exams that were based on Arkansas' older set of education standards.
The PARCC exams in math and English/language arts were required for Arkansas students in grades three through 10. School districts had the option of giving the 11th-grade English/language arts and the Algebra II PARCC exams.
Arkansas has not yet announced any results for PARCC exams taken last spring by elementary and middle school students. That is to be done in November.
That is also when the state is to release the district, school and student results for the high school grades.
In the elementary and middle school grades, student scores in levels 4 and 5 are indicators of readiness for the next grade level, PARCC's Connerty-Marin said.
A Section on 10/14/2015
Print Headline: State clarifies PARCC scoring standards; Description of lowered proficiency cutoff was agency's error, Key says
Sponsor Content