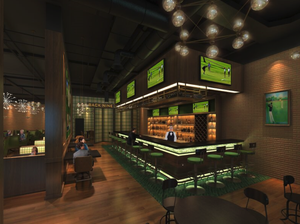 Photo by CONWAY DOWNTOWN PARTNERSHIP/TAGGART ARCHITECTS
John Daly's in downtown Conway, pictured in this rendering, will feature a bar with signature drinks when it opens in 2016.
A steakhouse bearing the name of a professional golfer with Arkansas roots is set to be part of a downtown Conway building's revival.
John Daly's, a new 5,000-square-foot restaurant featuring memorabilia and signature menu items from the PGA Tour golfer of the same name, will be on the first floor of a building at 912 Front St., project CEO Sam McFadin said.
"It's going to resemble John's ideas and what he envisioned as a steakhouse," McFadin said, adding that Daly's steak recipe and the John Daly, a drink described as "lemon sweet tea with a kick," will be on the menu.
McFadin said the restaurant will display Daly's accolades on rotation at times during the year. Daly will also make five appearances each year at the Conway restaurant, which is scheduled to open next year, McFadin said.
The flagship Conway location is considered the launch of multiple restaurants, McFadin said. Ten locations in five years is the plan, he said, adding that developers are looking at Dickson Street in Fayetteville as their next location.
Daly was born in Carmichael, Calif., though he developed Arkansas ties when he lived in Dardanelle during a portion of his childhood and in Fayetteville as a college student at the University of Arkansas.
The Lofts at 912, occupying a total of 2,500 square feet on the building's second floor, will feature up to four fully furnished executive suites, according to developers.
McFadin, also part of the team behind the loft project, said the lofts will have an outdoor patio space above the restaurant.
Conway Downtown Partnership Director Kim Williams said of the project: "It will really transform the street. We've been looking for something like this for a long time."
Leaders behind the steakhouse and lofts said construction on the estimated $1.5 million project will likely start in the next 45 days with completion by late spring or early summer.
The downtown Conway building, which was granted a reprieve by the city in late 2011, was initially condemned when cracks in a leaning wall were found.