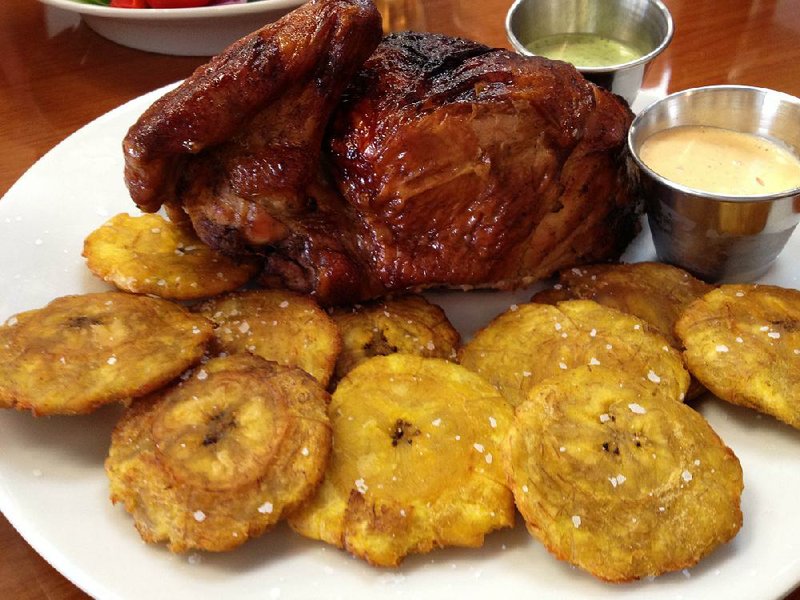 Pollo a la Brasa (Peruvian-style rotisserie chicken) at Lulu's Rotisserie & Grill comes in quarter-, half- and whole chicken servings; here it's served with Aji Amarillo and Lulu's Green Sauce, plus a side of fried plantains. ( Eric E. Harrison)
We enjoyed our first dinner experience, more or less, at Lulu's Latin Rotisserie & Grill in the Colonnade Center on Little Rock's North Bowman Road. We returned on a recent Wednesday night and -- shock! -- the place was locked, the wicker blinds drawn over the windows and nobody answered the phone.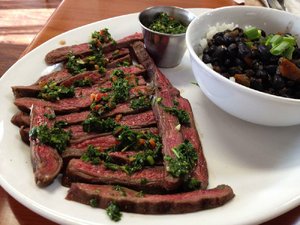 Photo by Eric E. Harrison
Find the grilled chimichurri-topped flank steak platter on the back of the menu at Lulu's Latin Rotisserie & Grill.
Turns out we'd missed the Sept. 28 posting on the Facebook page (facebook.com/luluslatin) in which owner-chef Heinz Kurt, only a few weeks after they opened, had jiggered things a bit, keeping the place open for lunch daily, but opening at night only Thursday-Saturday "until there is a greater awareness and/or demand for our delicious food at night."
Lulu's Latin Rotisserie & Grill
Address: 315 N. Bowman Road, Little Rock
Hours: 11 a.m.-3 p.m. Sunday-Wednesday Saturday, 11 a.m.-9 p.m. Thursday-Saturday
Cuisine: "South American-inspired"
Credit cards: V, MC, AE, D
Alcoholic beverages: Beer and wine; mixed-drink license applied for
Reservations: Not necessary so far
Wheelchair accessible: Yes
Carryout: Yes
(501) 228-5564
facebook.com/luluslatin
So we're hoping to help get the word out that Kurt's "South American-inspired food" is worth the visit.
Kurt, a native of Bolivia and a former manager at ZaZa Fine Salad & Wood-Oven Pizza Co., has taken over a storefront in the "far" end of the shopping center -- the one that briefly housed Turkish and home-cooking restaurants, not the one at the other end that housed Bruno's Little Italy for 21 years and two Italian knock-off restaurants since.
He has turned it into a clean, bright space with a pleasant but not overwhelming South American-accented decor, including a few framed pieces (small prints, a serape, a Bolivian flute, a stylized mosaic of an armadillo). Seating is at polyurethane-coated, wood-topped tables (mostly four-tops; the two-top in the middle of the floor is really too small for two people and their food) and side banquettes with modern versions of Windsor chairs, all of which the staff can shift to provide seating for larger parties. The sound system plays recordings in various Romance languages (including, on one visit, a heavy dose of Antonio Carlos Jobim in Portuguese -- with the obligatory "Boy From Ipanema" in English).
It's kind of a shame that a couple of little low-class elements detract from the class the place strives for. What's the deal with the little kiddie forks? If we're paying adult prices for food, we should be entitled to use adult-size flatware. And why would a restaurant that puts real flowers on the tables and serves wine and beer in glassware give customers water and soft drinks in plastic to-go cups? Are they saving that much on dishwashing costs?
Luckily, the food helps make up for at least some of the irritation. The best thing we tried off Lulu's fairly limited menu was Intrepid Companion's wonderful grilled flank steak platter ($15.95), almost fork-tender strips of marinated beef (medium rare, just the way we ordered it) topped with Lulu's parsley-garlic-olive-oil-and-vinegar chimichurri with a little side cup of chimichurri so the diner can add more to taste. The menu says it comes with fries and Lulu's house salad, but the kitchen and staff are very amenable to making changes, so we got it with the other two best things we tried:
• The salad ($4 regular, $6.50 a la carte), mixed greens topped with sliced plum tomatoes, slices of avocado and chunks of queso fresco with an add-yourself cup of rather vinegary red vinaigrette dressing.
• Black beans and rice ($3 and $4.50), tangy black beans over a generous portion of medium-grain rice.
Lulu's, since we first got word of it, has been touting the Pollo a la Brasa ("Delicious Peruvian-style rotisserie chicken"). "Delicious" is a slight exaggeration. Our half-chicken ($10.50 with two sides) was, once we got past a couple of dry-ish bites, moist, tender and fairly tasty, but, aside from being more food than one person should be allowed to eat, not otherwise remarkable; we didn't see much difference between Peruvian-style rotisserie chicken at Lulu's and American-style rotisserie chicken from Kroger.
That bothered us a bit, so we gave it a second chance. This time we ordered a more manageable quarter-chicken, dark meat ($7.50; white meat is $8.50). Maybe because dark meat holds the flavor better, or the chicken had gone longer through whatever process the chicken goes through before the rotisserie roasting, but it was better the second time around.
We'd still recommend, however, that if you're in the mood for chicken, try the grilled chicken platter ($11.95), a butterflied breast marinated in and topped with chimichurri. It looked good and tasted better.
Most of Lulu's dishes come with at least one sauce -- in addition to chimichurri, there's Aji Amarillo, an aioli-like, mayonnaise-based yellow-orange concoction named for the Peruvian chile that gives it its kick, and Lulu's Green Sauce, basically a mayonnaised version of the chimichurri. If you want anything beyond what the dish comes with, it's supposed to cost you an extra buck.
Sides (and all of them are also available as appetizers) also include plantano frito (fried plantain slices, similar to bananas but not nearly as sweet; the ones we got with our rotisserie chicken were fried crisp at the edges and still a little soft in the middle), quinoa, sauteed seasonal vegetables, and yucca frita (lightly fried yucca root, cut into long triangles, about the same flavor and consistency as potatoes but lighter and, somehow, cheerier).
A yucca and plantain basket with sauces is $6. If you're looking for a more app-type app, try the empanadas ($6 for three), a half-moon-shaped fried pastry filled with beef, queso fresco or spinach and queso fresco; ours came with Aji Amarillo and Green Sauce for dipping. Get three of a kind or mix and match.
Lulu's also serves empanadas for dessert, a warm cinnamon-apple concoction (including the apple skins, so you get bonus fiber), two for $5, with a scoop of caramel-drizzled vanilla ice cream, so you can consume them a la mode.
While a mixed-drink license is pending, Lulu's offers a handful of domestic and craft beers in cans and bottles, and a changing list of three Chilean and Argentine wines (two red, one white) by the glass.
Service was generally very good, except that on two visits when the restaurant wasn't crowded and the kitchen wasn't busy, our entrees came out literally on top of our appetizers.
Weekend on 10/15/2015
Print Headline: Lulu's offers taste of Andes
Sponsor Content