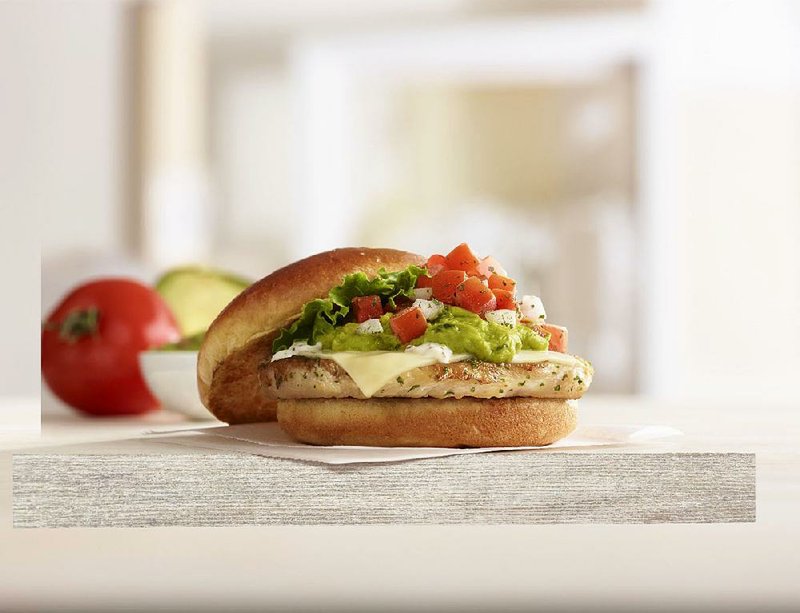 Pico Guacamole grilled chicken sandwich is one of the new Chef Crafted concoctions that McDonald's is testing in three markets, including central Arkansas.
One Eleven, the upscale restaurant in Little Rock's Capital Hotel, 111 W. Markham St., and the One Eleven Bar are making some changes to cater to early and later diners. There will be a $6/glass "wine of the day" and "beer of the day" to attract more of the after-work crowd (a possible "drink of the day" is still in the works). Chef Joel Antunes has come up with, along the lines of his already successful Express Lunch, an "early express dinner for people who need to attend other events." The $25 (including a glass of the "wine of the day," tax and gratuities extra) prix fixe meal started Monday in the One Eleven Bar, 5:30-6:30 p.m. And for diners seated after 8:30 p.m., there's a new $55 prix fixe (plus tax and gratuities) three-course menu with individual 2-ounce wine pairings and a glass of "bubbly." Call (501) 370-7011 or visit oneelevenatthecapital.com.
Oct. 27 is now the target opening date for the first Little Rock outlet of Plano, Texas-based Mediterranean restaurant chain Zoes Kitchen, 12900 Chenal Parkway, across from the Target store near the intersection with Markham Street. Hours will be 11 a.m.-9 p.m. daily. Still no listed phone number, but you can check out various details at the website, zoeskitchen.com. There's also a recently opened Zoes Kitchen in Fayetteville, in the College Marketplace, Suite 8, 3379 N. College Ave. The phone number there: (479) 444-1966.
Power Restaurant & Ultra Lounge now occupies the space at 220 W. Sixth St., Little Rock, with a logo on the door with a computer power button representing the letter "O." Which is, perhaps, a bit ironic, since that space has been, on again and off again for many years, various incarnations of Lulav. For the 11 a.m.-2 p.m. weekday "power lunch," there's a daily special; a $9 plate with meat (baked/fried chicken or pork chops) and two sides (greens, cabbage, mac-n-cheese, yams, purple hull peas) plate; burgers and club, ham and turkey sandwiches; chicken spaghetti; and entree salads. Evenings the place becomes an entertainment venue, with eventual plans to open also for dinner. They've kept Lulav's phone number, (501) 374-5100; the website is powerlr.com.
Coinciding with Hillcrest's HarvestFest and mixing in a little Oktoberfest, The Pantry Crest, 922 Palm St., is marking its first birthday, opening from noon-midnight Saturday with a full dinner menu all day for patrons inside and on the patio. They'll be roping off the parking lot (if you can call it a parking lot with fewer than a half-dozen spaces) and set up an outdoor grill station, selling, for cash, street-fair sausages (bratwurst, Hungarian sausage or knockwurst) on an Arkansas Fresh Bakery bun with a condiment station "for guests to dress their sausages as they would like," says owner Thomas Bohm. During usual dinner hours, Bohm says, "we will have a couple of suckling pigs outside ... and will sell portions outside at the cash bar, or inside at the tables." He's moving his annual Oktoberfest celebration, which he usually puts on at his Rodney Parham Road location in west Little Rock, to Hillcrest this year, with locally and German-brewed Oktoberfest beers on draft and in bottles. The phone number is (501) 725-4945; visit littlerockpantry.com.
Restaurant mogul Lulu Chi is branching out from Asian to Asian-Cajun when she opens Lulu's Crab Boil, 5911 R St., in the former Haagen-Dazs storefront, across the street from Fantastic China. The Chi family operates three Little Rock Chinese restaurants -- Chi's Dim Sum & Bistro, West Markham Street and Shackleford Road; Chi's Chinese Cuisine on Chenal Parkway; and Chi's Asian Cafe on Old Cantrell Road in Riverdale -- plus Oishi on Kavanaugh Boulevard in the Heights. They also have a piece of both Sushi Cafes and Little Rock's Sekisui outlet. Oh, and a couple of hotels. Son Jacob Chi has filed for a restaurant beer and wine license. We don't have a target opening date, but we do have a listed phone number (which, of course, nobody is answering yet), (501) 663-2388.
And Jacob Chi's Chi Development Co. has reportedly broken ground within the past couple of weeks on the first Little Rock location of Dallas-based La Madeleine Country Fresh Cafe, next to the Chick-fil-A outlet on West Markham Street just west of University Avenue. We'll keep you posted.
It happened under our radar, but Salt & Pepper Middle-Eastern Restaurant opened in late August in the Galleria Shopping Center, 9700 N. Rodney Parham Road, Little Rock, replacing a short-lived Indian/Pakistani restaurant called Shalimar. Hours are 10:30 a.m.-8:45 p.m. daily. The phone number is (501) 246-5002. Master Chef Baba Faisal's menu, which offers Mediterranean and Pakistani, is available online at chefshuttle.com/salt-pepper-middle-eastern or at the Facebook page (tinyurl.com/saltnpepper1).
Central Arkansas and its 88 McDonald's outlets are one of three test markets for the chain's Chef Crafted sandwiches -- the Maple Bacon Dijon, Pico Guacamole and Buffalo Bacon concoctions for which you've probably been seeing TV ads, which have been running regionally, not nationally -- according to ad agency Ghidotti Communications' Facebook page. According to that post, the Chef Crafted Package allows you "to completely customize your sandwich to fit your taste" by picking your protein -- "100 percent USDA-inspected beef, crispy or Artisan Grilled chicken," saith a subsequent news release -- and choice of artisan roll or sesame seed bun. The other two test markets: San Diego and southern Wisconsin/northern Illinois.
Funkee's Cafe, serving gourmet coffees, gelato, specialty yogurts and authentic New Orleans shaved ice at 2895 Arkansas 77, in Marion, is set for a late October soft opening with a full opening in early November. "We want to keep residents of Marion from having to drive across the river [to Memphis] in search of premium coffee, shaved ice, sliders and other food delicacies," owner Mary Singer in a news release. "And, just as much, we want to give the Mid-South a reason to cross over the bridge to enjoy what we offer." Hours will be 8 a.m.-11 p.m. Monday-Thursday, 11 a.m.-11 p.m. Friday-Sunday. The phone number is (901) 231-9341; visit funkeescafe.com or the Facebook page, facebook.com/funkeescafe.
Arkansas Life magazine is celebrating the issuance of its first book, The Modern Arkansas Table, by Emily Van Zandt with photographs by Arshia Khan, a collection of 40 recipes created by chefs, mixologists and pastry gurus from "innovating kitchens" across the state, with a launch party at 6 p.m. Oct. 22 at Loft 1023, 1023 W. Seventh St., Little Rock (upstairs, we're told, from The Box). Attendees will be able to meet the chefs behind the new cookbook (including Payne Harding of Cache, Jack Sundall from The Root Cafe, Kelli Marks from Sweet Love Bakes and Kent Walker from Kent Walker Artisan Cheese). The $50 ticket includes a copy of the book ($30 a la carte), food, drink and a three-month subscription to the magazine. Co-sponsors are Legacy Wine and Spirits and Eggshells Kitchen Co. Call (501) 378-3807 or visit themodernarkansastable.com.
The Chipotle Mexican Grill chain will once again put on its annual "Boorito" Halloween fundraiser, offering, between 5 p.m. and closing Oct. 31, $3 burritos, bowls, salads, and tacos to customers in costume. This year, they're inviting such costumer/customers to add something "unnecessary" to their outfit by way of promoting the chain's reported commitment to serve "only the highest quality ingredients versus the complex array of unnecessary additives and preservatives that are typically found in fast food," according to a news release. Proceeds, up to $1 million, benefit the Chipotle Cultivate Foundation. Visit chipotle.com/boorito.
Has a restaurant opened -- or closed -- near you in the last week or so? Does your favorite eatery have a new menu? Is there a new chef in charge? Drop us a line. Call (501) 399-3667 or (501) 378-3513, or send a note to Restaurants, Weekend Section, Arkansas Democrat-Gazette, P.O. Box 2221, Little Rock, Ark. 72203. Send email to:
eharrison@arkansasonline.com
Weekend on 10/15/2015
Print Headline: TRANSITIONS
Sponsor Content