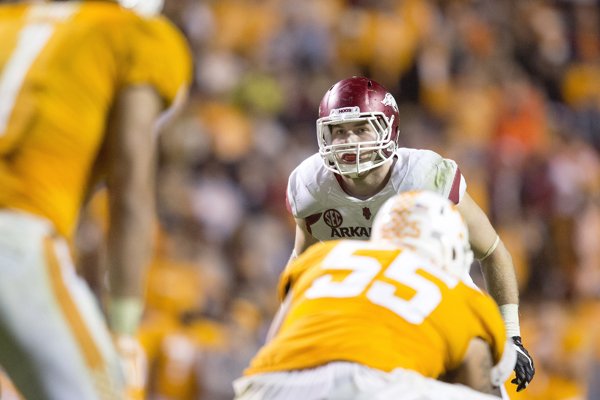 Arkansas linebacker Brooks Ellis looks into Tennessee's backfield during their game Saturday, Oct. 3, 2015, in Knoxville, Tennessee. ( Jason Ivester)
FAYETTEVILLE -- Arkansas defensive coordinator Robb Smith had one complaint about linebacker Brooks Ellis going into this season.
"The only thing wrong with Brooks Ellis is we don't have two of him," Smith said during fall camp. "He's a guy that goes out and plays the right way."
Brooks Ellis at a glance to run with feature
Brooks Ellis at a glance
SCHOOL Arkansas
CLASS Junior
POSITION Middle linebacker
HEIGHT/WEIGHT 6-2, 242 pounds
HIGH SCHOOL Fayetteville
AGE 20 (born Jan. 15, 1995)
NOTEWORTHY Has played in 29 games at Arkansas with 21 starts … took over a starter the final four games of his true freshman season in 2013 … leads the Razorbacks with 49 tackles this season through six games … had a career-high 15 tackles at Alabama last week … elected a team captain this season … has 154 career tackles, including 12 for losses totaling 24 yards … had two interceptions last season … played middle linebacker his first two seasons, moved to weakside linebacker last spring and started there first two games this season, then moved back to the middle … helped Fayetteville win Class 7A state championships his junior and senior seasons.
It looked like the Razorbacks had two Ellises playing last Saturday night at Alabama considering all the ground he covered.
The Crimson Tide came back to win 27-14, but Ellis had a career-high 15 tackles, including 13 unassisted stops and 2 1/2 for losses of 4 yards. Twice he tackled Alabama tailback Derrick Henry -- who came into the game averaging 6.1 yards -- for losses.
"Brooks played a heck of a football game," Smith said. "It starts with he had a great week of practice. I thought he was really in tune with a lot of things that Alabama did and it showed up on the field. He played very well not only in the interior of our defense, but he got out in space a couple of times and made some plays there as well.
"I think he's starting to come on as a middle linebacker, and I'm excited to see what he can do down the stretch for us."
Arkansas linebackers coach Vernon Hargreaves said he counted 20 tackles for Ellis when he graded the Alabama game tape.
"I thought he played as good as anybody I've been around," Hargreaves said. "To play like that against that team is impressive."
Ellis, a junior from Fayetteville, said the Alabama game probably was the best he's played in his 29 games as a Razorback.
"They were running the ball a lot and coming my way," Ellis said. "The defense as a whole was doing their jobs and I guess I was doing my job and it all took care of itself."
Through 6 games Ellis has 49 tackles -- 26 unassisted and 23 assists -- to lead the Razorbacks and rank seventh in the SEC.
"I think he's played up to every expectation we've had for him and more," Hargreaves said. "He's taken to the coaching, he's watching film, he knows what to expect."
Hargreaves said when coaches make corrections with Ellis on the bench during a game, he adjusts quickly.
"We fix it and then he goes out and makes the play," Hargreaves said. "He just plays hard the whole game, too."
Arkansas senior safety Rohan Gaines said it's been fun to see how Ellis has matured since his true freshman season in 2013.
"That guy's a different animal, man," Gaines said. "He's a great leader for our defense and the team. He's more vocal now. He's not that shy kid he was coming in. He's a smart player on and off the field."
Gaines said Ellis plays his run gaps and pass responsibilities well.
"He just does things that the average linebacker couldn't do," Gaines said.
Arkansas Coach Bret Bielema said he initially was surprised when Ellis was voted a team captain before the season because of his quiet nature.
"His actions speak very, very loud," Bielema said before the season. "He's an incredible human being. He's a kid that's got over a 3.5 GPA and he's studying to be a doctor. He's very involved in the community and does a lot of good things."
Senior quarterback Brandon Allen, a captain for the second consecutive season, said Ellis has become comfortable being more vocal because of his status as a three-year starter playing a position that requires him to make calls on the field.
"Being the Mike linebacker --where he's got to set the D, he's got to communicate with everyone else -- has kind of forced him to be vocal," Allen said. "He's carrying it off the field a little bit now, too."
Ellis is flanked at weakside linebacker by true freshman Dre Greenlaw, who has started four games, and at strongside linebacker by Dwayne Eugene, who made his first start last week.
"It's partly my job to get them up to speed and get them where they need to be," Ellis said. "That's a big part of being a leader. If you can help other guys, that also helps you understand what you're doing better."
Ellis, 6-2, 242 pounds, has 21 career starts, including the final four games in 2013 and 11 games last season when he didn't' play against Georgia and Alabama-Birmingham because of a knee injury.
"I feel better out there now," Ellis said. "I feel more confident. That just comes with experience."
Ellis played middle linebacker as a freshman and sophomore, moved to weakside linebacker last spring and started the first two games this season there before moving back to the middle for the past four games, which allowed coaches to put Greenlaw in the lineup.
"Brooks is the kind of guy that probably can tell you what all 11 guys on the football field do," Smith said. "I think that's the way he prepares and goes about his business."
Smith said Ellis can play any of the linebacker spots at a high level, but that it's best for the team to have him in the middle.
"It's been different, but it's nothing I can't handle," Ellis said of moving between the weakside and middle spots. "I've just got to do what the team needs me to do."
Smith was asked where he believes Ellis ranks among the SEC's top linebackers.
"Let's put it this way: I'm glad he's an Arkansas Razorback," Smith said. "If we were drafting them, I don't know that I'd take anybody else first. I'm glad we have Brooks Ellis."
Smith just wishes he had two.
Sports on 10/16/2015
Print Headline: Man in the middle: Ellis settles in as UA's defensive leader
Sponsor Content