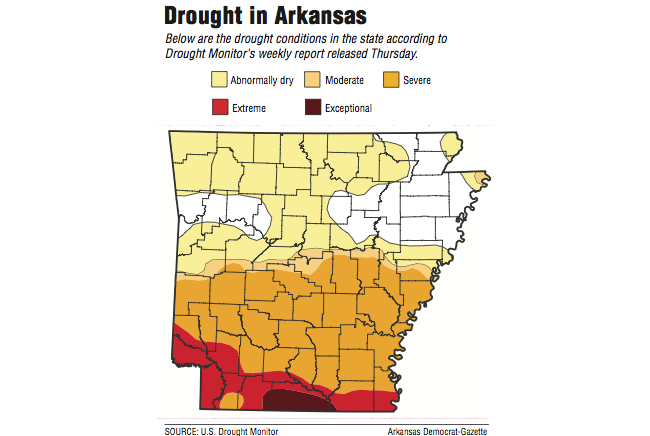 A map showing the drought conditions in Arkansas. (Arkansas Democrat-Gazette / Source: U.S. Drought Monitor )
More than 80 percent of Arkansas is now in some form of drought -- a 20 percent increase from last week -- as rainfall remains scarce, burn bans are widespread and record-high temperatures have been set.
Three months ago, the state was considered to be drought-free by the National Drought Mitigation Center at the University of Nebraska-Lincoln, which issues weekly reports about drought conditions across the United States. In mid-August, only 5.7 percent of Arkansas was experiencing drought conditions.
Little Rock's temperature of 98 degrees Thursday was the highest on record for October since 1879, when the National Weather Service in North Little Rock began tracking the state's climate records.
Eight other weather stations in the state broke records Wednesday, and two others tied marks.
North Little Rock's reading of 90 degrees Wednesday shattered the previous record for a high on Oct. 14, which was 83 degrees set in 1992 and again in 2008, weather service records indicate.
Other records were set Wednesday, with 93 degrees at Little Rock's Bill and Hillary Clinton National Airport/Adams Field; 92 degrees in Star City, Cabot and Morrilton; and 91 degrees in Beedeville, Stuttgart, Murfreesboro and Little Rock Air Force Base in Jacksonville.
Mount Ida's high of 95 degrees tied a record in the Montgomery County town set in 1938, and Morrilton's 92-degree reading tied a record set in 1963.
The high temperatures have intensified what meteorologists are calling a "flash drought" in Arkansas. The last "flash drought" occurred in the state in May 2012.
Conditions have deteriorated rapidly in the past three months -- especially in southern Arkansas, where most of Union County and the edges of Columbia and Ashley counties have been designated as being in "exceptional" drought. That designation is given to areas that are 5 or more inches deficient of rainfall during a 30-day period.
Union County farm extension agent Robin Bridges said cattle farmers are debating whether to buy hay from other regions or cut their herds by selling cows to reduce feed costs.
The warm, dry weather has limited pasture growth, and cattle are already beginning to feed on hay that farmers have stored for the late winter months.
"The farmers have two choices," Bridges said. "You have to put it to pencil -- the cost of hay, or the cost of cattle going to market. Which is cheaper?"
Because some farmers are selling herds, cattle prices are being driven down, as well, Bridges said.
"The drought is putting a depression on the cattle market," he said.
The southern half of the state is considered to be in "severe" drought, meaning the area is deficit of 3 to 4 inches of rainfall during a 30-day period.
The drought also worsened in Northwest and north-central Arkansas during the week. Only a small section in west-central Arkansas and in northeast Arkansas remain drought free.
"It's speeding up," David Miskus, a senior meteorologist for the National Oceanic and Atmospheric Administration's Climate Prediction Center in Washington, D.C., said of the drought's intensity in Arkansas.
"The area is drying out, and that's putting less moisture into the air for any potential rain-producing storms. It's cycling faster and faster."
Some areas of southern Arkansas have deficits of up to 12 inches of rain for the previous 90 days, Miskus said.
"Dry days, accompanied by strong winds and low humidity has led to rapid drying of topsoil," he said. "There's no moisture to be found."
National Weather Service meteorologist Chris Nuttall of Shreveport said southwest Arkansas has a chance of rain late next week as a strong upper-level cold front heads south.
"But everything is so dry," Nuttall said. "The soil dries out quickly, and if any system comes through, there's not a lot of moisture left to feed it. You have to have moisture to get the clouds and then the rain."
Shreveport's high temperature Wednesday was a record for Oct. 14. The 96-degree reading broke the 92-degree mark set on Oct. 14, 1881, Nuttall said.
"We still need a ton of rain," he added. "It's going to take a significant pattern shift to break us out of this."
County judges have banned fires in 51 of the state's 75 counties, including Calhoun County -- which allowed residents to burn until Thursday afternoon, despite burn bans in surrounding counties for the past few weeks.
The Arkansas Forestry Commission also considered the southern half of the state to be "high" for wildfire danger and discouraged any open burning of brush and debris. The remainder of the state remained "moderate" for wildfire danger.
The dry conditions haven't caused a problem yet for Jana Boyd, manager of the Madison County farmers market in Huntsville. But produce growers have been talking about the drought, she said.
"It's been at least six weeks for any measurable precipitation," she said. "The grass is stunted, so farmers are running out of stuff to feed their cattle. Even if we get rain soon, though, a frost will be right behind it."
She said farmers are still producing okra, squash and green beans, but harvesting has slowed.
"Earlier, they were picking every day," Boyd said. "Now it's every three to four days. The [crops] are coming in slower than in the past.
"The market closes at the end of October," she said. "As long as we get our vegetables out till the end of the month, we're good."
Even rodents and bugs are affected by the drought, she added. Workers have had to repair hoses at the market after field rats chewed through them in search of water.
"Critters come here looking for worms and grubs," she said. "We keep the soil wet. Most soil is hard and cracked. They know this is a good spot. Even the worms and grubs know that."
Despite the high temperatures during the day, the mercury has dipped into the 50s at night because of the dry climate, National Weather Service meteorologist Jeff Hood of North Little Rock said.
"We have the hot air in place, and it rapidly warms during the day and rapidly cools at night," he said. "It's similar to desert temperatures."
A cold front is expected to enter the state today, bringing stronger winds with lower temperatures, he said.
Winds are forecast at 10 to 15 mph, with gusts up to 20 mph, this afternoon before diminishing to about 5 to 10 mph Saturday.
The weather service has issued a fire weather watch through Sunday, meaning that the dry climate and winds will cause any fire to spread rapidly.
"Everything is in place for that," he said. "We're asking people to be very careful."
State Desk on 10/16/2015
Print Headline: No rain, hot days worsen drought
Sponsor Content