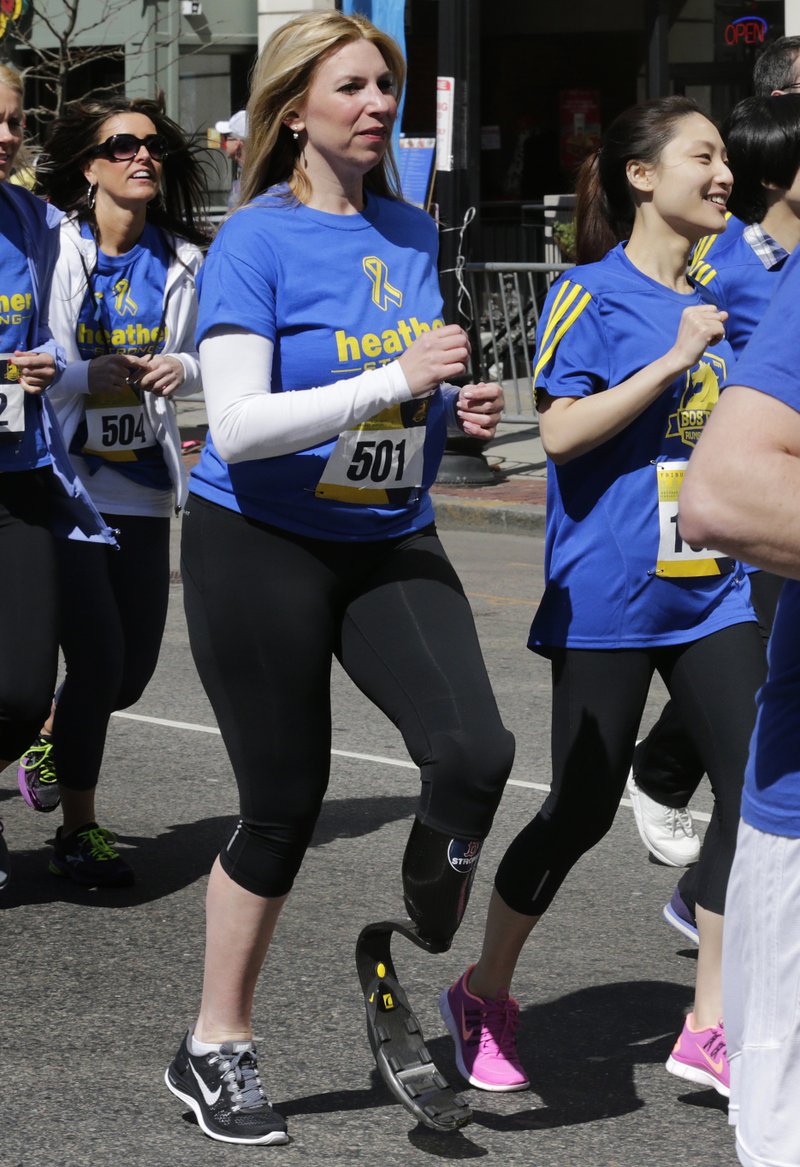 In this April 19, 2014, file photo, Boston Marathon bombing survivor Heather Abbott, center, dashes from the start line on her running blade during the Tribute Run during Boston Marathon weekend in Boston. The foundation that Abbott created will donate its first custom-made artificial limb to Hillary Cohen, of Walpole, Mass., who will have it fitted on Monday, Oct. 19, 2015. Cohen's right leg was amputated below the knee in 2014 because of complications from neurofibromatosis. Abbott had her own left leg amputated below the knee after sustaining severe injuries in the 2013 terrorist attack near the marathon finish line. ( Charles Krupa / AP )
BOSTON — Ever since she lost a leg in the Boston Marathon bombing, Heather Abbott has devoted herself to giving others a leg up.
On Monday, she'll accomplish that quite literally. The Heather Abbott Foundation will donate its first artificial limb to a 26-year-old woman from Walpole, Massachusetts, who said it will let her do something she's never been able to do before: walk in heels.
Hillary Cohen, whose right leg was amputated nearly two years ago, will be fitted Monday with a custom-made leg provided through Abbott's foundation.
"It will allow me to be able to be like any other girl. I'll be able to put myself together more and feel more confident," said Cohen, who works as a bone density technician at Beth Israel Deaconess Medical Center in Boston.
Abbott, who had part of her own leg amputated after suffering grievous injuries in the 2013 terrorist attacks at the marathon finish line, called it "heartwarming" to be able to help Cohen.
For Abbott, a basic artificial leg wasn't enough to help her get her life back. She's since been fitted with additional specialty prostheses that enable her to wear heels, run and swim.
In a very real sense, Abbott said, she feels Cohen's pain.
"She was somebody I really wanted to help," said Abbott, of Newport, Rhode Island. "I know how important it was to me to have those legs and feel feminine and do things other women could do. They allowed me to get back to my life the way that it was."
Sponsor Content