PETISOVCI, Slovenia -- Thousands of migrants surged Saturday into tiny Slovenia as an alternative route opened in Europe for them after Hungary sealed its border, adding another hurdle in their flight from wars and poverty.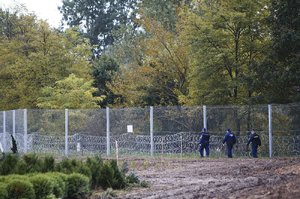 Photo by GYORGY VARGA / AP
Hungarian police officers patrol Saturday along a temporary fence near Zakany on the border with Croatia. Hungary closed most of its border to migrants earlier Saturday.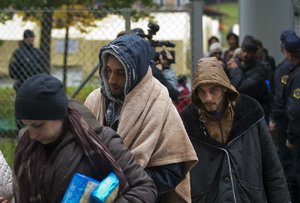 Photo by DARKO BANDIC / AP
Migrants wait at the Croatian-Slovenian border Saturday for a bus to take them to Austria.
The closure of Hungary's border with Croatia early Saturday caused redirection of thousands of people -- including women and small children soaked in cold rain -- farther west toward Croatia's border with Slovenia.
"Hungary is determined to defend, by all means, its own and Europe's borders," government spokesman Zoltan Kovacs told reporters Saturday in Nagykanizsa, Hungary. "We need to put an end to thousands, hundreds of thousands of people arriving unidentified and in an uncontrolled manner into Europe through Hungary."
European leaders are at odds over how to treat an inflow of asylum seekers from war-torn Syria, northern Africa and the Middle East. German Chancellor Angela Merkel, who will visit Turkey to discuss the crisis today, has said Europe has a moral and legal obligation to welcome those fleeing war and poverty. Hungary's Prime Minister Viktor Orban is seeking to stem the flow of refugees by erecting fences at his country's border in what he has called steps to defend Europe's Christian heritage.
As of Saturday, refugees are no longer able to enter Hungary from Croatia, on its southern border, except at two designated border crossings. Most may have their asylum requests rejected after Hungary tightened legal barriers to those arriving from countries deemed safe.
Slovenia, a small European Union-member state, has limited capacity to process large numbers wishing to head toward richer European Union countries such as Germany, Austria or Sweden.
This could leave thousands stranded in Croatia and farther east and south in Serbia and Macedonia -- the countries on the so-called Balkan migrant corridor. The Hungarian border closure is the latest demonstration of the EU's uncoordinated response to the flow of people reaching its borders.
Several buses packed with migrants arrived Saturday in the Slovenian border town of Petisovci from Croatia. A train carrying 1,800 people arrived at the border in the afternoon. Police said that after processing, most of them are being transferred toward the Austrian border.
The U.N. refugee agency said Slovenia has the capacity to accept some 7,000 migrants a day. Slovenian officials said, however, that they can permit up to 2,500 people a day, and will allow in new groups only after previous groups leave the country.
Croatian police said more than 5,000 migrants have entered the country since Hungary closed its border, illustrating a possible backlog of those Slovenia would not admit.
Refugee agency spokesman Caroline Van Buren said Saturday at Slovenia's border with Croatia that "all is going well" as the first groups started arriving in the small Alpine nation.
"We have been in cold since 2 in the morning in Serbia," said Omar Thaqfa, 33, from Mosul, Iraq. "We were sitting in the street. Very cold. [If God wills], I am going to Germany."
Slovenia, a country of some 2 million people, has said it would beef up border controls and create entry points to manage the influx, but would keep accepting the migrants as long as Austria and Germany kept their borders open. Croatia has said it will close its border with Serbia if Slovenia does the same with Croatia.
Slovenia's government has cleared the way for the armed forces to assist police in managing the influx. Officials said the army would provide logistical support to the police, but won't have any authority over migrants.
"We are going to focus even more on safety and security and order so our country can function normally," Slovenian Prime Minister Miro Cerar said, adding that Slovenia is a transit country for migrants and if "destination countries begin adopting stricter measures at the border, Slovenia will follow suit."
Migrants had been transiting through Croatia to get to Hungary and then farther west. But Hungary blocked that route after midnight when police pulled a barbed-wire fence over a passage on the border with Croatia where more than 190,000 people have passed since mid-September.
Croatian Interior Minister Ranko Ostojic said Hungary's decision won't stop the flow of hundreds of thousands of people from the Middle East, Asia and Africa who have been surging into Europe.
"Nobody can stop this flow without shooting," Ostojic said, adding that further closure of frontiers would cause "a domino effect and lot of troubles for all countries" that are on the migrant route.
Hungarian Foreign Minister Peter Szijjarto announced the decision to close the border after a meeting Friday of the national security Cabinet.
Hungary's right-leaning government decided to order the border clampdown after EU leaders who met Thursday in Brussels failed to agree on a plan backed by Hungary to send EU forces to block migrants from reaching Greece.
Szijjarto said in a statement Saturday that the government was defending Hungary and its citizens from the "mass wave of unidentified, uncontrolled migrants."
He has said normal border checkpoints with Croatia would remain open, though inspections will be tightened.
Although Croatia is also a member of the EU, unlike Hungary it is not part of the Schengen zone of passport-free travel. Slovenia is in the Schengen zone.
The Croatian government "has things under control," Prime Minister Zoran Milanovic said Saturday. "The last of the last solutions would be that we build some kind of wall as well," he told reporters in Zagreb.
More than 383,000 travelers have entered Hungary this year, nearly all passing through on their way to Germany and other destinations farther west in the EU. The country clamped down at its border with Serbia with a similar razor-wire fence on Sept. 15 and since then migrants have been taking a detour through Croatia to reach Hungary.
While Slovenia will step up measures to control the increased flow, it doesn't want a Europe of walls, Cerar said Saturday in Ljubljana.
Hungary extended an existing barbed-wire fence on its border with Serbia to cover its frontier with Croatia. Orban said last week that his government would complete the barrier if EU leaders fail to agree on closing the Greek border, the main entry point for Syrian and other Middle Eastern refugees into the 28-nation bloc.
Merkel told Saturday's edition of the daily Frankfurter Allgemeine Zeitung that Germany can control its borders but not close them completely -- "that wouldn't even succeed with a fence, as the example of Hungary shows."
Thousands of new arrivals a day have stretched Germany's capacity to house refugees and other migrants. But Merkel said she won't promise "false solutions" because they wouldn't hold even for two weeks and would create bigger disappointment that the problem hasn't been resolved.
"I am working with all my power for sustainable solutions, and they don't depend on us Germans alone and will take time," she said.
Rail service between Hungary and Croatia was suspended, Hungarian railways said in a statement on its website. Passenger trains between Croatia and Slovenia also were halted.
Hungary intercepted 6,353 refugees at its borders Friday, according to police data.
An EU summit failed Thursday to reach a final agreement on recruiting Turkey to help control the flow of refugees as Russia's bombing campaign in Syria threatens to push more people to seek safety. The bloc's leaders also made little progress on how to redesign the system of distributing migrants, forming an EU border-guard corps or on ensuring arrivals are properly processed. Several eastern European countries are trying to avoid hosting migrants and are against mandatory quotas for the distribution of refugees within the EU.
The refugee crisis can only be solved by tackling the root causes over the long term, Merkel told the youth organization of her Christian Democratic Union at a conference Friday in Hamburg. "The challenge is not to seal ourselves off when we are living in a globalized world."
Amnesty International on Saturday called on EU leaders to put the rights of refugees above concerns to protect their borders, criticizing the EU's plan to offer aid and concessions to Turkey to stem the mass movement of asylum seekers to Europe.
Merkel is to promote the EU's offer to President Recep Tayyip Erdogan and Prime Minister Ahmet Davutoglu in a visit to Turkey today.
Officials said the incentives would involve an aid package of at least $3.4 billion to help Turkey host the more than 2 million refugees, as well as easier access to EU visas for Turkish citizens and speeded-up EU membership talks.
Amnesty said it had documented a number of cases in which Turkey had forcibly returned refugees to Syria and Iraq after they were caught trying to reach the EU.
"Angela Merkel must insist that Turkey cleans up its act before treating it as a reliable partner the EU's border management," said Andrew Gardner, Amnesty International's Turkey researcher.
In a speech Friday, Erdogan vented his grievances with Europe, pointedly taking swipe at talk of awarding Merkel the Nobel Peace Prize for welcoming hundreds of thousands of migrants.
"We have 2.5 million refugees, no one cares," Erdogan said.
Ollie Rehn, a former top EU official and now Finland's economics minister, said he expects a deal with Turkey in the "coming days or weeks" to help the country with its financial burden from the refugee inflow as it's also going through tense political times ahead of Nov. 1 elections.
Turkey hasn't met expectations, in particular in its changes in civil rights and media freedom, according to Rehn. There would be significant economic, political and human advantages from closer relations with EU nations. Visa liberalization and modernization of the customs union would boost trade benefiting both the EU and Turkey, he said.
"The two parties need each other more than ever," he said. "From the European view, Turkey is the key to solving the migration crisis."
Turkey's state-run news agency said 12 migrants drowned after their boat sank off the Turkish coast in the Aegean Sea. The Anadolu Agency said the Turkish coast guard rescued 25 other migrants.
Greece's coast guard said four children drowned when a boat sank off the small island of Kalolimnos.
The group was trying to reach one of the Greek islands, which have been used as entry points for a majority of people making the journey from the nearby Turkish coast.
Information for this article was contributed by Amer Cohadzic, Pablo Gorondi, Ali Zerdin, Dusan Stojanovic, Jovana Gec and Suzan Fraser of The Associated Press; and by Marton Eder, Boris Cerni, Jasmina Kuzmanovic, Krystof Chamonikolas, Edith Balazs and Raine Tiessalo of Bloomberg News.
A Section on 10/18/2015