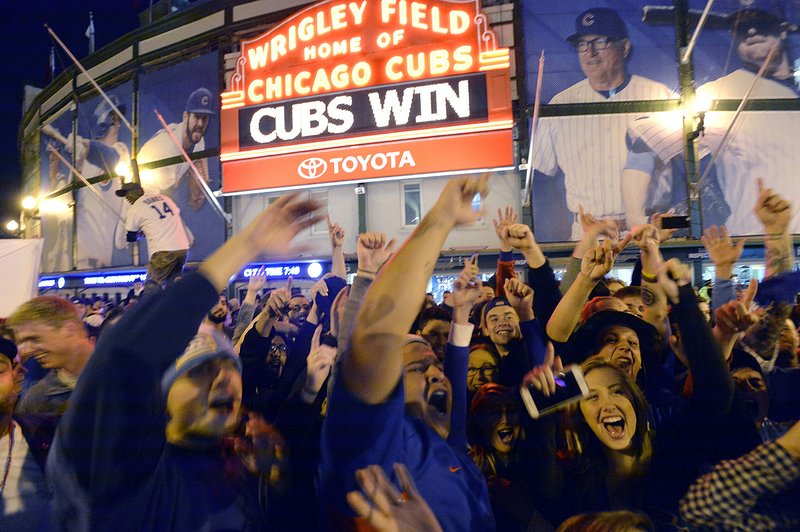 Fans gather on the streets outside of Wrigley Field after the Cubs won 6-4 in Game 4 in baseball's National League Division Series against the St. Louis Cardinals on Oct. 13 in Chicago. ( AP Photo/Paul Beaty )
I was born with New York Yankees pinstripes in my blood. My dad became a passionate Yankees fan in the 1950s while growing up in Iowa. With no local team to follow, he fell in love with the Yankees after yearly summer trips to visit Swedish-immigrant relatives in New York City.
I had a Reggie Jackson Yankees uniform by 5. I saw my first live Yankees game in Minneapolis with my Grandpa John, also a die-hard, at 9, knew most every player on the roster and already could identify such luminaries such as Babe Ruth, Mickey Mantle and Roger Maris, my dad's favorites.
I still love the Yankees with all of my heart and count a family trip to the see the Bronx Bombers play in the final season at "old" Yankee Stadium as one of my greatest all-time memories. But something happened in the summer of 1984 that caused me to save a little more room in my heart for another team.
My friends Brayton "Buck" Sehnert and Jeff Bowman were big Chicago Cubs fans who just loved baseball. Somehow, they persuaded me to root for the Cubs that summer. It was an easy sell because the Cubs were having a fantastic year. A young second baseman named Ryne Sandberg had given Cubs fans hope that the dreaded billy-goat curse was over.
I was very familiar with the Cubs, since our local AM radio station aired every game. I sneaked my transistor radio and headphones into bed with me and waited patiently for Harry Caray to move over to radio from his TV post, calling the final four innings of the game on the radio. I had also already seen some of the Cubs' bright stars, such as Joe Carter, during our annual trips to see the Iowa Cubs, the Chicago Cubs' Class AAA affiliate, down the road in Des Moines.
So it was an easy transition. I had an American League team with a storied tradition and a National League team that was on the brink of making history — or so I thought.
I remember two things about the 1984 National League Championship Series between the Cubs and the San Diego Padres: one, a fan throwing a smoke bomb in the direction of Padres outfielder Tony Gwynn; and two, crying after the Padres won Game 5 after trailing 2-0 in the series. That collapse was the beginning of a miserable existence.
The most disappointing moment in my fandom was when the Cubs were on the verge of beating the Florida Marlins in Game 6 of the NLCS. The collapse began with innocent fan Steve Bartman accidentally interfering with a foul ball that Cubs left fielder Moises Alou was trying to secure. The Marlins took advantage of the new life and won that game, and the deciding Game 7, on their way to the World Series, beating the Yankees, adding more insult to injury for me.
But through all of those heartbreaks and miserable losing seasons, there was Buck. He was my only childhood friend who followed me to college at Northwest Missouri State. Cubs baseball galvanized our friendship.
More time has passed, and now we both have families of our own — amazingly similar families. We both married lawyers, and our kids are nearly the same age. The only exception is that his oldest is a girl, while I have two boys. Some time ago, we started to have weekly early-morning phone conversations. The subjects routinely focused on family, classmates, politics, college sports and, of course, the Cubs.
Almost as soon as this season started, the conversations switched from hope to bold predictions of an eventful postseason. As the dog days of summer arrived, the phone calls picked up in frequency and were almost always Cubs-centered. That only intensified as the Cubs reached the postseason.
On the day of the Wild Card Game against Pittsburgh, Buck called me before 7:30 a.m. and admitted he hadn't slept much. I concurred; then we proceeded to cover every scenario possible. Once the game began, we texted and reveled in the win.
The fun has only increased with the National League Division Series win over the hated Cardinals. This magical run, fueled by a bunch of carefree rookies, has made us feel 9 again, when we were sure the time had come. It's been magical, and both of us have experienced a renewed pep in our step, thanks to pennant fever. Hundreds of miles separate us, but I couldn't feel more close. That's the power of baseball and 30 years of friendship.
We talk repeatedly about trying to get our families together. Wrigley Field would be the proper setting. Hopefully, by the time we arrive, there will be at least one World Series banner hanging in the outfield.
Read Nate's sports blog at goingdeep.syncweekly.com.
Sponsor Content