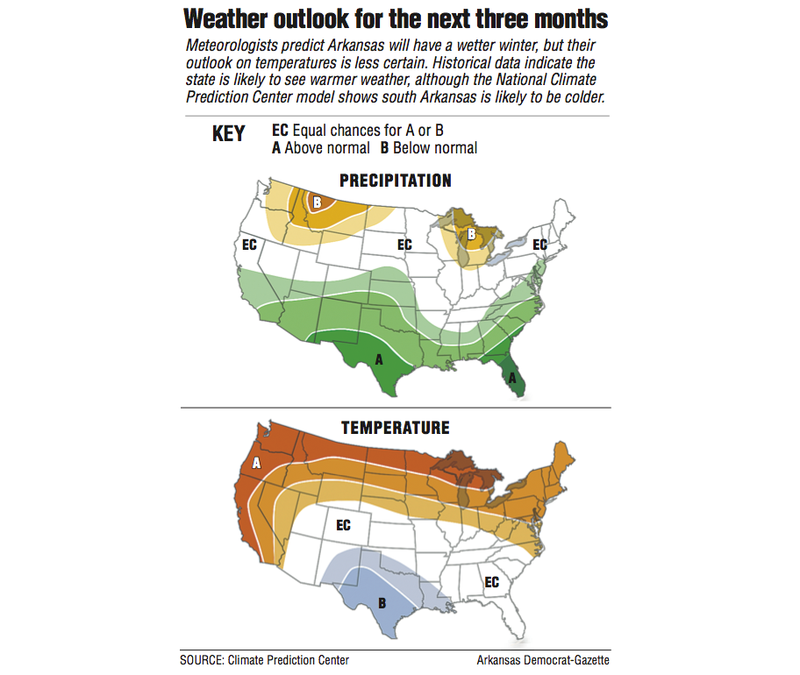 Maps showing the weather outlook for the next three months. (Arkansas Democrat-Gazette / Source: Climate Prediction Center )
Meteorologists predict Arkansas will get more precipitation this winter as one of the largest weather-affecting phenomena ever recorded develops in the south Pacific Ocean.
Scientists are uncertain, though, whether temperatures in the state will be lower than average and whether more snow and freezing rain are in the forecast.
The National Oceanic and Atmospheric Administration's Climate Prediction Center in College Park, Md., recently released its three-month seasonal forecast for December through February and included the development of a sizable El Nino effect.
The phenomenon occurs with the warming of Pacific Ocean waters off the western coast of South America, which in turn influences the jet stream -- a current of cold air that pulls Arctic temperatures deep into the United States.
According to the center's forecast, the El Nino effect will create higher-than-average temperatures and drier conditions in the northern United States and colder weather and more precipitation in the deep South.
This El Nino, which began developing in late August, could be the second- or third-strongest one recorded since the Climate Prediction Center began tracking the phenomenon in 1950, said Tom DiLiberto, a meteorologist for the center.
"This is a significant event," DiLiberto said. "There is a huge amount of energy there already, and it's continuing to grow."
The South Pacific waters are normally about 79 degrees in October, he said. Scientists have noted that they are at 84 degrees. While that may not seem like much of an increase, DiLiberto said, meteorologists consider the vast area of water that is warming.
"It is a huge influence on weather," he said. "It is very impacting."
There is an area through the central United States, including parts of Arkansas, in which temperatures are harder to predict, he said.
On the basis of historical data, the state could have basically an equal chance -- 33 percent -- of higher, average or lower temperatures.
"Arkansas is tough to forecast," DiLiberto said. "We're getting a wet signal that's pretty clear. But how far do the temperatures go?"
National Weather Service senior meteorologist John Lewis of North Little Rock said that during the past seven El Nino events, the state typically has had slightly warmer winter weather than average.
During the largest recorded El Nino, in 1997-98, Arkansas' average temperature for December through February was 43.7 degrees -- 2.4-degrees above the average normal temperature of 41.3 degrees.
Also, the state has had three colder-than-average winters in a row only two times since 1895. Last year's winter and the 2013 winter were colder than normal, Lewis said.
"Odds are against us having a cold winter this year," he said. "But we'll already have the moisture in place. If we get a blast of cold air, you could see a historic snowstorm. It could happen anytime."
In December 2012, temperatures in the state were in the 70s heading into Christmas, he said. But on Christmas Day, temperatures dipped and moisture moved in, creating a heavy snowstorm that was classified as a blizzard in eastern Arkansas because of wind speeds and visibility.
"We may see mild temperatures, but it doesn't mean we can't get a historical event," Lewis said.
Despite any uncertainties in winter weather forecasts, the Arkansas Highway and Transportation Department already is preparing for the season, said spokesman Danny Straessle.
The state has 60 "belly plows," trucks with snow-removal blades on the front and beneath the vehicles, and highway districts are gathering salt for spreading on icy or snow-covered roads.
"We had a lot of success last year, "Straessle said. "We've learned a lot of lessons with deployments during any events, and we're building on that success."
He said the department uses National Weather Service data, along with predictions from a private forecasting firm, to prepare for winter weather.
"Our goal is to stay ahead of the curve," Straessle said. "No one can say we're going to lick it every time. No snowstorm is the same. But our workers use common sense, judgment and knowing the best opportunity to engage what is coming."
Entergy Arkansas crews spent the summer clearing trees and vegetation from power lines to help ensure ice-covered branches would fall clear of them, spokesman David Lewis said.
"We are in a constant process of keeping trees from the lines," he said.
Power-utility teams also have developed storm-response plans and conduct weather-related drills at least twice a year.
"We are always in a state of being prepared for the worst, but hoping for the best," David Lewis said.
He suggested that Arkansans consider preparing for the winter by buying generators and hiring electricians to hook them up. He also said people should never run gasoline-powered generators inside homes because of the deadly carbon monoxide fumes they produce.
"We are prepared for storms year-round," David Lewis said. "Our level of preparedness is adequate for whatever El Nino gives us."
Along with more precipitation during El Nino years, Arkansas could have more volatile weather, John Lewis at the weather service said.
Cold air dipping in from the north could collide with warm Gulf moisture, creating late-season tornadoes. In October 2009, another El Nino year, the state had 15 tornadoes on Oct. 29.
"We sure can't rule out severe weather," he said. "The main driver for the weather is the El Nino. It will be a roller coaster this winter."
Metro on 10/21/2015
Print Headline: El Nino said to brew up wet winter in state
Sponsor Content