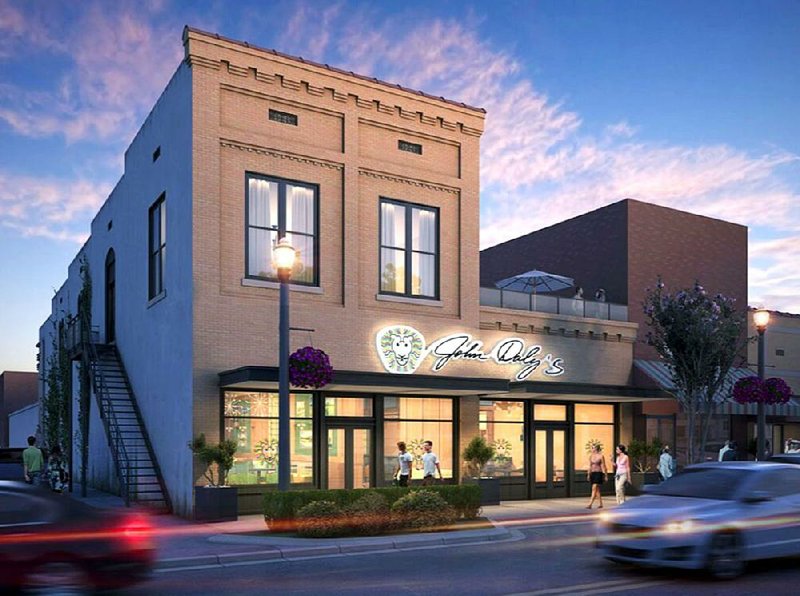 Exterior rendering by Taggart Architects of North Little Rock provide a vision of the new John Daly's, moving into a historic Front Street building in downtown Conway.
Andy Agar, who opened Sonny Williams' Steak Room at 500 President Clinton Ave. in Little Rock's River Market District in 1999, before there was a River Market District, and sold it in 2002, has bought the restaurant back. Arkansas Business reports that he and several investors whom he is declining to name closed the sale Oct. 9. He told the publication he has been meeting with designers, decorators and contractors and is making plans for updates and renovations to the building, including a new color scheme and new private dining rooms designed for corporate events or parties.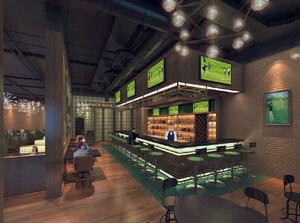 Interior rendering by Taggart Architects of North Little Rock of the forthcoming John Daly's in downtown Conway
And speaking of steakhouses, in case you missed the report in last week's newspaper, one bearing the name of pro golfer and former Dardanellean John Daly is set to open in late spring or early summer 2016 in downtown Conway. The eponymous John Daly's will occupy 5,000 square feet on the first floor of a building at 912 Front St. Project Chief Executive Officer Sam McFadin says it'll feature Daly memorabilia and signature menu items, including a Daly steak recipe and the "John Daly," a drink that has been described as "lemon sweet tea with a kick." Daly is expected to make five appearances there each year, McFadin says. And the Conway location is projected as the flagship of a chain -- 10 locations in five years; developers are reportedly looking at Dickson Street in Fayetteville as their next location.
It was an easy mistake to make, involving a Chick-fil-A outlet on West Markham Street with a nearby Target. Except our report last week about the groundbreaking for the first Little Rock location of Dallas-based La Madeleine placed it on the wrong stretch of West Markham Street, near the wrong Chick-fil-A outlet and the wrong nearby Target. Little Rock's first outlet of the French cafe chain is coming, not to Midtown, but to west Little Rock; a plumbing permit issued last week pinpoints it at 12210 W. Markham -- where its neighbors include Home Depot and, yes, Chick-fil-A. Jacob Chi of Chi Development Co. says the La Madeleine folks have forbidden him to confirm an exact address, but he does confirm at least that it is, in fact, going into that part of town, and that he's looking at sometime in the first quarter of 2016.
Chi also says to expect the opening somewhere in the next 30 days of his mother Lulu Chi's latest restaurant foray, a Cajun establishment, Lulu's Crab Boil, at 5911 R St., in the former Haagen Dazs storefront, across the street from Fantastic China. The listed phone number: (501) 663-2388. We'll keep you posted.
We found, just after last week's deadline, that our report about the Tuesday target opening date for the first Little Rock outlet of Plano, Texas-based Mediterranean restaurant chain Zoes Kitchen, 12900 Chenal Parkway, lacked a key piece of information: One of our sharp-eyed colleagues spotted on the website, zoeskitchen.com, that a second Little Rock location is headed for Park Plaza, 6000 W. Markham St. at University Avenue. A company spokesman confirmed a planned opening sometime in the first quarter of 2016. We'll keep a close eye on developments.
Chopsticks Pho Vietnamese Restaurant is now open at 1400 John Harden Drive, Jacksonville, in the storefront that most recently housed the former Ap's Seafood Buffet. The menu, besides several pho (beef noodle soup with various additions) offerings, includes steamed and fried rice dishes and noodle entrees and banh mi, identified in the appetizer list as "Vietnamese sandwiches." Hours are 10:30 a.m.-9 p.m. Monday-Saturday, 11 a.m.-8 p.m. Sunday. We've so far been unable to get past the voicemail at the listed phone number, (501) 983-4279. As you recall, the new place has no connection to Chopsticks, the predominantly Thai restaurant that burned down in October 2004, or its successor, Chopstick Restaurant, which the family that had owned it opened a couple of years ago at 201 W. Main St. as a caterer and event center.
Seems like only last month -- heck, it was only last month -- that we reported that The Afterthought Bistro and Bar, 2721 Kavanaugh Blvd., Little Rock, had hired Joey Santoro, formerly sous chef at the now defunct Natchez, as its new executive chef. Santoro, however, is now gone, and we found over the weekend that the new new chef at The Afterthought is Mike Jones, late of Salut Bistro. In other Afterthought news, we've been told that owner Joe Gillespie has moved to Florida and is no longer associated with the restaurant, which is currently open for Sunday brunch and Tuesday-Saturday dinner. The phone number is (501) 663-1196.
In other chef-change news, Gilbert Alaquinez, formerly sous chef at Forty Two at the Clinton Presidential Center, 1200 President Clinton Ave., Little Rock, has been promoted to executive chef, replacing Stephen Burrow, now the executive chef at Chenal Country Club. Forty Two is open 11 a.m.-2 p.m. Monday-Saturday; the phone number is (501) 537-0042 and the website, which still lists Burrow as chef, is dineatfortytwo.com.
The KFC at 6606 Colonel Glenn Road, Little Rock, has closed, been boarded up, all its signs have been removed and the phone number, (501) 565-3611, while not entirely disconnected, returns only a stock phone company message that our call could not be completed at this time. We'll keep an eye on it, but unlike the former KFC/Taco Bell at 4424 W. Markham St., which was shut down, boarded up and then remodeled into a stand-alone Taco Bell, we've gotten reports that there are no plans to reopen this one as anything whatsoever.
La Terraza Rum and Lounge, in the former Acadia space at 3000 Kavanaugh Blvd., Little Rock, opened on schedule last week, coinciding with Hillcrest's HarvestFest, offering a prix fixe chef-sampler menu. The cuisine, as you will recall, is Latin American, reflecting the restaurant's Caracas, Venezuela, origins, with a side trip to the Mediterranean. Regular hours are now 11 a.m.-10 p.m. Tuesday-Saturday, with a 10:30 a.m.-2:30 p.m. Sunday brunch; co-owner Sarah Bolanos says they plan to serve after-hour cocktails and tapas, as business volume determines. The phone number is (501) 251-8261.
Physically, at least, Arbela Middle Eastern Grill, on the ground floor of the Tower Building, 323 Center St. (actually on West Fourth between Louisiana and Center streets), Little Rock (originally the longtime second home of Your Mama's Good Food, and where Natchez was the most recent previous tenant), appears to be set up and ready to open. But it hasn't opened yet. Co-owner Buck Sayyah says they'll have to install a new vent-a-hood, and the new target for opening is Nov. 2-3. We now have a listed phone number, (501) 374-2633.
One Daniel B. Swafford applied, during the week that ended Oct. 9, for an on-premises restaurant beer and wine permit for Mardi Gras Seafood, 200 Higdon Ferry Road, Hot Springs. And in roughly the same time frame, the state Health Department approved and moved along a plumbing permit for that establishment, submitted by Brandon Swafford, his brother, who says they're looking at a mid-November target opening date. The Cajun-themed menu will focus on steaks and seafood; hours will be 11 a.m.-10 p.m. daily. There is not yet a listed phone number. Until the top of this year, the building, across Central Avenue from Oaklawn, housed Roland's Bar-B-Que Co.
Crystal Bridges Museum of American Art, 600 Museum Way, Bentonville, will host its second annual Friends of James Beard Benefit Dinner, 6:30 p.m. Nov. 8, in support of the $3,750 James Beard Foundation's High South Bentonville Culinary Scholarship, which this year goes to Dale Brooks of Mayflower, a culinary student at Pulaski Technical College's Culinary Arts and Hospitality Management Institute. Thomas Drennan of Arkadelphia, also an institute student, is also receiving scholarship money. The program helps aspiring and established culinary professionals who plan to further their education at a licensed or accredited culinary school or hospitality institution. This particular scholarship goes to a student residing in or attending school in Arkansas and is sponsored by Bentonville Chefs. The walk-around tasting party will feature works of chefs Matthew Cooper, The Belfry; Bill Lyle, Eleven; Matthew McClure, The Hive; Rob Nelson, Tusk & Trotter; Michael Robertshaw, Pressroom; and Luke Wetzel, Oven and Tap. Tickets are $125 ($95 for foundation members) and include a one-year Friend of James Beard Food and Wine Enthusiast membership. Registration deadline is Nov. 6. Visit bentonvillechefs.com/#!events/cma5.
Has a restaurant opened -- or closed -- near you in the last week or so? Does your favorite eatery have a new menu? Is there a new chef in charge? Drop us a line. Call (501) 399-3667 or (501) 378-3513, or send a note to Restaurants, Weekend Section, Arkansas Democrat-Gazette, P.O. Box 2221, Little Rock, Ark. 72203. Send email to:
eharrison@arkansasonline.com
Weekend on 10/22/2015
Print Headline: TRANSITIONS
Sponsor Content