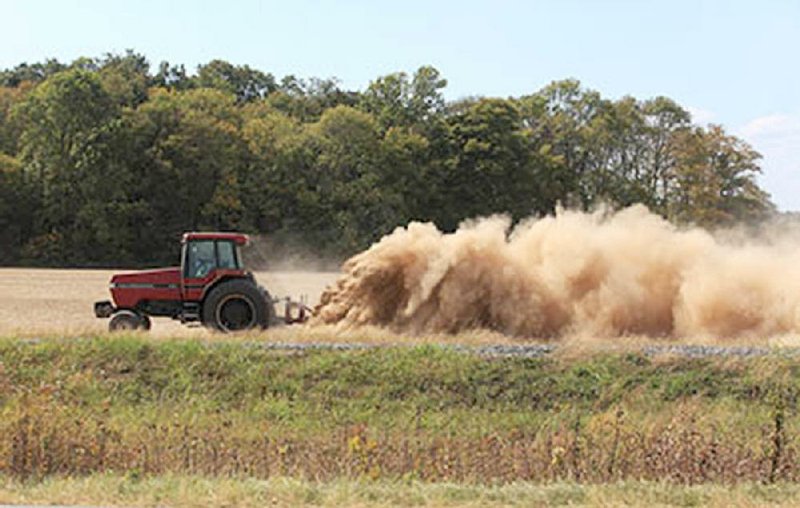 A farmer stirs up a cloud of dust Thursday along U.S. 165 near Keo. The state's topsoil now is the driest on record for any October. ( Rick McFarland)
More than 95 percent of Arkansas is now in drought, the National Drought Mitigation Center reported Thursday, but forecasters expect weekend rains to diminish the rapidly deteriorating dry conditions.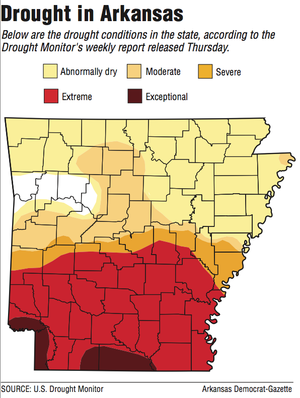 Photo by Source: U.S. Drought Monitor / Arkansas Democrat-Gazette
A map showing the drought conditions in Arkansas.
According to the center's report -- issued weekly at the University of Nebraska-Lincoln -- 95.7 percent of Arkansas is considered in drought. Last week, 81.7 percent of Arkansas was in drought.
"It's ramped up over the past week," said Brad Rippey, a U.S. Department of Agriculture meteorologist, who compiled the drought report and released it Thursday.
"Mother Nature is in a mood. It's all or nothing with her."
However, National Weather Service meteorologists have forecast up to 7 inches of rain for parts of the state beginning tonight and extending through Sunday. They say that should go a long way in lessening the drought's severity.
[ANIMATION: Watch drought creep across Arkansas in recent weeks]
The drought intensified quickly in the southern half of the state, where it's been dry and above record temperatures over the past two months. Little Rock's 98-degree reading set a record high for Oct. 15. Monticello's 97 degrees also set a record for that date.
"There's no moisture left in the state," Rippey said. "It all went into heating the air."
Rippey said most of the southern half of Arkansas is in extreme drought, meaning it has a deficit of 4-5 inches of rainfall during a 30-day period.
Most of Union County and portions of Ashley, Columbia, Little River and Miller counties are in extreme drought -- the most severe ranking the drought monitor issues. That means the area has had a deficit of more than 5 inches of rainfall during a 30-day period.
Only portions of seven counties in western Arkansas -- Crawford, Franklin, Johnson, Logan, Pope, Sebastian and Yell -- are considered as not being in drought.
Arkansas now has the second-driest topsoil in the nation, according to a national Climate Prediction Center study that rates soil moisture in a variety of classifications.
The state received an 89 rating on the basis of four categories of depleted soil moisture. The state's topsoil is the driest on record for any October, Rippey said.
Only California, which has been in serious drought for months, received a higher rating. Its rating was 90. Louisiana's rating was 85, and Mississippi's was 83.
"The drought is obviously hurting the soil," said Edgar Mersiovsky, a soil scientist with the Arkansas Natural Resources Conservation Service. "But, unless the drought continues through the winter, I think we will be OK."
Mersiovsky said the dry conditions may affect farmers' planting of some crops, but because the drought is occurring in late October, most farmers are between planting seasons.
"It's not a good situation," he said. "But it's not the worst."
The Arkansas Forestry Commission has declared the southern half of the state as in extreme danger for wildfires and urged that no one burn anything. The northern half of Arkansas is rated as high for fire danger.
County judges in 61 of the state's 75 counties have issued burn bans.
The warnings have been well-heeded, said Adriane Barnes, a spokesman for the Forestry Commission. The state reported 33 fires Tuesday and Wednesday that burned 163 acres in all.
"It's not good, but it's far from the worst," she said.
So far this year, the state has recorded 1,110 fires. In 2012, the worst to date for fires, the commission reported 2,148 blazes.
"Our fires are not out of control this year," she said. "People are paying attention and not burning."
Rangers are flying over the state to monitor for fires, and air tankers -- normally off duty by mid-October -- are still on standby in Arkansas, Barnes said.
The drought also has prompted the U.S. Army Corps of Engineers in Vicksburg, Miss., to warn boaters that lower water levels may hinder watercraft on Lake Ouachita and DeGray Lake.
Corps spokesman Greg Raimondo urged boaters to watch for tree limbs and other debris in low-water areas.
The National Weather Service said a rain-producing system will enter the southwestern corner of the state tonight, delivering much needed moisture.
Meteorologist Brian Smith of North Little Rock said nearly all of the state will get a half-inch to an inch of rain, and southwestern Arkansas could get 4-5 inches.
Hurricane Patricia, which is expected to make landfall in western Mexico today, will add moisture to the system entering Arkansas, Smith said.
"The ground is dry in the state," Smith said. How much moisture soaks in "depends upon how intense the rain is. If it's too heavy of rainfall, it won't soak in and we could see localized flash flooding."
He said he expects, though, that rainfall will be steady over 72 hours and will greatly reduce the state's drought.
"It's good news for the southwestern part of Arkansas," Rippey said. "The soil should be receptive if it's not a deluge. This slow-moving storm should help get rid of the drought."
State Desk on 10/23/2015
Print Headline: 95.7% of Arkansas parched, but rain in weekend forecast
Sponsor Content