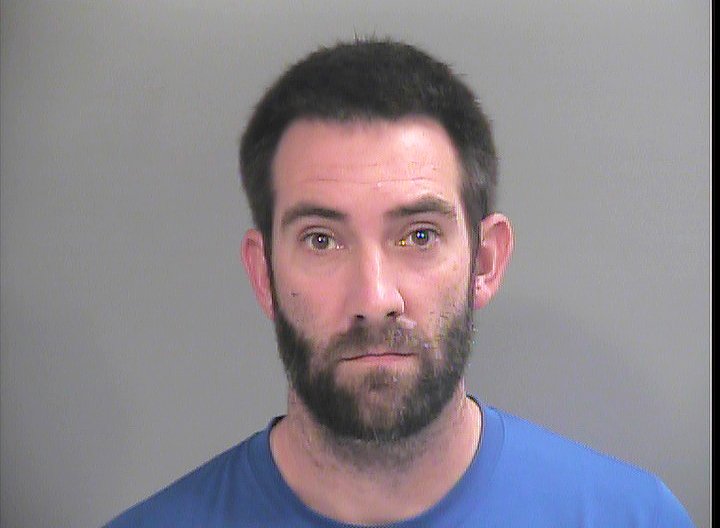 Kevin Lea, The head football coach at Cedarville High School, is shown in this photo.
CEDARVILLE -- The head football coach at Cedarville High School won't coach his team tonight when it plays Marshall.
Kevin Lea, 36, was arrested Wednesday on several preliminary charges, including inciting a riot and endangering the welfare of a minor.
The misdemeanor charges stem from an altercation after Cedarville played Elkins on Oct. 16 in Elkins. Two Elkins police officers suffered minor injuries in the fracas that ensued after one of them tried to escort Lea off the field following a fight between the teams' players during the final minutes of the game.
Cedarville Superintendent Dan Foreman wouldn't say Thursday whether Lea has been suspended from his job.
"That's personnel matter and I can't comment on that," Foreman said.
The superintendent said he is investigating what happened after the game. Foreman said he hadn't had a chance to read the police report or watch any videos from the game.
"We're still investigating the situation," he said. "He's our head football coach, Kevin Lea."
Foreman said assistant coach Max Washausen will coach Cedarville tonight. Washausen is also the special teams coordinator and defensive coach.
Lea was booked into the Washington County jail Wednesday and released after posting $8,800 in bonds. He is scheduled to appear in Elkins District Court on Dec. 1. Formal charges should be filed by then. Preliminary charges also include harassment, failure to disperse and obstructing governmental operations.
Sgt. Troy Reed, an Elkins police officer, said in a police report that the fight among players resulted in a penalty against Cedarville for unsportsmanlike conduct.
Lea began screaming and cursing at the referees, according to Reed's narrative in the report. Referees then signaled the end of the game, and Elkins was declared the winner, 16-6.
Lea then yelled at Elkins Coach Thurman Shaw, using curse words before and after a reference to Shaw being "black."
Shaw and his players left the field after being asked to go, according to the report.
Lea walked back onto the field with his players while still yelling. School resource officer James Todd asked Lea to leave and take his players with him, according to the report. Todd said he reached for Lea's left elbow to escort him off the field, according to the report.
Todd said Lea shoved him, cursed him and said, "I'm not going" and "don't touch me," according to the report.
"Lea swung his arms to keep me from grabbing him," according to Todd. "I was then surrounded by Cedarville football players, being shoved and taunted."
Elkins fans saw what was happening on the field and many left the stands to help the police, according to Reed in the report.
Todd was struck in his lower back, but he continued to tell Lea and his players to leave the field. Reed had a "busted upper lip" from either a helmet or shoulder pad, according to the report. The injuries to the police officers were the only injuries reported, said Elkins Police Chief Bill Rhodes.
Lea's players eventually pulled him away, according to the report.
At some point, police called other agencies for help. Elkins police decided not to arrest Lea on Oct. 16 because the arrest could have sparked a "more serious altercation," according to the report. Rhodes said the crowds were separated by the time officers arrived from the Washington County sheriff's office, West Fork, Springdale and Arkansas State Police.
The Cedarville School Board had its regular meeting Thursday night, but Lea wasn't discussed.
Outside the school, sixth-grade boys practiced football as parents watched from the parking lot. A reporter asked half a dozen of them what they thought about the Oct. 16 football game or the coach getting arrested. All of them said either they didn't know about it or they didn't care.
Sports on 10/23/2015
Print Headline: Cedarville school investigating football coach's arrest
Sponsor Content