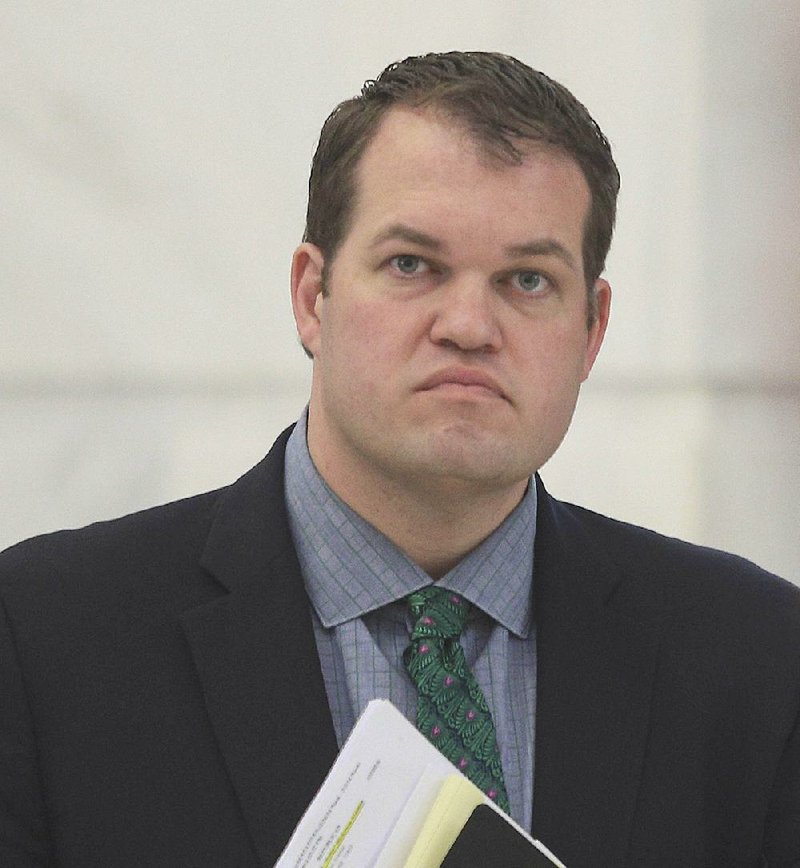 Michael Lamoureux, Gov. Asa Hutchinson's chief of staff, is shown in this photo. ( Staton Breidenthal)
Michael Lamoureux, Gov. Asa Hutchinson's chief of staff, defended his 2013 work with a faith-based coalition that was financed in part by an Arkansas lobbyist and two big tobacco companies while he also was presiding over the state Senate.
The Arkansas Faith and Freedom Coalition paid Lamoureux's Russellville law firm $120,000 in 2013 and listed the firm as an independent contractor on the organization's 2013 tax return, according to tax records obtained by the Arkansas Democrat-Gazette.
Though Lamoureux's name does not appear on the now-defunct coalition's 2014 tax return, he said in a statement Thursday that he "was last paid for this work in early 2014 when it was decided that [Faith and Freedom] would wind down operations." He did not say how much money the coalition paid his law firm in 2014.
"Concerning my work for Faith and Freedom: At all times I followed the law and ethics rules, and reported any income received by my law firm on our tax returns," Lamoureux said. "This position in no way influenced my job as a state senator."
Lamoureux, a Republican, was the Senate's president pro tempore in 2013 and 2014. He resigned his Senate seat near the end of 2014 to become Hutchinson's chief of staff in January.
"The nature of the work I did for [Faith and Freedom] included traveling to recruit candidates, recruiting and organizing volunteers, educating candidates on our issues, and handling legal issues as they arose," Lamoureux's statement added.
Lamoureux had previously declined to comment about his role with the coalition.
The Arkansas coalition, established in 2010 by former state Sen. Gilbert Baker, R-Conway, was a branch of the national organization founded by conservative activist Ralph Reed and aimed at getting faith-based and other conservative voters out to the polls.
The Democrat-Gazette reported Thursday that in 2013 the state coalition got a total of $140,000 in donations from six people or businesses -- including nursing-home owner Michael Morton, a business owned by Morrilton lobbyist Bruce Hawkins and tobacco giants RAI Services Co. and Altria Client Services.
Baker and Morton have been entangled in a judicial bribery investigation since early last year. Both have denied wrongdoing, and neither has been charged with a crime.
The FBI has been investigating contributions Morton made in 2013 through Baker to several political action committees that later helped finance former Circuit Judge Michael Maggio's appeals court campaign. In January, Maggio pleaded guilty to a federal bribery charge. He is to be sentenced Feb. 26.
In a brief interview Thursday, Hutchinson's spokesman J.R. Davis said the governor "absolutely" stands behind Lamoureux.
"The governor fully supports Michael Lamoureux as the chief of staff," Davis said. "Michael Lamoureux's affiliation with the coalition has long since passed. ... The governor has the utmost confidence in Michael Lamoureux."
The coalition's tax return for 2012, when Baker was still its executive director and also a state senator, shows that some of the same people or groups donated to the organization as in 2013.
Even though the coalition got far more donations in 2012 -- a total of $229,000 -- when Baker headed it, Baker made $59,576, far less than Lamoureux's law firm made in 2013.
In 2014, donations dropped substantially, that year's tax return shows. There were just two contributors: RAI Services Co., which gave $50,000; and Hawkins, who gave $30,000, the tax return shows.
In 2013, when Lamoureux was with the coalition, Morton donated $12,500 as did Conway-based Reliance Healthcare. In 2012, Morton gave $25,000. DBH Management Consultants, Hawkins' lobbying firm, also donated both years -- $12,000 in 2012 and $30,000 in 2013.
Altria Client Services of Austin, Texas, gave $20,000 in 2012 and $10,000 in 2013, while RAI Services gave $25,000 in 2012 and $50,000 in 2013. The only other donor for both years was Joe Whisenhunt of Conway. He gave $25,000 each year.
Among other donors in 2012 were Craig Campbell of Little Rock, $25,000; Charlie Weaver of El Paso, Ark., $10,000; and the national Faith and Freedom Coalition, $32,000.
State Desk on 10/23/2015
Print Headline: Followed the rules, governor aide says
Sponsor Content