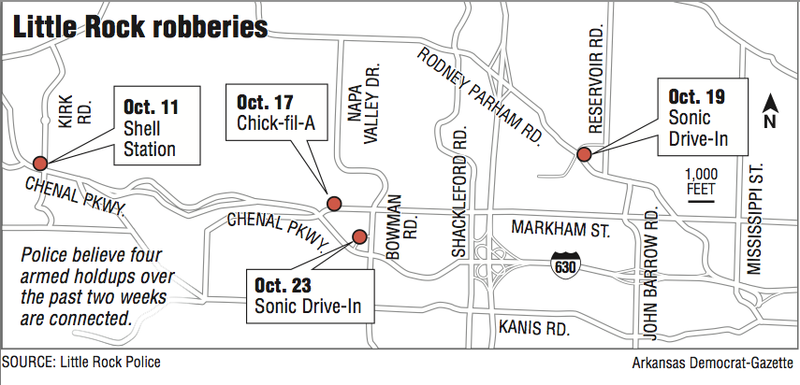 A map showing the location of recent robberies that police believe are connected. (Arkansas Democrat-Gazette / Source: Little Rock Police )
Little Rock police were seeking three men in a string of armed holdups over the past two weeks.
Each robbery occurred at businesses in a 3-mile stretch of the Markham Street-Chenal Parkway corridor. The nature of the holdups, as well as assailant and weapon descriptions, led investigators to determine they are connected, police spokesman officer Richard Hilgeman said.
"They're waiting for these businesses to close, when there's less employees or less people around, and less traffic. And sometimes they're doing it when people are taking out the trash," he said.
The most recent holdup occurred early Friday at a fast-food restaurant. Officers responded about 12:22 a.m. to the Sonic Drive-In at 12214 Westhaven Drive. Employees said two masked men entered the business with a silver-and-black handgun after confronting an employee who was taking out the trash.
Another masked man stood watch at the door as the intruders took an unknown amount of cash, according to a police report. The three men were last seen fleeing in a dark-colored vehicle that appeared to be a Toyota Corolla or a Nissan, according to the report.
Police said two employees suffered minor injuries. One of them was struck in the head with a pistol. They both received treatment at the scene.
Police believe the men unsuccessfully tried to rob two other fast-food restaurants.
Shortly after midnight Monday, three masked men with handguns approached an employee outside a Sonic Drive-In at 9420 N. Rodney Parham Road. The men held the employee at gunpoint, but they ran away when they couldn't get inside the business.
On Oct. 17 about 11:35 p.m., two masked men with silver handguns held an employee at gunpoint and took a bag from her outside the Chick-Fil-A at 12500 W. Markham St., according to a police report. An employee inside refused to open the door for the men, and they fled.
The men also are suspected of robbing a gas station in the early morning hours of Oct. 11. Officers were called about 3:15 a.m. to the Shell gas station at 16800 Chenal Parkway. An employee said he was mopping the floor when three "very skinny, very young" black men walked inside and took an unknown amount of money at gunpoint, police reported.
Investigators said the robbers left multiple footprints at the scene.
Witnesses in each of the holdups described the robbers as black, thin, about 5 feet 9 inches tall and in their late teens or early 20s. One of the robbers was said to be light-skinned.
No arrests had been made Friday.
Hilgeman said an investigation is ongoing.
Metro on 10/24/2015
Print Headline: Police hunt for 3 in 4 armed holdups
Sponsor Content