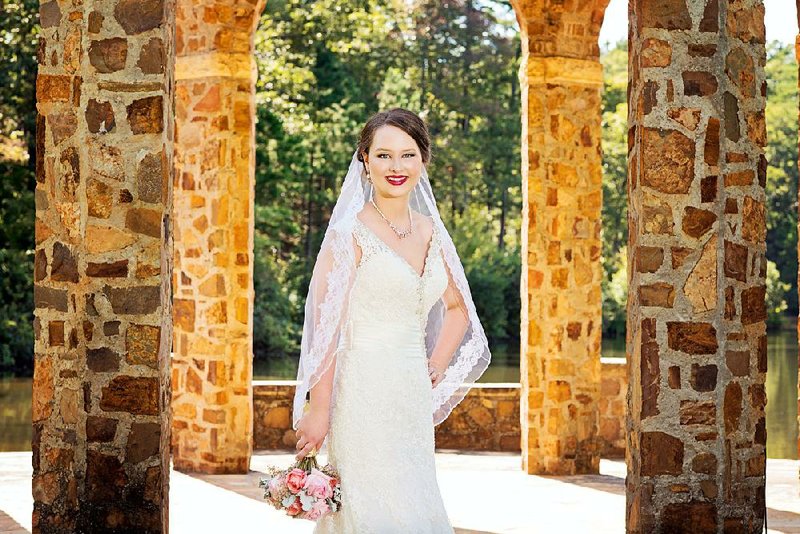 Michelle Catherine Drilling
Michelle Catherine Drilling became the bride of Jacob Andrew Eddington at 5 p.m. Saturday, Oct. 17, in St. Paul United Methodist Church. The Rev. Richard Mitchel officiated.
Parents of the bride are Cathy and Richard Drilling, 226 Markwood Drive. Her grandparents are the late Virginia and Jack Dillon of Little Rock and the late Helen and George Drilling of Morrilton.
The groom is the son of Jennifer and Jimmy "Jimbo" Eddington of Newport. His grandparents are Jeanette and Carroll Wilson of Newport and the late Imogene and Gardner Eddington of Tuckerman.
The chancel held white pedestals topped with arrangements of gold branches and gold baby's breath. Music was by organist and pianist Bob Bidewell and flutist Gwenn Higginbotham.
The bride, escorted by her father, wore a white Venice lace sleeveless sheath gown with a chapel train. Crystal beading embellished the V-neckline and back and a taffeta waistband. She carried a bouquet of pink and peach dahlias with gold baby's breath.
Maid of honor was Becky Flynn of Little Rock. Bridesmaids were Anna Keahey and Diane Wright, sister of the bride, both of Little Rock; Emily Kymer-Davis of Memphis; and Madison Eddington of Newport. They wore rose gold sequined gowns and carried bouquets of dahlias and roses. Serving as a junior attendant was her nephew, Dillon Wright of Little Rock.
Flower girl and ring bearer were Magnolia Cunningham and Michael Wright, nephew of the bride, both of Little Rock.
Best man was Jarrod Eddington of Newport, brother of the groom. The groom's attendants were Grant Womack, Bradley J. Fogleman and Mac Barnes, all of Little Rock; David Garza of San Antonio; and Alex Graddy-Reed of Los Angeles.
Guests were seated by Tyler Bjornson and Chris Wright, both of Little Rock; Craig Pafford of Sherwood; and Ryan Menchaca of San Antonio.
A reception followed at Wildwood Park for the Arts. Guest tables were decorated with white pumpkins filled with gold baby's breath, dahlias and roses.
The bride has bachelor's degrees in biochemistry and molecular biology from Hendrix College in Conway and a doctor of pharmacy from the University of Arkansas for Medical Sciences. She is a pharmacist at CHI St. Vincent Infirmary.
The groom has bachelor's degrees in religion and philosophy from Hendrix and a master's degree in business administration from the University of Arkansas at Little Rock. He is a fiscal support manager in insti­tutional finance for the Arkansas Department of Higher Education.
After a wedding trip to Jamaica, the couple will live in Little Rock.
High Profile on 10/25/2015
Print Headline: Michelle Catherine Drilling - Jacob Andrew Eddington
Sponsor Content